Maine Uses Balanced Attack To Defeat Massachusetts, 5-2
Four different players post goal and assist for Black Bears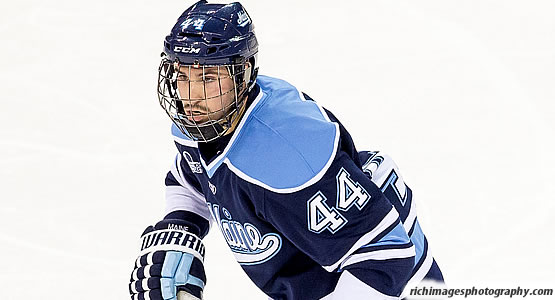 Senior defenseman Conor Riley had a goal and an assist for the Black Bears
| | | | | | | |
| --- | --- | --- | --- | --- | --- | --- |
| Prd | Time | Team | Score | Type | Scored By | Assists |
| 1st | 1:22 | MNE | 1-0 | EV | Blaine Byron (7) | Cam Brown/10, Conor Riley/2 |
| 1st | 11:57 | UMA | 1-1 | PP | Ivan Chukarov (1) | Austin Plevy/11, Patrick Lee/4 |
| 2nd | 0:23 | MNE | 2-1 | EV | Brendan Robbins (2) | Will Merchant/7 |
| 2nd | 11:45 | MNE | 3-1 | EV GW | Conor Riley (1) | Blaine Byron/11, Steven Swavely/5 |
| 3rd | 6:13 | UMA | 2-3 | PP | Austin Plevy (8) | Ray Pigozzi/15, Patrick Lee/5 |
| 3rd | 8:19 | MNE | 4-2 | EV | Brian Morgan (5) | Andrew Tegeler/6 |
| 3rd | 8:30 | MNE | 5-2 | EV | Steven Swavely (8) | Brendan Robbins/4, Conor Riley/3 |
| | | | | |
| --- | --- | --- | --- | --- |
| Scoring | 1st | 2nd | 3rd | Final |
| Maine | 1 | 2 | 2 | 5 |
| Massachusetts | 1 | 0 | 1 | 2 |
| | | | | |
| --- | --- | --- | --- | --- |
| Shots on Goal | 1st | 2nd | 3rd | SOG |
| Maine | 13 | 12 | 10 | 35 |
| Massachusetts | 13 | 6 | 11 | 30 |
| | | | |
| --- | --- | --- | --- |
| Team Stats and Records | PP | PIM | SHGF |
| Maine (6-15-6) | 0/2 | 8/19 | 0 |
| Massachusetts (7-15-4) | 2/7 | 4/8 | 0 |
| | | | | | | |
| --- | --- | --- | --- | --- | --- | --- |
| Maine Goaltending | MIN | GA | 1 | 2 | 3 | Saves |
| Matt Morris (W, 5-5-3) | 60:00 | 2 | 12 | 6 | 10 | 28 |
| | | | | | | |
| --- | --- | --- | --- | --- | --- | --- |
| Massachusetts Goaltending | MIN | GA | 1 | 2 | 3 | Saves |
| Nic Renyard (L, 4-11-4) | 39:53 | 3 | 12 | 10 | 0 | 22 |
| Alex Wakaluk | 19:45 | 2 | 0 | 0 | 8 | 8 |
| Empty Net | 0:22 | 0 | | | | |
AMHERST, Mass. - University of Massachusetts Hockey converted twice on the power play, but a two-goal second period helped carry Maine past the Minutemen, 5-2, on Friday night at the Mullins Center. The loss leaves the UMass at 7-15-4 on the season, 2-10-4 in Hockey East, while the Black Bears improve to 3-8-2 in league action and 6-15-6 overall.
Freshman Ivan Chukarov scored his first collegiate goal in the setback, while classmate Austin Plevy posted his second straight multi-point game and fifth of the season with a goal and an assist. Sophomore Patrick Lee added a pair of assists for his seventh career multi-point game and junior Ray Pigozzi dished his team-leading 15th helper of the season.
Maine jumped out to an early 1-0 lead, scoring on its first shot of the night at the 1:22 mark, a slapper from the left point by Blaine Byron off a feed from Cam Brown and Conor Riley.
UMass countered on a five-on-three power play chance later in the frame. Lee tapped the puck back to Plevy at the left point and Plevy sent a cross-ice pass for Chukarov who drove a one-timer home from the top of the faceoff circle at 11:57.
The Black Bears regained the advantage just 23 seconds into the second period. Will Merchant set up Brendan Robbins' breakaway tally that gave Maine a 2-1 edge.
At the 11:45 mark of the stanza. Riley's slap shot from the point found the top left corner of the UMass net, pushing the Black Bears' advantage to 3-1. Blaine Byron and Steven Swavely collected assists on the play.
The Minutemen cut their deficit to 3-2, 6:13 into the third period. Pigozzi collected a pass from Lee below the goal line and found Plevy at the back door for UMass' second power-play tally of the night.
However, Maine responded with two quick goals to push the margin to 5-2. Brian Morgan stuffed in a feed from Andrew Tegeler at the doorstep at 8:19 and Swavely scored off the center ice faceoff from Robbins at 8:30.
Maine ended the contest with a 35-30 shot advantage and went 0-for-2 on the power play and UMass was 2-for-7. Matt Morris totaled 28 saves for the Black Bears, while Nic Renyard and Alex Wakaluk stopped 22 and eight shots, respectively.
The teams will be back in action tomorrow night, Jan. 30, at the Mullins Center at 7 p.m., to close out the season series between the squads.