Saturday, February 6, 2016
Balanced Scoring Helps Providence Defeat Maine, 4-2
Four players score goals and junior goaltender Nick Ellis makes 32 saves for Friars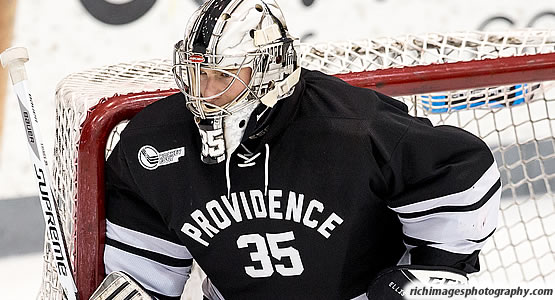 Junior goaltender Nick Ellis made 32 saves for the Friars
| | | | | | | |
| --- | --- | --- | --- | --- | --- | --- |
| Prd | Time | Team | Score | Type | Scored By | Assists |
| 1st | 2:57 | PRV | 1-0 | PP | Erik Foley (5) | Tom Parisi/12 |
| 1st | 9:13 | MNE | 1-1 | EV | Eric Schurhamer (1) | Cédric Lacroix/2, Andrew Tegeler/8 |
| 1st | 16:17 | PRV | 2-1 | EV | Kevin Rooney (4) | Steven McParland/8, Kyle McKenzie/5 |
| 1st | 16:59 | MNE | 2-2 | EV | Brendan Robbins (3) | Dan Renouf/8, Steven Swavely/6 |
| 2nd | 5:11 | PRV | 3-2 | EV GW | Brian Pinho (6) | Nick Saracino/15, Anthony Florentino/5 |
| 3rd | 4:04 | PRV | 4-2 | EV | Trevor Mingoia (9) | Mark Jankowski/16, Erik Foley/8 |
| | | | | |
| --- | --- | --- | --- | --- |
| Scoring | 1st | 2nd | 3rd | Final |
| Providence | 2 | 1 | 1 | 4 |
| Maine | 2 | 0 | 0 | 2 |
| | | | | |
| --- | --- | --- | --- | --- |
| Shots on Goal | 1st | 2nd | 3rd | SOG |
| Providence | 13 | 16 | 9 | 38 |
| Maine | 13 | 10 | 11 | 34 |
| | | | |
| --- | --- | --- | --- |
| Team Stats and Records | PP | PIM | SHGF |
| Providence (19-5-4) | 1/2 | 3/6 | 0 |
| Maine (7-17-6) | 0/3 | 2/4 | 0 |
| | | | | | | |
| --- | --- | --- | --- | --- | --- | --- |
| Providence Goaltending | MIN | GA | 1 | 2 | 3 | Saves |
| Nick Ellis (W, 18-5-4) | 60:00 | 2 | 11 | 10 | 11 | 32 |
| | | | | | | |
| --- | --- | --- | --- | --- | --- | --- |
| Maine Goaltending | MIN | GA | 1 | 2 | 3 | Saves |
| Matt Morris (L, 6-7-3) | 58:00 | 4 | 11 | 15 | 8 | 34 |
| Empty Net | 2:00 | 0 | | | | |
ORONO, Maine - The University of Maine Men's Ice Hockey team fell to Providence 4-2, Saturday night at Alfond Arena.
With the loss, Maine drops to 7-17-6 overall, 4-10-2 in Hockey East, while Providence improves to 19-5-4 overall and 10-3-3 in Hockey East.
Matt Morris started in goal for the Black Bears and Nick Ellis was in net for the Friars.
Unlike last night's game that featured the first goal 62 minutes into the game, Providence scored first on a power play opportunity 2:57 into the game. Maine was whistled for a tripping penalty that led to a Erik Foley power play goal to give the Friars a 1-0 lead.
Midway through the first, Eric Schurhamer had the puck at the point and wrapped around a Providence defender to score Maine's first goal against the Friars. Cedric Lacroix and Andrew Tegeler had assists on the even strength goal, to tie the game at 1-1.
Providence responded with their second goal of the game seven minutes later, Kevin Rooney gave the Friars a 2-1 advantage.
:42 seconds later, Brendan Robbins cleaned up a shot in front of the Providence net and scored his third goal of the season to tie the game at 2-2, Dan Renouf and Steven Swavely had assists on the play.
After the first period, Maine and Providence were tied at 13 shots a piece.
Five minutes into the second, Providence's Brian Pinho gave the Friars their third goal of the night for a 3-2 lead.
Maine had two power play opportunities in the second but only had one shot on net.
The Friars outshot the Black Bears 16-10 in the second.
Providence again struck early to start the third, Trevor Mingoia gave the Friars their fourth goal of the night and a 4-2 advantage.
With two minutes remaining in the period, Maine elected to pull Morris for the extra attacker. Maine shot twice on net with the man advantage.
Morris finished with 34 saves and Ellis had 32.
The Black Bears return to action next weekend as they travel to Notre Dame for a two game weekend series on Feb. 12th and 13th.