Friday, November 13, 2015
Merrimack College Upends Massachusetts, 4-2
Sophomore forward Alfred Larsson scores game-winning goal for Warriors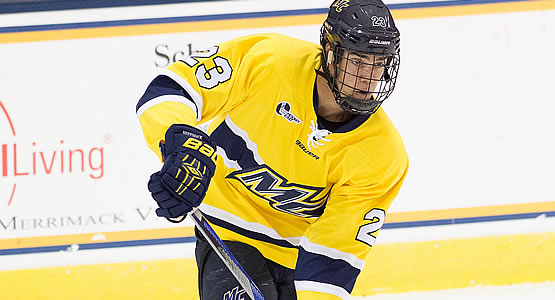 Sophomore forward Alfred Larsson scored the game-winning goal for the Warriors
| | | | | | | |
| --- | --- | --- | --- | --- | --- | --- |
| Prd | Time | Team | Score | Type | Scored By | Assists |
| 1st | 4:06 | MER | 1-0 | EV | John Gustafsson (1) | Jared Kolquist/4, Jace Hennig/3 |
| 2nd | 4:03 | MER | 2-0 | EV | John Gustafsson (2) | Jace Hennig/4, Hampus Gustafsson/3 |
| 2nd | 17:32 | UMA | 1-2 | EV | Callum Fryer (1) | Steven Iacobellis/7, Ray Pigozzi/6 |
| 3rd | 4:18 | UMA | 2-2 | PP | Shane Walsh (8) | Dennis Kravchenko/9 |
| 3rd | 9:37 | MER | 3-2 | EV GW | Alfred Larsson (1) | Hampus Gustafsson/4 |
| 3rd | 19:54 | MER | 4-2 | EV EN | Hampus Gustafsson (4) | Brian Christie/6 |
| | | | | |
| --- | --- | --- | --- | --- |
| Scoring | 1st | 2nd | 3rd | Final |
| Merrimack | 1 | 1 | 2 | 4 |
| Massachusetts | 0 | 1 | 1 | 2 |
| | | | | |
| --- | --- | --- | --- | --- |
| Shots on Goal | 1st | 2nd | 3rd | SOG |
| Merrimack | 11 | 9 | 7 | 27 |
| Massachusetts | 9 | 13 | 9 | 31 |
| | | | |
| --- | --- | --- | --- |
| Team Stats and Records | PP | PIM | SHGF |
| Merrimack (6-1-2) | 0/2 | 7/25 | 0 |
| Massachusetts (6-3-1) | 1/4 | 4/8 | 0 |
| | | | | | | |
| --- | --- | --- | --- | --- | --- | --- |
| Merrimack Goaltending | MIN | GA | 1 | 2 | 3 | Saves |
| Collin Delia (W, 6-1-2) | 59:47 | 2 | 9 | 12 | 8 | 29 |
| Empty Net | 0:13 | 0 | | | | |
| | | | | | | |
| --- | --- | --- | --- | --- | --- | --- |
| Massachusetts Goaltending | MIN | GA | 1 | 2 | 3 | Saves |
| Nic Renyard (L, 4-2-1) | 58:38 | 3 | 10 | 8 | 5 | 23 |
| Empty Net | 1:22 | 1 | | | | |
AMHERST, Mass. - University of Massachusetts hockey erased a 2-0 deficit, but Merrimack responded with the game winner midway through the third period, edging UMass, 4-2, in Hockey East at the Mullins Center on Friday night. The loss leaves the Minutemen at 6-3-1 on the season (2-2-1 HEA), while the Warriors improve to 6-1-2 with a 2-1-2 record in league play.
UMass had early chances, however, it was Merrimack that struck first in the contest. Jace Hennig dropped the puck off for Jared Kolquist for a shot through traffic that was redirected in by John Gustaffson at the 4:06 mark of the opening period.
The Warriors increased their advantage to 2-0, 4:03 into the second. After receiving the puck from Hennig and Hampus Gustafsson, John Gustafsson, with his back to the net, turned and fired a shot that found its way past Nic Renyard.
Late in the stanza, the Minutemen closed the gap to 2-1. Iacobellis collected the puck from Ray Pigozzi in the corner, skated across the slot and fed Callum Fryer at the point. Fryer rifled a shot that beat Collin Delia at 17:32 to put UMass on the board.
The Minutemen then tied the score 4:18 into the third period. Sophomore Dennis Kravchenko fed Shane Walsh for a power-play strike from the left faceoff circle, his team-leading eighth goal of the season. Kravchenko's assist marked his squad-best 16th point of the year in 10 contests.
However, Merrimack climbed back on top at the 9:37 mark. Hampus Gustafsson picked up a UMass turnover and sent the puck over to Alfred Larsson for the would-be game winner.
After Delia denied Pigozzi with a toe save in the final minute of play, Hampus Gustaffson sealed the victory for the Warriors with an empty net tally at 19:54.
The Minutemen ended the night with a 31-27 shot advantage and went 1-for-4 on the power play, while holding Merrimack to a 0-for-2 evening. UMass won 34-of-65 (52.3%) faceoffs in the contest, paced by a 12-for-17 (70.6%) effort over the dots from Iacobellis. Renyard finished with 23 saves and Delia, his Merrimack counterpart, totaled 29 stops.
UMass will return to action on Sunday, Nov. 15, when the squad will travel to Vermont for a 2 p.m. Hockey East matchup against the Catamounts.