Saturday, January 2, 2016
Late Herr Goal Lifts Notre Dame To 2-2 Tie At Denver
Senior forward Sam Herr scores with 30 seconds remaining in third period for Fighting Irish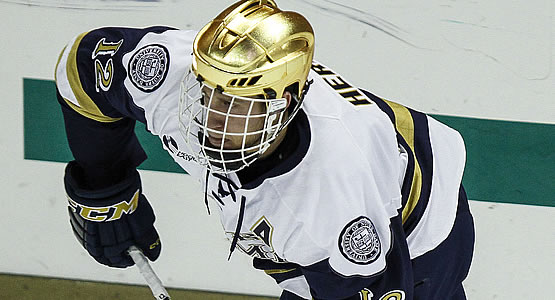 Senior forward Sam Herr scored the game-tying goal for the Fighting Irish
| | | | | | | |
| --- | --- | --- | --- | --- | --- | --- |
| Prd | Time | Team | Score | Type | Scored By | Assists |
| 1st | 5:54 | NDM | 1-0 | EV | Thomas DiPauli (8) | - |
| 2nd | 19:06 | DEN | 1-1 | PP | Dylan Gambrell (4) | Trevor Moore/9, Quentin Shore/5 |
| 3rd | 15:52 | DEN | 2-1 | EV | Dylan Gambrell (5) | Trevor Moore/10, Will Butcher/11 |
| 3rd | 19:30.2 | NDM | 2-2 | PP EA GT | Sam Herr (4) | Jordan Gross/9, Bobby Nardella/7 |
| | | | | | |
| --- | --- | --- | --- | --- | --- |
| Scoring | 1st | 2nd | 3rd | OT | Final |
| Notre Dame | 1 | 0 | 1 | 0 | 2 |
| Denver | 0 | 1 | 1 | 0 | 2 |
| | | | | | |
| --- | --- | --- | --- | --- | --- |
| Shots on Goal | 1st | 2nd | 3rd | OT | SOG |
| Notre Dame | 7 | 3 | 13 | 2 | 25 |
| Denver | 8 | 18 | 15 | 4 | 45 |
| | | | |
| --- | --- | --- | --- |
| Team Stats and Records | PP | PIM | SHGF |
| Notre Dame (9-4-6) | 1/3 | 6/12 | 0 |
| Denver (7-7-4) | 1/6 | 3/6 | 0 |
| | | | | | | | |
| --- | --- | --- | --- | --- | --- | --- | --- |
| Notre Dame Goaltending | MIN | GA | 1 | 2 | 3 | OT | Saves |
| Cal Petersen (T, 9-4-6) | 63:45 | 2 | 8 | 17 | 14 | 4 | 43 |
| Empty Net | 1:15 | 0 | | | | | |
| | | | | | | | |
| --- | --- | --- | --- | --- | --- | --- | --- |
| Denver Goaltending | MIN | GA | 1 | 2 | 3 | OT | Saves |
| Tanner Jaillet (T, 3-3-4) | 64:56 | 2 | 6 | 3 | 12 | 2 | 23 |
| Empty Net | 0:04 | 0 | | | | | |
DENVER, Colo. -- Sam Herr scored the game-tying goal with 30 seconds left in the third period, knocking in a rebound in front to lift the No. 16 Notre Dame hockey team to a 2-2 overtime tie versus No. 17 Denver on Saturday night at Magness Arena (5,891).
Herr's late goal ensured that the Fighting Irish (9-4-6, 6-1-2 HEA) and Pioneers (7-7-4) ended in an overtime tie for the second night in a row after playing to a 1-1 tie on Friday night. With the tie, Notre Dame moved its unbeaten streak to six games (4-0-2).
"I'm proud of the guys coming back, it could have been deflating with how late they scored in the third," Fighting Irish Head Coach Jeff Jackson said after the game. "This group has shown resiliency this year when they are down and that's an important tie for us in the big picture, to come in to Denver and get a couple ties is a positive."
Thomas DiPauli scored the opening goal, giving the Irish a 1-0 lead at 5:54 of the first with a quick wrist shot that beat Tanner Jaillet high for his eighth of the year.
Petersen was once again stellar in the Irish goal, finishing with 43 saves, including four saves in the overtime stanza.
"Cal was the difference in the weekend and he was stellar last night and just as good tonight, making some great saves when we really needed him to," Jackson added.
Pioneer goaltender Tanner Jaillet was also sharp, including a right pad save on a Herr breakaway midway through the second period when the Irish were leading 1-0.
Denver got on the board at 19:06 of the second period on a power-play goal by Dylan Gambrell, which snapped Notre Dame's successful penalty kill streak at 15 in a row.
At 3:41 of the third, the Irish appeared to take a 2-1 lead when DiPauli finished a perfect feed in front with a one-timer, but the goal was disallowed as a referee blew an inadvertent whistle with a delayed penalty upcoming on Denver.
The teams traded chances as the third period wore on.
Then, Gambrell struck for his second of the game at 15:52 of the third to give the Pioneers a 2-1 lead.
Notre Dame pressed for the game-tying goal and with 1:45 left in the third, Jack Jenkins drew a boarding call on Gambrell to set the stage for Herr's late tally.
While on that power play, Jackson pulled Petersen for a 6-on-4 advantage. Jordan Gross collected a rebound along the boards and fired the puck on net, where Herr was stationed to put home the rebound.
Notre Dame finished the night 1-for-3 on the power play, while Denver was 1-for-6 with the man advantage. Petersen totaled 43 saves and Jaillet finished with 23 for Denver.
For the second night in a row, the Irish and Pioneers also took part in an exhibition, 3-on-3 overtime for five minutes, followed by a shootout. Steven Fogarty nearly ended things in that extra overtime stanza, but his shot that beat Jaillet hit the post.
The Irish close out non-conference play next weekend (Jan. 8-9) with a home-and-home series versus Western Michigan. Notre Dame will host game one of the series at 7:35 p.m. on Friday (NBC Sports Network). Saturday's contest at Western Michigan is slated for a 7:05 p.m. start (CBS Sports Network).
Goals
-- Notre Dame took a 1-0 lead on a Thomas DiPauli goal at 5:54 of the first period. The senior winger built speed though the neutral zone after picking up a Denver turnover, skated around a Pioneer defenseman at the blue line and from the low slot snapped a wrist shot high past Jaillet's blocker for his team-leading eighth goal of the season.
-- Denver's Dylan Gambrell tied the game, 1-1, at 19:06 of the second period when he forced in a power-play goal to the far post after Petersen had kept out the original jam play in front. Trevor Moore and Quentin Shore assisted on the Gambrell's fourth of the season.
-- Gambrell finished off a quick 2-on-1 chance that developed in the slot for Denver to give the Pioneers a 2-1 lead at 15:32 of the third. It was his second of the game, with assists going to Trevor Moore and Will Butcher.
-- Herr scored his fourth goal of the season to tie the game at 2-2 at the 19:30 mark of the third period. Skating with the 6-on-4 advantage after pulling Petersen while on the power play, Bobby Nardella fired a shot wide that Jordan Gross collected and put on net, where Herr was stationed to put home the rebound.
Notes
-- Notre Dame moved its unbeaten streak to six games (4-0-2).
-- Cal Petersen made his 19th-consecutive start in the Irish goal to open the 2015-16 season. For the weekend, Petersen stopped 92 of the 95 shots he faced (.968 save percentage).
-- Thomas DiPauli's first period goal was his eighth of the season, tying his single season career-high mark (set last season in 41 games as a junior).
-- Of Sam Herr's four goals this season, two were third period game winners (versus Western Michigan and at UConn), while his other two tallies were third period, game tying goals (versus Minnesota Duluth and at Denver).
-- Notre Dame scored first for the 15th time in 19 games this season (9-2-4 in those 15 games).
-- The Notre Dame defense held Denver without a shot on goal for the first 7:33 of the game.
-- Sophomore forward Anders Bjork (17 GP, 5-11-16) is currently playing for the U.S. National Junior Team that is competing in the 2016 International Ice Hockey Federation World Junior Championship in Helsinki, Finland. Team USA also includes Irish coordinator of hockey operations Nick Siergiej and Notre Dame Equipment Specialist Dave Gilbert. After defeating the Czech Republic 7-0 in a Quarterfinal game earlier on Saturday, Team USA will play Russia in the semifinals on Monday, Jan. 4.
-- Denver Head Coach Jim Montgomery began his college coaching career as a volunteer assistant coach at Notre Dame for Irish Head Coach Jeff Jackson during the 2005-06 season, which was Jackson's first season behind the Notre Dame bench.