Saturday, January 23, 2016
Lane And Carpenter Each Score Twice As Boston University Defeats Maine, 6-1
Senior forward Matt Lane posts two goals and assist for Terriers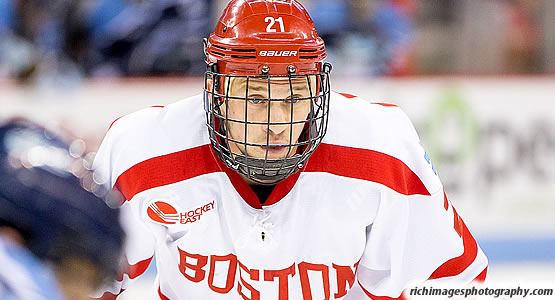 Senior forward Matt Lane had two goals and an assist for the Terriers
| | | | | | | |
| --- | --- | --- | --- | --- | --- | --- |
| Prd | Time | Team | Score | Type | Scored By | Assists |
| 1st | 5:02 | BU | 1-0 | EV | Bobo Carpenter (6) | Robbie Baillargeon/6, Oskar Andrén/1 |
| 1st | 5:33 | BU | 2-0 | EV GW | Doyle Somerby (4) | - |
| 2nd | 3:43 | BU | 3-0 | PP | Bobo Carpenter (7) | Matt Lane/8, Charlie McAvoy/12 |
| 2nd | 11:57 | BU | 4-0 | EV | Matt Lane (12) | Ahti Oksanen/13, Jordan Greenway/12 |
| 2nd | 12:44 | MNE | 1-4 | EV | Cam Brown (5) | Blaine Byron/10, Bill Norman/1 |
| 2nd | 16:26 | BU | 5-1 | EV | Danny O'Regan (8) | Doyle Somerby/7, Jakob Forsbacka Karlsson/15 |
| 3rd | 3:54 | BU | 6-1 | EV | Matt Lane (13) | Ahti Oksanen/14, Oskar Andrén/2 |
| | | | | |
| --- | --- | --- | --- | --- |
| Scoring | 1st | 2nd | 3rd | Final |
| Maine | 0 | 1 | 0 | 1 |
| Boston University | 2 | 3 | 1 | 6 |
| | | | | |
| --- | --- | --- | --- | --- |
| Shots on Goal | 1st | 2nd | 3rd | SOG |
| Maine | 7 | 9 | 7 | 23 |
| Boston University | 11 | 15 | 11 | 37 |
| | | | |
| --- | --- | --- | --- |
| Team Stats and Records | PP | PIM | SHGF |
| Maine (5-15-6) | 0/6 | 6/12 | 0 |
| Boston University (13-7-4) | 1/5 | 7/14 | 0 |
| | | | | | | |
| --- | --- | --- | --- | --- | --- | --- |
| Maine Goaltending | MIN | GA | 1 | 2 | 3 | Saves |
| Rob McGovern (L, 1-10-3) | 31:57 | 4 | 9 | 9 | 0 | 18 |
| Matt Morris | 28:03 | 2 | 0 | 3 | 10 | 13 |
| | | | | | | |
| --- | --- | --- | --- | --- | --- | --- |
| Boston University Goaltending | MIN | GA | 1 | 2 | 3 | Saves |
| Sean Maguire (W, 7-4-1) | 60:00 | 1 | 7 | 8 | 7 | 22 |
BOSTON - Freshman Bobo Carpenter and senior Matt Lane each scored two goals as the No. 11 Boston University men's ice hockey team defeated Maine, 6-1, on Saturday night at Agganis Arena.
BU (13-7-4, 7-4-3 Hockey East) never trailed en route to completing a weekend sweep of Maine (5-15-6, 4-8-2), buoyed by a two-goal first period and three more markers in the second stanza.
Carpenter had his first multi-goal game as a Terrier, and addition to his two goals, Lane also added an assist for a three-point night. Freshman Oskar Andren collected his first two collegiate points with a pair of assists while senior Ahti Oksanen also had two helpers.
Junior Doyle Somerby notched the game-winner and assisted on senior Danny O'Regan's goal, and freshmen Jordan Greenway, Jakob Forsbacka Karlsson and Charlie McAvoy all had one assist apiece. Junior Robbie Baillargeon also got on the scoresheet with an assist.
Senior Sean Maguire made 22 saves to improve to 7-4-1 on the season. He finished the weekend with 54 stops, allowing only three goals over the two victories.
BU got out to an early 2-0 lead, as Carpenter opened the scoring 5:02 into the contest before Somerby doubled the lead 31 seconds later with an unassisted tally.
The Terriers never looked back, bumping their cushion to 4-0 in the second thanks to a power-play goal by Carpenter and a slick goal by Lane off a rush at 11:57 of the middle frame.
Maine got its lone goal under a minute after Lane's first tally as junior Cam Brown's shot from the high slot eluded Maguire with 7:16 left in the second.
That would be the only attempt to get past Maguire and the BU defense, as O'Regan rounded out the Terriers' three-goal second period with his eighth of the year at 16:26 before Lane capped the scoring with a goal 3:54 into the third.
BU held a 37-23 shot advantage and successfully killed off all six of Maine's power plays on the evening. The Terriers went 1-of-5 with the man advantage.
Maine freshman Rob McGovern made 18 saves on 22 shots before being replaced midway through the game by junior Matt Morris, who allowed two goals on 15 shots.
The Terriers will return to action on Friday (Jan. 29) when they play host to Merrimack. Game time is set for 7:30 p.m.