Tuesday, October 27, 2015
Thompson Scores Hat Trick To Lead UConn Past Boston University, 5-2
Freshman forward Tage Thompson nets hat trick for Huskies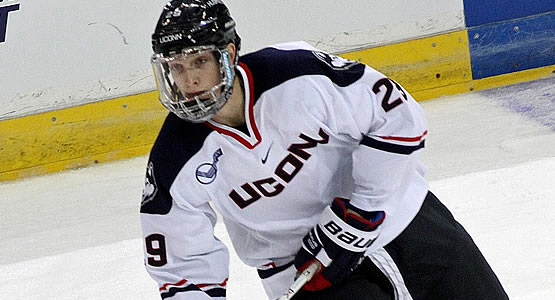 Freshman forward Tage Thompson scored a hat trick for the Huskies
| | | | | | | |
| --- | --- | --- | --- | --- | --- | --- |
| Prd | Time | Team | Score | Type | Scored By | Assists |
| 1st | 6:13 | CON | 1-0 | PP | Tage Thompson (1) | Johnny Austin/2, Maxim Letunov/4 |
| 1st | 19:27 | BU | 1-1 | PP | Danny O'Regan (1) | Charlie McAvoy/2, Jakob Forsbacka Karlsson/3 |
| 2nd | 8:07 | CON | 2-1 | PP | Evan Richardson (1) | Shawn Pauly/1, Patrick Kirtland/1 |
| 2nd | 15:17 | CON | 3-1 | EV GW | Joey Ferriss (1) | Max Kalter/1, Jesse Schwartz/3 |
| 3rd | 16:01 | CON | 4-1 | PP | Tage Thompson (2) | Spencer Naas/3, Maxim Letunov/5 |
| 3rd | 16:46 | CON | 5-1 | PP | Tage Thompson (3) | Maxim Letunov/6, Johnny Austin/3 |
| 3rd | 19:08 | BU | 2-5 | EV | Chase Phelps (2) | Robbie Baillargeon/1, Ryan Cloonan/3 |
| | | | | |
| --- | --- | --- | --- | --- |
| Scoring | 1st | 2nd | 3rd | Final |
| Boston University | 1 | 0 | 1 | 2 |
| Connecticut | 1 | 2 | 2 | 5 |
| | | | | |
| --- | --- | --- | --- | --- |
| Shots on Goal | 1st | 2nd | 3rd | SOG |
| Boston University | 11 | 12 | 15 | 38 |
| Connecticut | 7 | 10 | 7 | 24 |
| | | | |
| --- | --- | --- | --- |
| Team Stats and Records | PP | PIM | SHGF |
| Boston University (2-2-0) | 1/5 | 8/16 | 0 |
| Connecticut (3-2-0) | 4/7 | 6/12 | 0 |
| | | | | | | |
| --- | --- | --- | --- | --- | --- | --- |
| Boston University Goaltending | MIN | GA | 1 | 2 | 3 | Saves |
| Connor LaCouvee (L, 1-1-0) | 60:00 | 5 | 6 | 8 | 5 | 19 |
| | | | | | | |
| --- | --- | --- | --- | --- | --- | --- |
| Connecticut Goaltending | MIN | GA | 1 | 2 | 3 | Saves |
| Rob Nichols (W, 3-1-0) | 60:00 | 2 | 10 | 12 | 14 | 36 |
HARTFORD, Conn. - Freshman Tage Thompson (Orange, Conn.) recorded the second hat trick by a UConn freshmen this season to lead the Huskies to a 5-2 win over No. 7 Ranked Boston University Tuesday night from the XL Center in front of 5,225 fans.  The Huskies scored four times on the power play as the pick-up their first Hockey East victory of the season.
All three of Thompson's goals came on the power play as the Huskies finished four-of-seven on the night with the extra skater.  Thompson is the second Husky this season to register a hat trick, following classmate Max Letunov's (Moscow, Russia) three goal night in the season opener at Alabama Huntsville. 
UConn's four power play goals was the most in a game since hitting that mark in an 8-3 win over Sacred Heart in 2011-12.  The win also marked the fourth time under head coach Mike Cavanaugh that the Huskies have knocked-off a team ranked in the top-10 nationally, three of those wins coming at home in the XL Center.
Senior Joey Ferriss (Novi, Mich.) and junior Evan Richardson (Coquitlam, British Columbia) both scored their first goals of the season in the win.  Letunov and sophomore Spencer Naas (Minnetonka, Minn.) both picked-up a pair of assists for the Huskies.  Junior netminder Rob Nichols (Dallas, Texas) turned in a season-high 36 saves to garner the win.
Thompson struck for his first goal of the season at 6:13 in the first, burying a rebound off a Naas shot on the power play for a 1-0 lead.  BU answered late in the period with a power play of their own as Danny O'Regan buried a pretty pass from Charlie McAvoy on a two-on-one to knot the game at 19:27.
The Huskies added a pair in the second period to take a 3-1 lead into the second intermission.  UConn got their second power play goal of the night at 8:07 of the period as Richardson sniped a wrister from the top-right circle.  Ferris scored his first at 15:17 as freshman Max Kalter (Highliand Park, Ill.) snuck past the defense to create a 2-on-0 break and fed the senior who scored from the slot.
In the third, Thompson scored back-to-back power play goals at 16:01 and 16:46 to complete the hat trick.  Thompson put home a rebound for his second and then buried a one-timer off a feed from Letunov to give the Huskies a commanding 5-1 lead.  BU closed the scoring late as Chase Phelps scored his second of the year with 52 seconds left.
The Terriers held a 38-24 edge on shots but were just one-of-five on the power play.
UConn will stay home to host the Notre Dame Fighting Irish this Saturday, October 31st at 3:05 pm from the XL Center.