Monday, December 28, 2015
Boston College Clipped By Ohio State At Florida College Classic, 3-2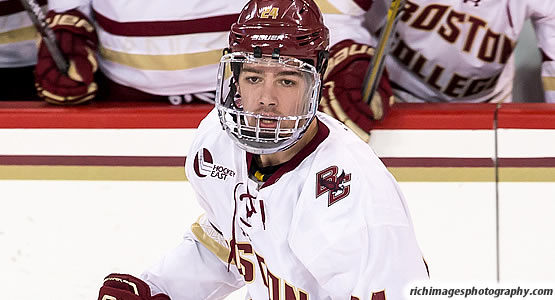 Sophomore forward Zach Sanford had a goal and an assist for the Eagles
| | | | | | | |
| --- | --- | --- | --- | --- | --- | --- |
| Prd | Time | Team | Score | Type | Scored By | Assists |
| 1st | 1:22 | BC | 1-0 | EV | Adam Gilmour (6) | Alex Tuch/8, Zach Sanford/14 |
| 1st | 2:29 | BC | 2-0 | SH | Zach Sanford (5) | Austin Cangelosi/9, Ian McCoshen/3 |
| 2nd | 3:10 | OSU | 1-2 | EV | Anthony Greco (7) | Matthew Weis/5 |
| 2nd | 17:21 | OSU | 2-2 | EV | Tyler Lundey (2) | David Gust/13, Miguel Fidler/1 |
| 3rd | 7:31 | OSU | 3-2 | PP GW | John Wiitala (3) | Dakota Joshua/5, Josh Healey/5 |
| | | | | |
| --- | --- | --- | --- | --- |
| Scoring | 1st | 2nd | 3rd | Final |
| Ohio State | 0 | 2 | 1 | 3 |
| Boston College | 2 | 0 | 0 | 2 |
| | | | | |
| --- | --- | --- | --- | --- |
| Shots on Goal | 1st | 2nd | 3rd | SOG |
| Ohio State | 6 | 9 | 4 | 19 |
| Boston College | 11 | 11 | 10 | 32 |
| | | | |
| --- | --- | --- | --- |
| Team Stats and Records | PP | PIM | SHGF |
| Ohio State (4-11-0) | 1/5 | 2/7 | 0 |
| Boston College (13-3-1) | 0/2 | 6/23 | 1 |
| | | | | | | |
| --- | --- | --- | --- | --- | --- | --- |
| Ohio State Goaltending | MIN | GA | 1 | 2 | 3 | Saves |
| Christian Frey (W, 1-5-0) | 60:00 | 2 | 9 | 11 | 10 | 30 |
| | | | | | | |
| --- | --- | --- | --- | --- | --- | --- |
| Boston College Goaltending | MIN | GA | 1 | 2 | 3 | Saves |
| Thatcher Demko (L, 13-3-1) | 59:22 | 3 | 6 | 7 | 3 | 16 |
| Empty Net | 0:38 | 0 | | | | |
ESTERO, Fla. - Sophomore forward Zach Sanford recorded a goal and an assist but Boston College fell to Ohio State, 3-2, in opening day action at the Florida College Classic on Monday night at Germain Arena.
GAME INFORMATION
Score: Ohio State 3 // No. 4 Boston College 2
Records: Ohio State (4-11-0, 0-2-0 Big Ten) // No. 4 Boston College (13-3-1, 6-1-1 HEA)
Location: Germain Arena // Fort Myers, Fla.
Tournament: Florida College Hockey Classic
Attendance: 6,022
Length of Game: 2:06
Boston College Starters: Wood (LW) - Cangelosi (C) - Calnan (RW) - Doherty (LD) - Santini (RD) - Demko (G)
Ohio State Starters: Stork (LW) - Joshua (C) - Greco (RW) - Dalrymple (LD) - Bjorkung (RD) - Frey (G)
BC HIGHLIGHTS AND GAME NOTES
- Boston College is now 2-1 in Florida College Hockey Classic games at Germain Arena. The Eagles won this very tournament in 2004.
- Zach Sanford scored his second short-handed tally of the season and first since Colorado College on Oct. 24. Sanford has acquired two multi-point games this season.
TURNING POINT
- Boston College attacked early, but Ohio State killed off a five-minute major that covered the end of the first period and spilled into the second. Following the five-minute kill from the Buckeyes, Ohio State scored three unanswered goals and held BC off in the waning moments to preserve the 3-2 win.
HOW IT HAPPENED
The Eagles attacked early with a pair of tallies 2:29 minutes into regulation.
Boston College took advantage of a gaffe in front of Ohio State's net as a Buckeye defender collided with goaltender Christian Frey in front. Adam Gilmour possessed in the near corner just above goal line extended, and with a big hole in front as the netminder was down, Gilmour fired the off-angle shot and found the back of the net at 1:22 of the first period.
Scott Savage was whistled for hooking 19 seconds after the initial marker, but the Eagles scored their sixth short-handed goal of the season to double up OSU at 2:29. Ian McCoshen was the catalyst for the play, rimming the puck out of BC's end to generate the short-handed bid. Austin Cangelosi corralled it and streaked through the middle, deking Frey from his position and connecting with Zach Sanford on the far post with a perfectly-timed pass for the 2-0 lead.
Ohio State showed signs of life after killing off a five-minute major assessed to Josh Healey at 17:02 of the first period. As the Eagles initiated the second period with 2:02 of power play, the Buckeyes kept BC scoreless within that window and Anthony Greco got Ohio State on the board. Greco snuck one through from the goal mouth with a feed from Matthew Weis at 3:10 of the second period.
In the later part of the second period, the Eagles staved off a McCoshen hooking call at 14:02 but Ohio State's momentum continued in BC's end and Tyler Lundey tied it up, 2-2, at 17:21 of the second, roofing a rebound from David Gust on the near post.
The Buckeyes scored their third-consecutive goal at 7:31 of the third after capitalizing on a Chris Calnan tripping call (5:34). With only three seconds remaining in the BC penalty, John Wiitala was able to sneak a loose rebound past Demko originally offered by Dakota Johnson to take the 3-2 lead.
Chasing the one-goal deficit, head coach Jerry York lifted Demko for the extra skater with a minute left in regulation. Boston College mustered some good opportunities on Frey but could not gain the equalizer as the Buckeyes prevailed, 3-2.
BOSTON COLLEGE LEADERS
Points: Zach Sanford (1 goal - 1 assist)
Goals: Zach Sanford (1) / Adam Gilmour (1)
Assists: Alex Tuch (1) / Zach Sanford (1) / Austin Cangelosi (1) / Ian McCoshen
Shots: Ryan Fitzgerald (7)
Faceoffs Won: Zach Sanford (11-of-18)
OHIO STATE LEADERS
Points: Eight with one point
Goals: Anthony Greco (1) / Tyler Lundley (1) / John Wiitala (1)
Assists: Matthew Weis (1) / David Gust (1) / Dakota Johnson (1) / Josh Healey (1)
Shots: Miguel Fidler (3)
Faceoffs Won: Dakota Johnson (11-of-15)
SPECIAL TEAMS
Boston College: 0-for-2
Ohio State: 1-for-5
PENALTIES
Boston College: 6 penalties - 23 minutes
Ohio State: 2 penalty - 7 minutes
UP NEXT
Boston College will play defending national champion Providence in the next three contests. The Eagles and Friars will faceoff in the consolation game of the Florida College Hockey Classic on Tuesday afternoon at 4 p.m.