Demko Posts Sixth Shutout Of Season As Boston College Upends Maine, 2-0
Thatcher Demko becomes only the second goaltender in college hockey history to record six shutouts in seven games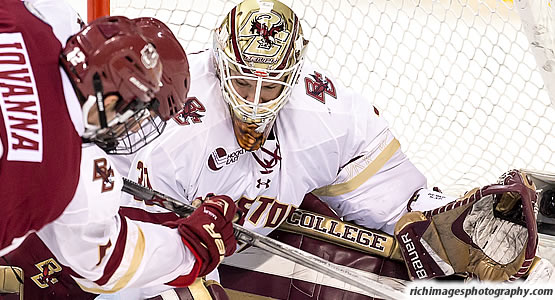 Junior goaltender Thatcher Demko stopped 30 shots for the Eagles
| | | | | | | |
| --- | --- | --- | --- | --- | --- | --- |
| Prd | Time | Team | Score | Type | Scored By | Assists |
| 1st | 11:53 | BC | 1-0 | EV GW | Ryan Fitzgerald (5) | Matthew Gaudreau/4, Colin White/7 |
| 3rd | 13:53 | BC | 2-0 | PP | Miles Wood (3) | Colin White/8, Austin Cangelosi/3 |
| | | | | |
| --- | --- | --- | --- | --- |
| Scoring | 1st | 2nd | 3rd | Final |
| Maine | 0 | 0 | 0 | 0 |
| Boston College | 1 | 0 | 1 | 2 |
| | | | | |
| --- | --- | --- | --- | --- |
| Shots on Goal | 1st | 2nd | 3rd | SOG |
| Maine | 11 | 11 | 8 | 30 |
| Boston College | 12 | 11 | 12 | 35 |
| | | | |
| --- | --- | --- | --- |
| Team Stats and Records | PP | PIM | SHGF |
| Maine (0-6-3) | 0/3 | 15/65 | 0 |
| Boston College (8-1-0) | 1/6 | 10/44 | 0 |
| | | | | | | |
| --- | --- | --- | --- | --- | --- | --- |
| Maine Goaltending | MIN | GA | 1 | 2 | 3 | Saves |
| Rob McGovern (L, 0-4-2) | 56:15 | 2 | 11 | 11 | 10 | 32 |
| Matt Morris | 2:58 | 0 | 0 | 0 | 1 | 1 |
| Empty Net | 0:47 | 0 | | | | |
| | | | | | | |
| --- | --- | --- | --- | --- | --- | --- |
| Boston College Goaltending | MIN | GA | 1 | 2 | 3 | Saves |
| Thatcher Demko (W, 8-1-0) | 60:00 | 0 | 11 | 11 | 8 | 30 |
CHESTNUT HILL, Mass. - Junior goaltender Thatcher Demko made 30 saves to earn his sixth shutout of the season - and third consecutive blanking - as Boston College defeated Maine, 2-0, on Sunday at Kelley Rink.
GAME INFORMATION
Score: Maine 0 // No. 3 Boston College 2
Records: Maine (0-6-3, 0-2-0 Hockey East) // No. 3 Boston College (8-1-0, 3-0-0 HEA)
Location: Kelly Rink at Conte Forum // Chestnut Hill, Mass.
Attendance: 3,290
Length of Game: 2:15
BC Starters: Wood (LW) - Cangelosi (C) - Calnan (RW) - McCoshen (LD) - Casey Fitzgerald (RD) - Demko (G)
Maine Starters: Vesey (LW) - Merchant (LW) - Brown (C) - Byron (RW) - Renouf (LD) - Michel (RD) - McGovern (G)
BC HIGHLIGHTS AND GAME NOTES
- Thatcher Demko continues to rewrite history after posting his sixth shutout in seven starts, stringing together a pair of three-game shutout streaks. Demko's historic run ties Blaine Lacher of Lake Superior State for posting six shutouts in seven games, marking only the second time in the history of college hockey something of that magnitude has been achieved. Below are the runs posted by each goaltender:
Blaine Lacher - Lake Superior State
- Feb. 25, 1994 - 3-0 (Illinois-Chicago)
- March 4, 1994 - 4-0 (Kent State)
- March 5, 1994 - 7-0 (Kent State)
- March 11, 1994 - 5-0 (Ohio State)
- March 12, 1994 - 8-0 (Ohio State)
- March 19, 1994 - 4-0 (Michigan State)
Thatcher Demko - Boston College
- Oct. 16, 2015 - 6-0 (Wisconsin)
- Oct. 23, 2015 - 3-0 (Colorado College)
- Oct. 24, 2015 - 5-0 (Colorado College)
- Nov. 3, 2015 - 7-0 (Massachusetts)
- Nov. 6, 2015 - 3-0 (Maine)
- Nov. 8, 2015 - 2-0 (Maine)
- Demko's first shutout streak started in the third period at Rensselaer on Oct. 11, 2015, where he played shutout hockey for 206 minutes and two seconds (206:02), denoting the 19th-longest stretch of zero goals allowed in the history of the game. The San Diego native is currently in a stretch of 183 minutes and 55 seconds (183:55) of scoreless hockey. Denver is the only team that has duped Demko, scoring three on Oct. 30, 2015. Demko's scoreless mark of 206:02 is third longest in school history behind Scott Clemmensen (254:23 - Jan. 9-24, 1998) and Cory Schneider (242:19 - Jan. 13-27, 2006).
- Demko is currently leading all of college hockey in goals against average (0.67) and save percentage (.974) on the year and is two shutouts clear (6) of the next closest netminder, Charlie Lindgren of St. Cloud State. For a career, the 6-foot-4 backstopper is 43-19-6 (.677) with a 2.01 goals against average and a .929 save percentage (1,782 saves on 1,919 shots). If Demko's 2.01 GAA held, it would stand as the lowest goals against average mark in Boston College history (Matti Kaltiainen - 2.04 - 2001-05). His six shutouts this season is two shy of matching the single-season mark set by Cory Schneider during the 2005-06 season. Demko possesses nine career shutouts, good for fourth-best all-time. He is three blankings shy of matching John Muse's third-place mark of 12 career shutouts (2007-11). Schneider holds the record with 15 (2004-07) while Scott Clemmensen is second with 13 (1997-2001).
- Colin White has accounted for nine points (2-7-9) in his last four games while Matthew Gaudreau is also riding a career-best four-game point streak. Gaudreau has tallied one goal and four assists over that stretch.
- Miles Wood scored his first-career power play goal on Sunday against Maine.
- Three times in the last five seasons, head coach Jerry York has started off the season with an 8-1 mark, matching the 2011-12 and 2012-13 Eagle entries. Those three starts mark the best record (8-1) through nine games under York's tenure. York is now only eight victories shy away from 1,000-career wins.
TURNING POINT
- For the third-consecutive game, again, Thatcher Demko continued to anchor the Eagles' terrific defensive efforts and denied all 30 Black Bear shots in Sunday's victory. Upon returning from his one-game suspension after a disqualification against Massachusetts on Nov. 3, Ryan Fitzgerald scored his team-best fifth goal at 11:53 of the first period as Boston College never looked back.
HOW IT HAPPENED
The Eagles struck first, as the have in seven of their nine games this season, on a Ryan Fitzgerald wrister at 11:53 of the first period. Colin White won a battle behind Maine's net and chipped it off the wall to Matthew Gaudreau on the far goal line extended. Gaudreau backhanded the pass off the wall to Fitzgerald behind the net and Fitzgerald carted to the right slot. With a decent amount of traffic impeding the vision of Maine's Rob McGovern, Fitzgerald wristed it by for the first strike and a 1-0 lead.
Despite the Eagles getting stumped with a 5-on-3 situation in the second period after Mark Hamilton (interference - 10:25) and Conor Riley (slashing - 11:21) were sent to the box, Boston College converted on a late power play opportunity at 13:53 of the third.
Austin Cangelosi sent a puck from the near boards over to White in the slot. White quickly whipped the puck at McGovern but could not find the back of the net. The puck jutted out to the goalmouth where Miles Wood was able to gather it and poke it over the goal line to add an insurance goal and seal the 2-0 triumph.
Maine hailed for a timeout with 54 seconds left to play, but it was to no avail as the Eagles skated away with a four-point weekend over the Black Bears.
BOSTON COLLEGE LEADERS
Points: Colin White (2 assists)
Goals: Ryan Fitzgerald (1) / Miles Wood (1)
Assists: Colin White (2 assists)
Shots: White (5)
Faceoffs Won: White (11-for-20)
MAINE LEADERS
Points: n/a
Goals: n/a
Assists: n/a
Shots: Dan Renouf (5)
Faceoffs Won: Steven Swavely (14-for-20)
SPECIAL TEAMS
Boston College: 1-for-6
Maine: 0-for-3
PENALTIES
Boston College: 10 penalties - 44 minutes
Maine: 15 penalties - 65 minutes
UP NEXT
Boston College will cap its five-game home stand against Michigan State on Friday, Nov. 13, at 7 p.m. for its final non-conference game outside of the Florida tournament and the Beanpot Tournament.