Tuch Lifts Boston College To 1-0 Overtime Win Over Boston University In Beanpot Final
Sophomore forward Alex Tuch scores 1:57 into overtime for Eagles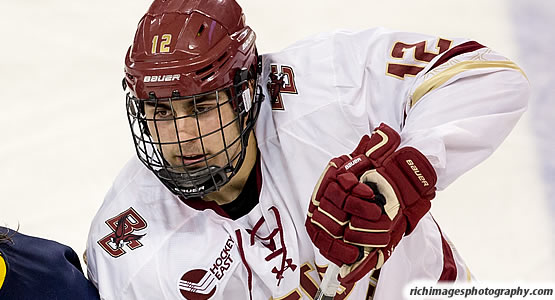 Sophomore forward Alex Tuch scored the game-winning goal for the Eagles
| | | | | | | |
| --- | --- | --- | --- | --- | --- | --- |
| Prd | Time | Team | Score | Type | Scored By | Assists |
| OT | 1:57 | BC | 1-0 | EV GW | Alex Tuch (11) | Zach Sanford/20, Steve Santini/12 |
| | | | | | |
| --- | --- | --- | --- | --- | --- |
| Scoring | 1st | 2nd | 3rd | OT | Final |
| Boston College | 0 | 0 | 0 | 1 | 1 |
| Boston University | 0 | 0 | 0 | 0 | 0 |
| | | | | | |
| --- | --- | --- | --- | --- | --- |
| Shots on Goal | 1st | 2nd | 3rd | OT | SOG |
| Boston College | 23 | 9 | 6 | 4 | 42 |
| Boston University | 12 | 8 | 9 | 1 | 30 |
| | | | |
| --- | --- | --- | --- |
| Team Stats and Records | PP | PIM | SHGF |
| Boston College (20-4-4) | 0/3 | 3/6 | 0 |
| Boston University (16-8-4) | 0/2 | 5/18 | 0 |
| | | | | | | | |
| --- | --- | --- | --- | --- | --- | --- | --- |
| Boston College Goaltending | MIN | GA | 1 | 2 | 3 | OT | Saves |
| Thatcher Demko (W, 19-4-3) | 61:57 | 0 | 12 | 8 | 9 | 1 | 30 |
| | | | | | | | |
| --- | --- | --- | --- | --- | --- | --- | --- |
| Boston University Goaltending | MIN | GA | 1 | 2 | 3 | OT | Saves |
| Sean Maguire (L, 9-5-1) | 61:57 | 1 | 23 | 9 | 6 | 3 | 41 |
BOSTON, Mass. - Sophomore forward Alex Tuch scored 1:57 into overtime and junior goaltender Thatcher Demko made 30 saves to lift Boston College to a 1-0 win against Boston University in the championship game of the 64th Annual Beanpot Tournament on Monday at TD Garden.
GAME INFORMATION
Score: No. 4 Boston College 1 // No. 7 Boston University 0 (overtime)
Records: No. 4 Boston College (20-4-4, 11-1-4 HEA) // No. 7 Boston University (16-8-4, 9-3-3 HEA)
Location: TD Garden // Boston
Length of Game: 3:10
Attendance: 15,702
Boston College Starters: Wood (LW) - Cangelosi (C) - Gilmour (RW) - Santini (LD) - Savage (RD) - Demko (G)
Boston University Starters: Greenway (LW) - Matt Lane (C) - Oksanen (RW) - Grzelcyk (LD) - McAvoy (RD) - Maguire (G)
BC HIGHLIGHTS AND GAME NOTES
- Alex Tuch tallied his 11th goal of the season 1:57 into overtime to lift the Eagles to their 20th Beanpot Championship title in the tournament's 64-year history. The maroon and gold is now 78-50 all time in Beanpot action and 16-27 against BU. It was the third point that Tuch has recorded in his four career Beanpot games.
- There have been 256 Beanpot games in the tournament's 64 years of history. Tonight was the first game to end with a 1-0 final score. In the BC-BU rivalry, it was only the second game to end 1-0. In the only other 1-0 game between the two squads, the Eagles defeated the Terriers on Dec. 2, 2006 at Agganis Arena.
- The 2016 title game was the 13th title game to go to overtime.
- Monday's game was Boston College's 35th appearance in the Beanpot Championship and the 22nd time against Boston University. It was the first championship event against the Terriers since 2012.
- With his ninth shutout of the season, goalkeeper Thatcher Demko now holds the BC single-season record for shutouts.
- Tonight's shutout was only the fourth shutout in championship history and the first since the 1981 season.
- After Monday's game, there are 10 members on the current Eagles roster who have tallied at least one point during a Beanpot game in their career. Junior forward Ryan Fitzgerald leads all Eagles on the current roster with five points on three goals and two assists.
- Both teams were locked in a defensive battle through the first two periods. Demko recorded 20 saves through the first two frames while BU's Maguire tallied 32 saves.
- There was a 28-minute delay in the first period due to technical difficulties at TD Garden. Boston College was outshooting the Terriers, 14-5, at that time.
TURNING POINT
Sophomore Alex Tuch skated across the blue line and fired a wrister past BU's Sean Maguire's stick for the game winner. It was the second game-winning goal of the season for the Baldwinsville, N.Y., native and the fourth of his career.
HOW IT HAPPENED
Both teams were locked in a defensive battle through the first three periods. Thatcher Demko recorded 29 saves through the first three frames while BU's Maguire tallied 38 saves.
Tuch took a feed from Zach Sanford and Steve Santini that he took across the blue line and fired past the stick side of BU's goalie for the game winner.
BOSTON COLLEGE LEADERS
Points: Alex Tuch (1-0-1) / Zach Sanford (0-1-1) / Steve Santini (0-1-1)
Goals: Alex Tuch (1)
Assists: Zach Sanford (1) / Steve Santini (1)
Shots: Miles Wood (5)
BOSTON UNIVERSITY LEADERS
Points: -
Goals: -
Assists: -
Shots: Ahti Oksanen (6)
SPECIAL TEAMS
Boston College: 0-3
Boston University: 0-2
PENALTIES - MINUTES
Boston College: 3-6
Boston University: 5-18
UP NEXT
Boston College will continue on with its three remaining Hockey East regular-season weekends before the postseason is upon us. The Eagles will host Merrimack for the first time this season on Friday, Feb. 12 at 7 p.m. before heading to North Andover, Mass., on Saturday night for the backend contest at Lawler Arena at 7 p.m. BC will then take its last regular season overnight trip to Burlington, Vt. for a weekend series at Vermont. Both games at Gutterson Arena are scheduled for 7 p.m. BC will close the season with a home and home series against UMass Lowell.