Petti's Five Points Help Merrimack Topple Arizona State, 10-0
Freshman forward Derek Petti posts two goals and three assists for Warriors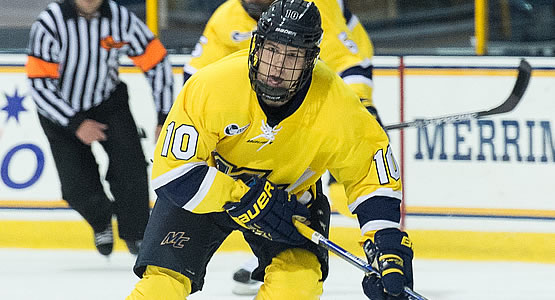 Freshman forward Derek Petti had two goals and three assists for the Warriors
| | | | | | | |
| --- | --- | --- | --- | --- | --- | --- |
| Prd | Time | Team | Score | Type | Scored By | Assists |
| 1st | 0:38 | MER | 1-0 | EV GW | Derek Petti (1) | Chris LeBlanc/2, Michael Babcock/2 |
| 1st | 7:45 | MER | 2-0 | EV | Mathieu Tibbet (5) | Alex Carle/5, Brett Seney/9 |
| 1st | 12:45 | MER | 3-0 | EV | Brian Christie (5) | Ben Bahe/9, Alex Carle/6 |
| 1st | 16:32 | MER | 4-0 | EV | Mathieu Foget (3) | Aaron Titcomb/7 |
| 1st | 18:39 | MER | 5-0 | PP | Chris LeBlanc (3) | Brett Seney/10, Mathieu Foget/5 |
| 2nd | 1:22 | MER | 6-0 | PP | Chris LeBlanc (4) | Brett Seney/11, Ethan Spaxman/1 |
| 2nd | 6:45 | MER | 7-0 | PP | Alex Carle (1) | Derek Petti/2, Marc Biega/6 |
| 2nd | 8:32 | MER | 8-0 | PP | Mathieu Tibbet (6) | Matt Cronin/4, Derek Petti/3 |
| 2nd | 13:18 | MER | 9-0 | PP | Michael Babcock (2) | Derek Petti/4, Ethan Spaxman/2 |
| 3rd | 16:14 | MER | 10-0 | SH | Derek Petti (2) | Hampus Gustafsson/10 |
| | | | | |
| --- | --- | --- | --- | --- |
| Scoring | 1st | 2nd | 3rd | Final |
| Arizona State | 0 | 0 | 0 | 0 |
| Merrimack | 5 | 4 | 1 | 10 |
| | | | | |
| --- | --- | --- | --- | --- |
| Shots on Goal | 1st | 2nd | 3rd | SOG |
| Arizona State | 5 | 7 | 9 | 21 |
| Merrimack | 15 | 14 | 11 | 40 |
| | | | |
| --- | --- | --- | --- |
| Team Stats and Records | PP | PIM | SHGF |
| Arizona State (5-22-0) | 0/7 | 12/32 | 0 |
| Merrimack (8-14-5) | 5/7 | 11/22 | 1 |
| | | | | | | |
| --- | --- | --- | --- | --- | --- | --- |
| Arizona State Goaltending | MIN | GA | 1 | 2 | 3 | Saves |
| Ryland Pashovitz (L, 4-14-0) | 20:00 | 5 | 10 | 0 | 0 | 10 |
| Robert Levin | 40:00 | 5 | 0 | 10 | 10 | 20 |
| | | | | | | |
| --- | --- | --- | --- | --- | --- | --- |
| Merrimack Goaltending | MIN | GA | 1 | 2 | 3 | Saves |
| Collin Delia (W, 7-11-5) | 20:00 | 0 | 5 | 0 | 0 | 5 |
| Drew Vogler | 33:59 | 0 | 0 | 7 | 6 | 13 |
| Joe Pantalone | 6:01 | 0 | 0 | 0 | 3 | 3 |
NO. ANDOVER, Mass. - Freshman forward Derek Petti had two goals and three assists and seven other Warriors posted multiple-point games as Merrimack earned a 10-0 win against Arizona State on Sunday at Lawler Rink.
How It Happened
Looking to close out January on a high note and put an end to a 10-game losing streak, Merrimack welcomed Division I's newest varsity program to town. For the Sun Devils, the Sunday matinee was their third game in three days after playing UMass Lowell both Friday and Saturday nights.
Merrimack needed only 38 seconds to get on the board, as Petti's career night started with his first collegiate marker off feeds from junior Chris LeBlanc (Winthrop, Mass.) and freshman Michael Babcock (Northville, Mich.).
Other first-period scorers included sophomore Mathieu Tibbet (Dover, Del.), senior Brian Christie (West Chester, Pa.) and freshman Mathieu Foget (Orleans, Ontario), and LeBlanc capped it off by scoring the first of five Merrimack power play goals with help from a pretty feed from sophomore Brett Seney (London, Ontario) at the 18:39 mark to send the Warriors into the first intermission with a 5-0 advantage.
While on the power play, LeBlanc tapped in his second of the night for his first-ever two-goal outing less than 90 seconds into the middle stanza, and the Warriors would score three more times with the man advantage that period.
Freshman Alex Carle (Anchorage, Alaska) found the back of the net of fa wrist shot from the high slot at the 6:45 mark. Less than two minutes later, Tibbet added his second of the game for his third career two-goal night, and Babcock wrapped things up with a gritty goal in front at at 13:18 to push the hosts' lead to 9-0.
The Merrimack penalty kill got some work in the third and finished the night a perfect 7-for-7 after fending off three Arizona State power plays in the final frame. One of those power plays led to a Merrimack shorthanded goal, as Petti and junior Hampus Gustafsson (Ljungby, Sweden) came in on a 2-on-1 rush before Petti scored from the edge of the far circle to wrap up the night.
Merrimack saw a shared shutout from all three goaltenders who dressed. Starter Collin Delia (Rancho Cucamonga, Calif.) made five saves in the first and secured his seventh win of the season in the process, while freshman Drew Vogler (Florissant, Mo.) played 33:59 and recorded 13 stops before giving way to graduate student Joe Pantalone (Hammonton, N.J.), who stopped all three shots he faced in his first career appearance at Lawler Rink to close out the contest.
Notes and Numbers
- Merrimack's 10 goals marked the team's most potent offensive output since an 11-2 win at home against UMass on Feb. 5, 2011
- Petti's five-point performance (2g, 3a) was the first by a Merrimack skater since Chris Barton did so in that aforementioned victory over UMass back in February of 2011, nearly five years ago Merrimack scored five goals in a single period for the first time since potting five in the middle stanza during a 6-6 tie against St. Lawrence in the Ledyard Classic on Dec. 30, 2011; the last time the Warriors scored five goals in a single period at home was in a 7-1 win against UConn back on Oct. 16, 2010, also in the second frame
- Merrimack scored five power play goals for the first time since the 1999-2000 season, which is the furthest back that game-by-game team statistics are available online
- Other multi-point performances came from Carle (1g, 2a), Seney (3a), LeBlanc (2g, 1a), Babcock (1g, 1a), Spaxman (2a), Tibbet (2g) and Foget (1g, 1a)
Goaltenders: W - Collin Delia (5 saves, 7-11-5) // ASU - Ryland Pashovitz (10 saves, 4-14-0)
Power Plays: Merrimack (5-7) | ASU (0-7)
SOG (MC-ASU): 15-5 // 14-7 // 11-9 // 40-21
Up Next
Merrimack will open the final month of the regular season against the University of Connecticut on Saturday (Feb. 6) night at Lawler Rink, with puck drop set for 7 p.m. The contest will air live on regional (WBIN-TV) and national (Fox College Sports Atlantic) television, and will also stream worldwide on ESPN3.