UConn Blanks Arizona State, 3-0, At Desert Hockey Classic
Senior forward Joey Ferriss scores two goals for Huskies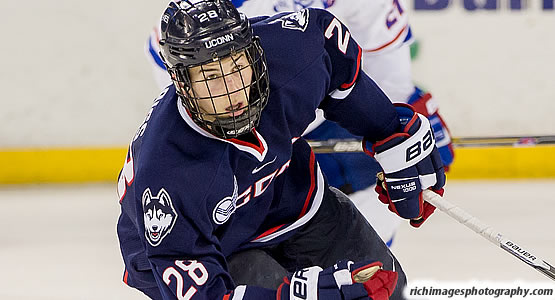 Senior forward Joey Ferriss scored two goals for the Huskies
| | | | | | | |
| --- | --- | --- | --- | --- | --- | --- |
| Prd | Time | Team | Score | Type | Scored By | Assists |
| 2nd | 7:50 | CON | 1-0 | EV GW | Joey Ferriss (2) | Kyle Huson/4, Patrick Kirtland/7 |
| 2nd | 15:50 | CON | 2-0 | PP | Shawn Pauly (3) | Tage Thompson/8, Maxim Letunov/15 |
| 3rd | 15:01 | CON | 3-0 | EV | Joey Ferriss (3) | - |
| | | | | |
| --- | --- | --- | --- | --- |
| Scoring | 1st | 2nd | 3rd | Final |
| Connecticut | 0 | 2 | 1 | 3 |
| Arizona State | 0 | 0 | 0 | 0 |
| | | | | |
| --- | --- | --- | --- | --- |
| Shots on Goal | 1st | 2nd | 3rd | SOG |
| Connecticut | 13 | 9 | 7 | 29 |
| Arizona State | 9 | 5 | 6 | 20 |
| | | | |
| --- | --- | --- | --- |
| Team Stats and Records | PP | PIM | SHGF |
| Connecticut (7-13-1) | 1/4 | 4/8 | 0 |
| Arizona State (5-17-0) | 0/3 | 5/10 | 0 |
| | | | | | | |
| --- | --- | --- | --- | --- | --- | --- |
| Connecticut Goaltending | MIN | GA | 1 | 2 | 3 | Saves |
| Rob Nichols (W, 6-12-1) | 60:00 | 0 | 9 | 5 | 6 | 20 |
| | | | | | | |
| --- | --- | --- | --- | --- | --- | --- |
| Arizona State Goaltending | MIN | GA | 1 | 2 | 3 | Saves |
| Ryland Pashovitz (L, 4-11-0) | 60:00 | 3 | 13 | 7 | 6 | 26 |
GLENDALE, Ariz. - UConn senior Joey Ferriss (Novi, Mich.) scored a pair of goals and junior goaltender Rob Nichols (Dallas, Texas) made 20 saves for his first shutout of the season as the Huskies beat Arizona State in the Desert Hockey Classic consolation game Sunday from the Gila River Arena in Glendale. The Huskies improve to 7-13-1 overall on the season.
UConn swept all three meetings with the Sun Devils this season, winning by a combined score of 13-3. The Huskies finished the night 1-for-4 on the power play and held a 29-20 edge on shots.
Nichols picks-up his first shutout this season the seventh of his career. Ferriss matched his career-high with two goals (2g vs. Holy Cross - 2/15/14) while senior Shawn Pauly (Bellingham, Wash.) tacked on a power play goal for the Huskies in the win.
For the second time this week, the Huskies and Sun Devils played a scoreless first period with UConn striking first in the second. The Huskies fired 13 shots on goal in the first period but couldn't beat Ryland Pashovitz until the 7:50 mark of the second.
Senior Kyle Huson (Parker, Colo.) drove a shot on net from just inside the blue line on the left wing. Ferriss was posted up just in front of Pashovitz and was able to redirect Huson's shot past the netminder for his second on the season and a 1-0 lead.
UConn drew their first power play of the night at the 15:16 mark on a boarding call and needed just 34 seconds to take a two-goal lead. Freshman Max Letunov (Moscow, Russia) set up a pretty tic-tac-toe goal, centering to Tage Thompson (Orange, Conn.) who fed Pauly for his third on the season a 2-0 lead.
Ferriss made it 3-0 at 15:01 of the third with a solid defensive effort leading to his second goal. The senior forward picked a clearing attempt in the ASU zone and skated into the slot, burying a wrist shot past Pashovitz stick side for his third goal this season.
Nichols put the stamp on his shutout with just over four minutes left as Joe Lappin got free on a break-away but the junior netminder turned him away with a kick-save off the right pad.
UConn finished third at the inaugural Desert Hockey Classic. In the championship game, Michigan Tech and Yale skated to a 1-1 draw with MTU claiming the trophy in a shoot-out win.
The Huskies will return to Hockey East play next weekend with a two-game series at the University of Maine, Friday and Saturday, January 15th and 16th.