Tuesday, November 10, 2015
UConn Defeated By Army West Point, 2-0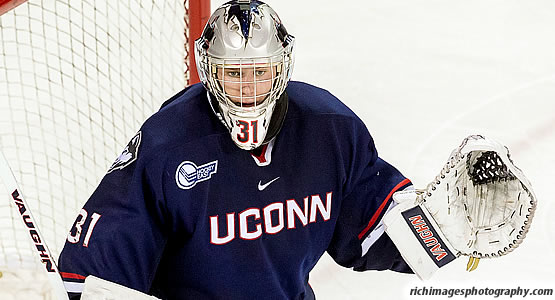 Junior goaltender Rob Nichols made 28 saves for the Huskies
| | | | | | | |
| --- | --- | --- | --- | --- | --- | --- |
| Prd | Time | Team | Score | Type | Scored By | Assists |
| 3rd | 7:35 | ARM | 1-0 | EV GW | Ryan Nick (2) | Shane Hearn/2, Joe Kozlak/4 |
| 3rd | 19:42 | ARM | 2-0 | EV EN | Clint Carlisle (2) | Tyler Pham/2, Ryan Nick/1 |
| | | | | |
| --- | --- | --- | --- | --- |
| Scoring | 1st | 2nd | 3rd | Final |
| Army West Point | 0 | 0 | 2 | 2 |
| Connecticut | 0 | 0 | 0 | 0 |
| | | | | |
| --- | --- | --- | --- | --- |
| Shots on Goal | 1st | 2nd | 3rd | SOG |
| Army West Point | 7 | 10 | 13 | 30 |
| Connecticut | 10 | 7 | 6 | 23 |
| | | | |
| --- | --- | --- | --- |
| Team Stats and Records | PP | PIM | SHGF |
| Army West Point (1-5-2) | 0/4 | 3/6 | 0 |
| Connecticut (3-7-0) | 0/3 | 4/8 | 0 |
| | | | | | | |
| --- | --- | --- | --- | --- | --- | --- |
| Army West Point Goaltending | MIN | GA | 1 | 2 | 3 | Saves |
| Parker Gahagen (W, 1-2-2) | 60:00 | 0 | 10 | 7 | 6 | 23 |
| | | | | | | |
| --- | --- | --- | --- | --- | --- | --- |
| Connecticut Goaltending | MIN | GA | 1 | 2 | 3 | Saves |
| Rob Nichols (L, 3-6-0) | 58:56 | 1 | 7 | 10 | 11 | 28 |
| Empty Net | 1:04 | 1 | | | | |
HARTFORD, Conn. - Army junior goaltender Parker Gahagen stopped all 23 shots he faced Tuesday night to deal the UConn Huskies their fifth-straight loss, 2-0, in front of 3,883 at the XL Center. The Huskies fall to 3-7-0 overall on the season with the loss. The win is the first for the Black Knights this season as they improve to 1-5-2 overall.
Army junior Ryan Nick scored the game-winning goal at 7:35 in the third period and classmate Clint Carlisle added an empty netter to produce the 2-0 final The Huskies generated just 23 total shots in the loss, and where outshot 30-23 by the Black Knights.
Husky goaltender Rob Nichols (Dallas, Texas) stopped 28 shots in taking the loss. UConn has now lost five-straight for the first time under third year head coach Mike Cavanaugh and has their first five-game slide since the 2010-11 season.
The Black Knights came alive in the third period at both ends of the ice, holding the Huskies to just six shots while generating 10 offensively. Army ended the stalemate when Nick finished off a great cross-ice feed from senior center Shane Hearn. The Black Knights held the puck in the zone and Hearn sent a pass from the top of the right circle to a crashing Nick breaking up the left wing. The junior defenseman buried the puck top-shelf, past Nichols to the stick side.
UConn got Nichols off the ice with just over a minute left in the third but couldn't generate any good looks. Carlisle created a turnover on the blue line and got loose up the right wing to safely tap the empty net goal in at 19:42 to seal the win.
The Huskies finished 0-for-3 on the night on the power play. Sophomore Spencer Naas (Minnetonka, Minn.) generated a team-high five shots for UConn.
UConn returns to Hockey East play this weekend with a Friday night trip to the University of Vermont. Opening face-off is scheduled for 7:05 pm.