Saturday, February 28, 2015
Vermont And UMass Lowell Skate To 2-2 Tie
Senior defenseman Mike Paliotta scores game-tying goal for Catamounts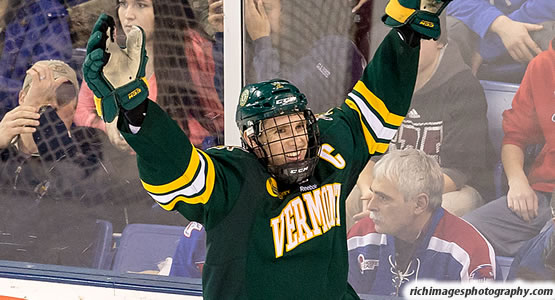 Senior defenseman Mike Paliotta scored the game-tying goal for the Catamounts
| | | | | | | |
| --- | --- | --- | --- | --- | --- | --- |
| Prd | Time | Team | Score | Type | Scored By | Assists |
| 1st | 0:54 | VER | 1-0 | EV | Alexx Privitera (6) | Anthony Petruzzelli/6, Jarrid Privitera/4 |
| 1st | 8:54 | UML | 1-1 | EV | Adam Chapie (11) | Robert Francis/5, Evan Campbell/15 |
| 2nd | 9:00 | UML | 2-1 | EV | Michael Fallon (6) | Michael Louria/5, A.J. White/9 |
| 3rd | 17:15 | VER | 2-2 | EV GT | Mike Paliotta (9) | Brendan Bradley/13, Alexx Privitera/14 |
| | | | | | |
| --- | --- | --- | --- | --- | --- |
| Scoring | 1st | 2nd | 3rd | OT | Final |
| Vermont | 1 | 0 | 1 | 0 | 2 |
| UMass Lowell | 1 | 1 | 0 | 0 | 2 |
| | | | | | |
| --- | --- | --- | --- | --- | --- |
| Shots on Goal | 1st | 2nd | 3rd | OT | SOG |
| Vermont | 9 | 9 | 6 | 2 | 26 |
| UMass Lowell | 5 | 5 | 2 | 3 | 15 |
| | | | |
| --- | --- | --- | --- |
| Team Stats and Records | PP | PIM | SHGF |
| Vermont (18-12-4) | 0/2 | 2/4 | 0 |
| UMass Lowell (18-10-6) | 0/2 | 2/4 | 0 |
| | | | | | | | |
| --- | --- | --- | --- | --- | --- | --- | --- |
| Vermont Goaltending | MIN | GA | 1 | 2 | 3 | OT | Saves |
| Mike Santaguida (T, 7-7-2) | 65:00 | 2 | 4 | 4 | 2 | 3 | 13 |
| | | | | | | | |
| --- | --- | --- | --- | --- | --- | --- | --- |
| UMass Lowell Goaltending | MIN | GA | 1 | 2 | 3 | OT | Saves |
| Kevin Boyle (T, 15-7-6) | 65:00 | 2 | 8 | 9 | 5 | 2 | 24 |
LOWELL, Mass. -- The No. 14 UMass Lowell hockey team skated to a 2-2 overtime tie with the No. 18 Vermont Catamounts on Saturday night in front of 6,261 fans at the Tsongas Center on Senior Night.
"I thought it was a well-played hockey game by both teams in a playoff atmosphere tonight, every inch was very difficult to come by, and they made us earn everything we got," said Head Coach Norm Bazin. "We would have liked a few more shots, but they had a lot more urgency and three out of four points in Hockey East you have to be pleased. It's a tough league, however the three out of four points guaranteed us a first round bye, we should be pleased about that."
The River Hawks (18-10-6, 11-7-4 HEA), who finished in fourth place in the Hockey East standings and earned a first-round bye in the league playoffs, held the 2-1 lead until there 2:47 remaining in regulation. Mike Paliotta used a one-timer to knot the score at 2-2. The senior used to quick flick of the wrist to get the pass from Brendan Bradley past Boyle and into the net.
The Catamounts (18-12-4, 10-9-3) only took 54 seconds to open up the night's scoring when Alex Privitera batted down a high puck past Kevin Boyle (Manalapan, N.J.). The play was reviewed for a high-stick, but was upheld.
Adam Chapie (Oxford, Mich.) scored his 11th goal of the season at the 8:54 mark of the first period when he gathered a pass from Robert Francis (San Diego, Calif.) after the faceoff, and as he was falling to the ice let go a low shot past Mike Santaguida.
Michael Fallon (Glenview, Ill.) gave UMass Lowell the 2-1 lead nine minutes into the second period. Michael Louria (Wexford, Pa.) fed a pass from the right boards at the goal line to in between the circles, and the junior's slow lofted shot got through Sanataguida.
Chapie finished the weekend with four points following his three assist performance on Friday night.
Both teams could not manage a goal on the power play, going a combined 0-for-4. Boyle made 24 saves, and Santaguida stopped 13 shots.
The River Hawks will return to action on Friday, March 13th in the best-of-three Hockey East Quarterfinal series at the Tsongas Center. Game 1 starts at 7:15 p.m. with their opponent to be determined. Tickets for all Hockey East quarterfinal home games are available through the Tsongas Center Box Office, online at TsongasCenter.com or by calling 866-722-8780.