Saturday, February 21, 2015
Vatrano Lifts Massachusetts To 2-1 Overtime Win Over Providence
Sophomore forward Frank Vatrano scores game-winning goal for Minutemen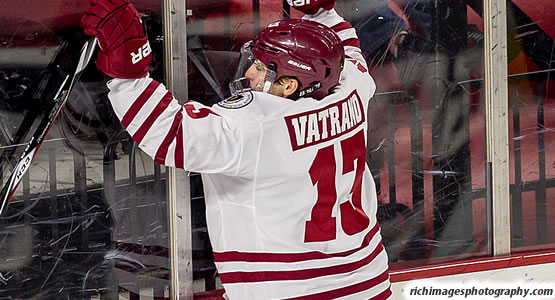 Sophomore forward Frank Vatrano scores game-winner for Minutemen
| | | | | | | |
| --- | --- | --- | --- | --- | --- | --- |
| Prd | Time | Team | Score | Type | Scored By | Assists |
| 2nd | 16:27 | UMA | 1-0 | EV EA | Maddison Smiley (1) | Steven Iacobellis/15, Dennis Kravchenko/19 |
| 3rd | 15:20 | PRV | 1-1 | EV | Noel Acciari (11) | Shane Luke/14, Josh Monk/4 |
| OT | 3:50 | UMA | 2-1 | EV GW | Frank Vatrano (17) | Troy Power/10, Dennis Kravchenko/20 |
| | | | | | |
| --- | --- | --- | --- | --- | --- |
| Scoring | 1st | 2nd | 3rd | OT | Final |
| Providence | 0 | 0 | 1 | 0 | 1 |
| Massachusetts | 0 | 1 | 0 | 1 | 2 |
| | | | | | |
| --- | --- | --- | --- | --- | --- |
| Shots on Goal | 1st | 2nd | 3rd | OT | SOG |
| Providence | 15 | 9 | 15 | 4 | 43 |
| Massachusetts | 9 | 11 | 6 | 2 | 28 |
| | | | |
| --- | --- | --- | --- |
| Team Stats and Records | PP | PIM | SHGF |
| Providence (19-11-2) | 0/5 | 3/6 | 0 |
| Massachusetts (10-20-2) | 0/2 | 6/12 | 0 |
| | | | | | | | |
| --- | --- | --- | --- | --- | --- | --- | --- |
| Providence Goaltending | MIN | GA | 1 | 2 | 3 | OT | Saves |
| Jon Gillies (L, 17-11-2) | 63:50 | 2 | 9 | 10 | 6 | 1 | 26 |
| | | | | | | | |
| --- | --- | --- | --- | --- | --- | --- | --- |
| Massachusetts Goaltending | MIN | GA | 1 | 2 | 3 | OT | Saves |
| Steve Mastalerz (W, 3-10-1) | 63:20 | 1 | 15 | 9 | 14 | 4 | 42 |
| Empty Net | 0:30 | 0 | | | | | |
AMHERST, Mass. - The UMass hockey team fought through a defensive battle with #12 Providence and, after two goal reviews, topped the Friars in overtime, 2-1 at the Mullins Center on Saturday. Following the victory, which provided a storybook ending for the Minutemen's Senior Night celebration, UMass is 10-20-2 on the season, 5-15-1 in Hockey East, while Providence falls to 19-11-2 overall and 11-8-1 in league action.
Redshirt sophomore Frank Vatrano scored the overtime game winner for his team-leading 17th tally of the season. His 17 goals on the year match the seventh highest total for a Minuteman in the Hockey East era. Freshman Dennis Kravchenko logged a pair of assists for his ninth multi-point game of the year and now has a team-high 30 points on the season.
Freshman Maddison Smiley netted his first career goal in the contest, as well, while sophomore Steven Iacobellis tied a career high with his 21st point of the year as he collected an assist on the night.
After scrapping through the first period and the majority of the second scoreless, UMass took a 1-0 lead at the 16:27 mark of the second. With an extra skater on and a delayed penalty call, Smiley drove in a feed from Iacobellis behind the net. Kravchenko picked up a helper on the play, sending puck to Iacobellis amidst a scramble in front.
Steve Mastalerz denied a breakaway attempt late in the third only to have the Friars score moments later, tying things up at 1-1, 15:20 into the stanza. Shane Luke and Josh Monk set up Noel Accari's goal that was tipped home from the slot on the rush.
Mark Jankowski scored what looked to be the game winner in overtime for Providence, but after the play was reviewed, the goal was disallowed. The Minutemen responded shortly after as senior Troy Power and Kravchenko fed Vatrano's point-blank strike that went in under netminder Jon Gillies at the 3:50 mark. That score was reviewed, as well, but the call on the ice was confirmed, giving UMass the victory.
The Friars out-shot UMass, 43-28 in the contest and both teams were held scoreless on the power play with Providence going 0-for-5, while the Minutemen were 0-for-2. Mastalerz finished with 42 saves on the night for UMass and Gillies turned aside 26 shots for the Friars.
The Minutemen will close out the 2014-15 regular season next Friday, Feb. 27, with a game at Connecticut at 7 p.m. in Hartford.