Three-Goal Third Period Lifts Notre Dame Past UMass Lowell, 4-2
Junior forward Mario Lucia has goal and assist for Fighting Irish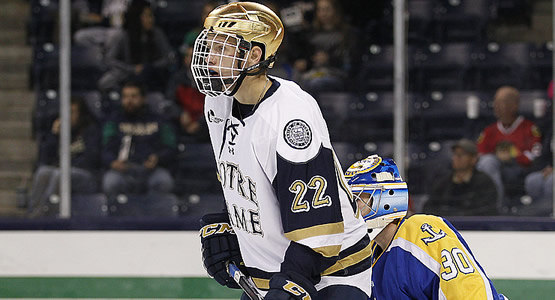 Junior forward Mario Lucia had a goal and an assist for the Fighting Irish
| | | | | | | |
| --- | --- | --- | --- | --- | --- | --- |
| Prd | Time | Team | Score | Type | Scored By | Assists |
| 1st | 19:11 | UML | 1-0 | PP | Joe Gambardella (12) | Adam Chapie/16, John Edwardh/6 |
| 2nd | 11:45 | NDM | 1-1 | EV | Sam Herr (12) | Connor Hurley/10 |
| 2nd | 15:37 | UML | 2-1 | PP | Evan Campbell (12) | Dylan Zink/14, C.J. Smith/19 |
| 3rd | 4:43 | NDM | 2-2 | EV | Anders Bjork (7) | Mario Lucia/11 |
| 3rd | 10:30 | NDM | 3-2 | PP GW | Mario Lucia (21) | Vince Hinostroza/33, Jordan Gross/20 |
| 3rd | 19:52 | NDM | 4-2 | EV EN | Peter Schneider (6) | Steven Fogarty/12 |
| | | | | |
| --- | --- | --- | --- | --- |
| Scoring | 1st | 2nd | 3rd | Final |
| Notre Dame | 0 | 1 | 3 | 4 |
| UMass Lowell | 1 | 1 | 0 | 2 |
| | | | | |
| --- | --- | --- | --- | --- |
| Shots on Goal | 1st | 2nd | 3rd | SOG |
| Notre Dame | 6 | 11 | 7 | 24 |
| UMass Lowell | 13 | 5 | 9 | 27 |
| | | | |
| --- | --- | --- | --- |
| Team Stats and Records | PP | PIM | SHGF |
| Notre Dame (18-18-5) | 1/3 | 6/12 | 0 |
| UMass Lowell (19-11-6) | 2/4 | 5/10 | 0 |
| | | | | | | |
| --- | --- | --- | --- | --- | --- | --- |
| Notre Dame Goaltending | MIN | GA | 1 | 2 | 3 | Saves |
| Cal Petersen (W, 13-15-3) | 59:52 | 2 | 12 | 4 | 9 | 25 |
| Empty Net | 0:08 | 0 | | | | |
| | | | | | | |
| --- | --- | --- | --- | --- | --- | --- |
| UMass Lowell Goaltending | MIN | GA | 1 | 2 | 3 | Saves |
| Kevin Boyle (L, 16-8-6) | 59:06 | 3 | 6 | 10 | 4 | 20 |
| Empty Net | 0:54 | 1 | | | | |
LOWELL, Mass. - With a three-goal third period the Notre Dame Fighting Irish forced a game three in the Hockey East quarterfinals, defeating No. 14 UMass Lowell, 4-2 Saturday night at the Tsongas Center.
"We definitely were in a playoff style hockey game tonight," said Head Coach Norm Bazin. "We ran into a very desperate opponent and although we did things well we didn't do enough, and that was pretty evident. Game three tomorrow and we're looking forward to playing."
Notre Dame (18-18-5) took its first lead of the series when Mario Lucia buried the pass from Jordan Gross at 10:33 of the third period.
The River Hawks (19-10-6) scored the opening goal when Joe Gambardella (Staten Island, N.Y.) scored his second goal of the series with 49 seconds remaining in the first period, on the power play. The sophomore was all alone in front of then net when Adam Chapie (Oxford, Mich.) fed him a pass from outside the left circle.
After the Fighting Irish had a goal denied following a review they tied up the score thanks to Sam Herr at 11:45 of the second period.
Evan Campbell (Port Coquitlam, British Columbia) gave UMass Lowell the 2-1 lead at 15:37 of the second, with the team's second power play goal, on a bad-angle shot from the right side of the net that snuck through Cal Peterson. The sophomore received the puck from Dylan Zink (Madison, Wis.) and let the shot go from along the goal line to the near post.
Anders Bjork put the game into a 2-2 deadlock with 15:17 remaining in regulation when he buried the rebound from Lucia's original shot into the back of the net.
Notre Dame went 1-for-3 on the power play, and the River Hawks went 2-for-4. Kevin Boyle made 20 saves, and Peterson stopped 25 shots in the win.
Both teams will meet for the decisive game three Sunday at 4 p.m. for a chance to advance to the semifinals at the TD Garden. Tickets for the Game 3 of the Hockey East Quarterfinals at the Tsongas Center are on sale now through the Box Office, by phone at 866-722-8780 or online at TsongasCenter.com. Tickets are $20 for an adult and $17 for seniors (65 ) and children (12 and under). UMass Lowell students will be free of charge, courtesy of the Division of Student Affairs.