Friday, February 20, 2015
New Hampshire Wildcats Defeat UConn Huskies, 4-1
Junior forward Dan Correale and sophomore forward Tyler Kelleher has goal and two assists for Wildcats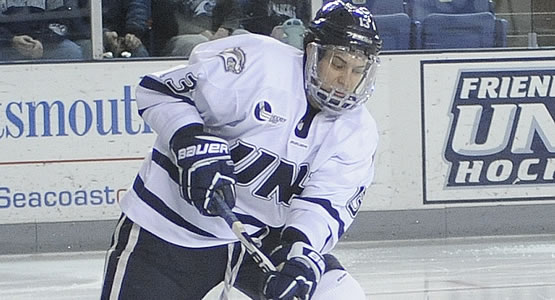 Junior forward Dan Correale had a goal and two assists for the Wildcats
| | | | | | | |
| --- | --- | --- | --- | --- | --- | --- |
| Prd | Time | Team | Score | Type | Scored By | Assists |
| 2nd | 1:44 | UNH | 1-0 | EV | Tyler Kelleher (13) | Dan Correale/8, Harry Quast/6 |
| 2nd | 2:21 | UNH | 2-0 | EV GW | Brett Pesce (3) | Dan Correale/9, Andrew Poturalski/13 |
| 2nd | 6:37 | CON | 1-2 | PP | Cody Sharib (6) | Trevor Gerling/6, Jacob Poe/7 |
| 3rd | 11:48 | UNH | 3-1 | EV | Dan Correale (4) | Tyler Kelleher/20, Matias Cleland/8 |
| 3rd | 19:55 | UNH | 4-1 | EV EN | Matt Willows (15) | Richard Boyd/3 |
| | | | | |
| --- | --- | --- | --- | --- |
| Scoring | 1st | 2nd | 3rd | Final |
| New Hampshire | 0 | 2 | 2 | 4 |
| Connecticut | 0 | 1 | 0 | 1 |
| | | | | |
| --- | --- | --- | --- | --- |
| Shots on Goal | 1st | 2nd | 3rd | SOG |
| New Hampshire | 7 | 8 | 13 | 28 |
| Connecticut | 6 | 8 | 7 | 21 |
| | | | |
| --- | --- | --- | --- |
| Team Stats and Records | PP | PIM | SHGF |
| New Hampshire (12-17-2) | 0/1 | 1/2 | 0 |
| Connecticut (9-16-7) | 1/1 | 1/2 | 0 |
| | | | | | | |
| --- | --- | --- | --- | --- | --- | --- |
| New Hampshire Goaltending | MIN | GA | 1 | 2 | 3 | Saves |
| Daniel Tirone (W, 7-4-0) | 60:00 | 1 | 6 | 7 | 7 | 20 |
| | | | | | | |
| --- | --- | --- | --- | --- | --- | --- |
| Connecticut Goaltending | MIN | GA | 1 | 2 | 3 | Saves |
| Rob Nichols (L, 8-16-7) | 58:43 | 3 | 7 | 6 | 11 | 24 |
| Empty Net | 1:17 | 1 | | | | |
HARTFORD, Conn. - The University of New Hampshire got a goal and two assists from both junior Dan Correale and sophomore Tyler Kelleher on the way to dealing the UConn Huskies their third-straight loss, 4-1, Friday night in front of 6,877 at the XL Center in Hartford. UConn's lone goal came off the stick of senior Cody Sharib (Needham, Mass.) as the Huskies fall to 9-16-7 overall and 6-10-4 in Hockey East with the loss.
UConn and New Hampshire will close out their Hockey East weekend series tomorrow night from the Whittemore Center in Durham, N.H. The Huskies remain tied with Maine in eighth place in the HEA standings, both at 16 points, but UNH is just a point behind both in ninth heading into Saturday's finale.
UConn played strong first period and generated some quality scoring chances but couldn't find the back of the net. Senior Trevor Gerling (Seattle, Wash.) rang the post just four minutes in and junior Patrick Kirtland (Rocky Hill, Conn.) just missed banging in a rebound.
The Wildcats came out flying to start the second period and scored on their first two shots of the period. Sophomore Tyler Kelleher took a feed from junior Dan Correale skating into the slot and buried a shot in the upper right corner 1:44 into the period. UNH made it 2-0 just 37 seconds later as junior Brett Pesce collected a pass from Correale just inside the right circle and blasted a shot far side off the post and in to beat goaltender Rob Nichols (Dallas, Texas) and give his team a two-goal lead.
The Huskies drew the night's first power play at 4:38 and cut the UNH lead in half by breaking a streak of 28-straight power plays without a goal on Sharib's sixth of the year. UConn's last power play goal came in a 3-2 loss at Boston College with tonight's coming with just one second to spare with the extra man.
Gerling held the puck near the right post and flicked a pass back to Sharib waiting right in front of goal who buried it before goaltender Danny Tirone was able to recover at 6:37.
New Hampshire made it 3-1 at 11:48 in the third as Correale got on the board. Kelleher carried the puck through the zone and passed up a shot to send a pass back to a trailing Correale who whipped a shot past Nichols stick side through some traffic for his fourth on the season. UConn pulled Nichols with just over a minute left looking to spark some offense but came up empty as UNH tacked on an empty netter with five seconds left off the stick of Matt Willows.
UNH held a 28-21 edge on shots on the night but went 0-for-1 on their only power play chance. UConn's Nichols made 24 saves in taking the loss.
The Huskies and Wildcats are back at it tomorrow night from the Whittemore Center. The game will be carried live on NESN at 7:00 pm.