Friday, February 13, 2015
Boston University Surges Past New Hampshire, 6-3
Senior forward Cason Hohmann has two goals and assist for Terriers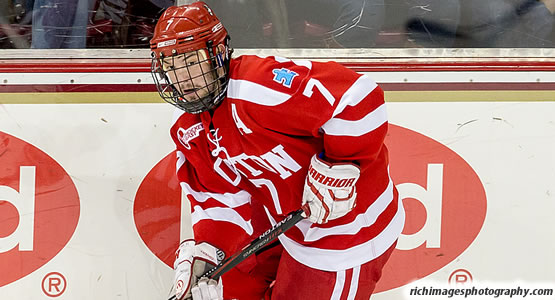 Senior forward Cason Hohmann had two goals and an assist for the Terriers
| | | | | | | |
| --- | --- | --- | --- | --- | --- | --- |
| Prd | Time | Team | Score | Type | Scored By | Assists |
| 1st | 0:42 | BU | 1-0 | EV | Cason Hohmann (5) | Robbie Baillargeon/9 |
| 1st | 7:06 | BU | 2-0 | EV | Cason Hohmann (6) | Brandon Hickey/9, Robbie Baillargeon/10 |
| 1st | 14:14 | UNH | 1-2 | EV | Dan Correale (3) | Harry Quast/5, Andrew Poturalski/12 |
| 2nd | 4:14 | BU | 3-1 | EV | Jack Eichel (16) | Danny O'Regan/15 |
| 2nd | 4:47 | UNH | 2-3 | EV | Warren Foegele (4) | Shane Eiserman/8, Kyle Smith/6 |
| 2nd | 7:01 | UNH | 3-3 | PP | Matt Willows (14) | Brett Pesce/6, Casey Thrush/15 |
| 2nd | 17:10 | BU | 4-3 | PP GW | Matt Grzelcyk (2) | Danny O'Regan/16, Jack Eichel/29 |
| 3rd | 1:57 | BU | 5-3 | EV | Brandon Hickey (5) | Matt Lane/7, Robbie Baillargeon/11 |
| 3rd | 18:50 | BU | 6-3 | EV EN | Ahti Oksanen (19) | Cason Hohmann/16, Jack Eichel/30 |
| | | | | |
| --- | --- | --- | --- | --- |
| Scoring | 1st | 2nd | 3rd | Final |
| New Hampshire | 1 | 2 | 0 | 3 |
| Boston University | 2 | 2 | 2 | 6 |
| | | | | |
| --- | --- | --- | --- | --- |
| Shots on Goal | 1st | 2nd | 3rd | SOG |
| New Hampshire | 11 | 13 | 9 | 33 |
| Boston University | 12 | 15 | 19 | 46 |
| | | | |
| --- | --- | --- | --- |
| Team Stats and Records | PP | PIM | SHGF |
| New Hampshire (10-17-2) | 1/4 | 4/8 | 0 |
| Boston University (19-4-4) | 1/4 | 4/8 | 0 |
| | | | | | | |
| --- | --- | --- | --- | --- | --- | --- |
| New Hampshire Goaltending | MIN | GA | 1 | 2 | 3 | Saves |
| Daniel Tirone (L, 5-4-0) | 58:49 | 5 | 10 | 13 | 17 | 40 |
| Empty Net | 1:11 | 1 | | | | |
| | | | | | | |
| --- | --- | --- | --- | --- | --- | --- |
| Boston University Goaltending | MIN | GA | 1 | 2 | 3 | Saves |
| Matt O'Connor (W, 16-3-3) | 60:00 | 3 | 10 | 11 | 9 | 30 |
BOSTON, Mass. - Senior Cason Hohmann, sophomore Robbie Baillargeon and freshman Jack Eichel each collected three points and five different Terriers lit the lamp as the No. 2/3 Boston University men's ice hockey team defeated New Hampshire, 6-3, on Friday night at Agganis Arena.
BU improved to 19-4-4 and 13-2-2 in Hockey East, extending its lead over second-place Boston College to six points with five league games remaining. New Hampshire fell to 10-17-2 with the loss. The teams will wrap up their weekend home-and-home series on Saturday (Feb. 14) at 4 p.m. in Durham.
Hohmann scored twice in the first 7:06 of the contest, including the opening marker just 42 seconds into the proceedings. Baillargeon assisted on both of those goals and had a helper on a crucial third-period tally that gave BU a 5-3 lead.
Eichel found the back of the net and recorded his NCAA-best 30th and 31st assists of the season. Classmate Brandon Hickey (1g, 1a) and junior Danny O'Regan (2a) each had two points. Junior Matt O'Connor made 30 saves to earn his 16th victory of the season.
Junior Dan Correale got the visitors on the board at 14:14 of the first to make it a 2-1 lead for BU. Down 3-1 after a goal by Eichel, UNH rallied to tie it with tallies by freshman Warren Foegele and senior Matt Willows. The latter came on a power play to make it a 3-3 affair with 12:59 left in the second.
BU got a power-play goal of its own with 2:50 remaining in the middle stanza as junior captain Matt Grzelcyk gave his team the lead for good on a blast from the left point.
Hickey scored on a slapshot just 1:57 into the third and junior Ahti Oksanen recorded his league-leading 19th goal of the year on an empty-netter to create the 6-3 final.
Both squads went 1-for-4 on the power play. Freshman Daniel Tirone recorded the highest save total of his young career as he turned aside 40 shots by the Terriers, who held a 46-33 shot advantage.