MACARTHUR LEADS TERRIERS PAST FRIARS, 6-0
Boston University clinches home ice for Hockey East Quarterfinals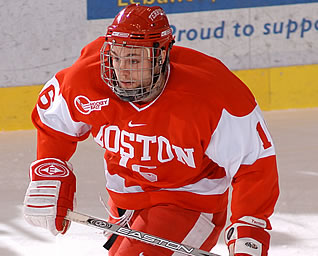 Pete MacArthur scored BU's first three goals
PROVIDENCE, R.I. -- Boston University senior Pete MacArthur scored his second career hat trick to lead the 16th-ranked Terrier men's hockey team to a 6-0 win over 15th-ranked Providence College Thursday in a Hockey East game at Schneider Arena.
The Terriers took a 2-0 in the first period lead thanks to a pair of goals by MacArthur. MacArthur scored the first goal of the game at 11:42 on the power play as he was set up in front by linemates Chris Higgins and Bryan Ewing. He gave BU a 2-0 lead at 18:06 when he was able to score off his own rebound.
MacArthur started a three-goal second period with his third goal of the night at 4:22. Higgins and Ewing assisted on all of MacArthur's goals. Nick Bonino and Joe Pereira also scored in the period to give the Terriers a five-goal cushion after 40 minutes of action.
John McCarthy added his fourth goal of the season in the third period to complete the scoring. In goal, Brett Bennett stopped all 26 Friar shots to earn the shutout. Senior Tyler Sims and sophomore Ryan Simpson combined to make 14 saves for the Friars who finished with a 26-20 shot advantage.
The two teams face each other again tomorrow night beginning at 7:30. The game will air live of NESN.