Saturday, October 6, 2018
UConn Notches 4-2 Win At Vermont
Sophomore forward Natalie Snodgrass had a goal and an assist for the Huskies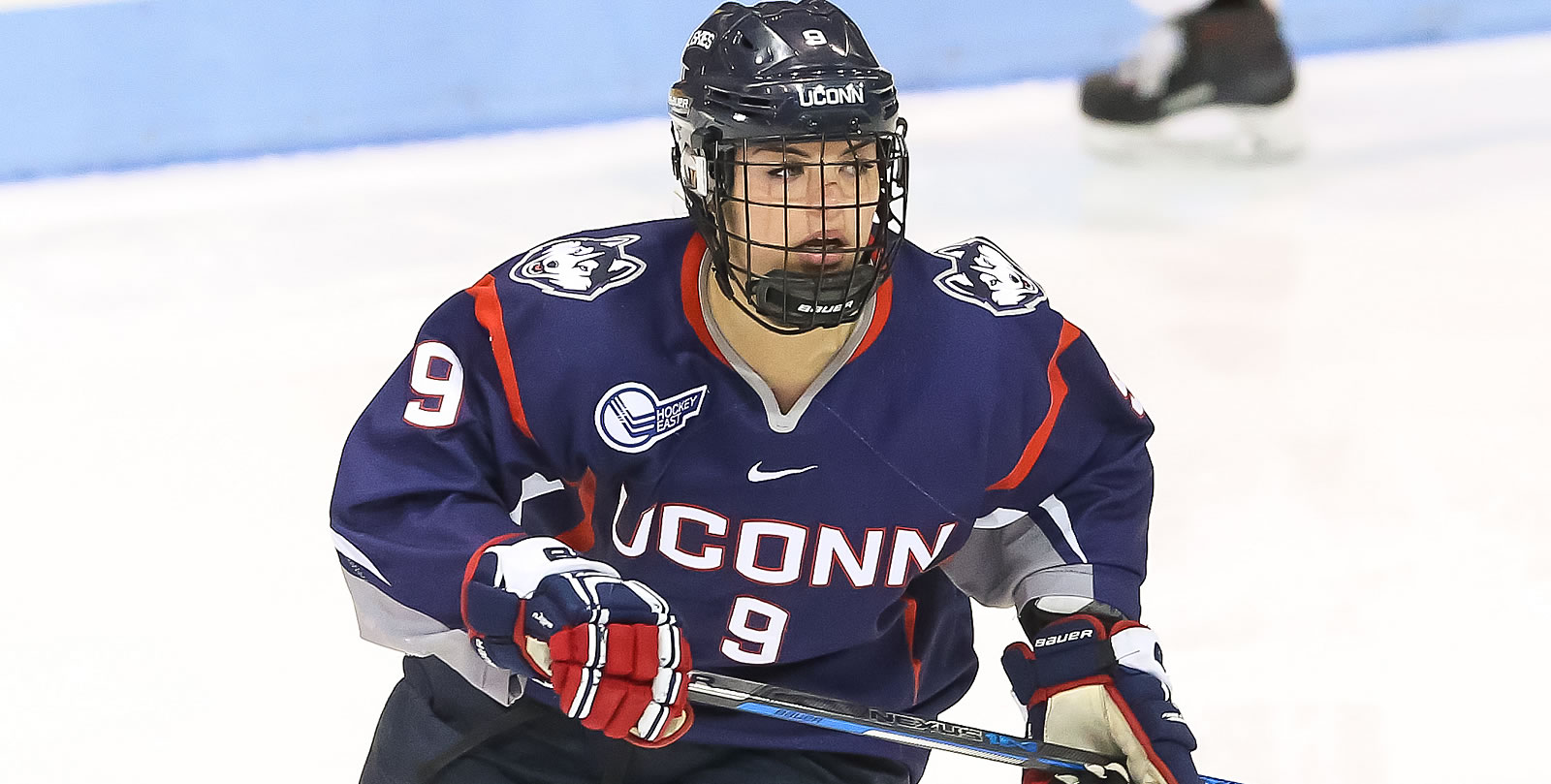 Sophomore forward Natalie Snodgrass had a goal and an assist for the Huskies
BURLINGTON, Vt. - A pair of power-play goals in the third period lifted the UConn Huskies over the Vermont Catamounts Saturday afternoon at Gutterson Fieldhouse.
Saana Valkama and Lilly Holmes registered the two goals for Vermont (0-0-1 0-0-1 WHEA) while Melissa Black stopped 32 shots. UConn's Morgan Fisher tallied 21 saves and Savannah Bouzide netted the game-winner.

COACH'S QUOTE
"It was a disappointing ending to a hard fought game," said head coach Jim Plumer. Once again we hurt ourselves with penalties and UConn took advantage. I thought Melissa Black was tremendous in net and it was exciting to see Lilly Holmes score her first career goal. We will focus on tightening up our game for next weekend."

HOW IT HAPPENED
- The Huskies controlled the pace in a scoreless first period with 12 shots on goals and three power play opportunities.
- UConn's Jaime Fox opened the scoring with four minutes left in the second period when she blasted a shot over the glove of Black to successfully convert on the power play.
- Saana Valkama and the Catamounts answered 1:53 later when the senior forward neared the UConn goal and wristed a shot under a Huskies' defender and past the glove of Fisher. Kristina Shanahan and Anna Erickson were credited with assists.
- Vermont took the lead with 10:24 left in the third period on a shorthanded goal by freshman Lilly Holmes. Olivia Kilberg and Taylor Flaherty assisted on the rookie's first collegiate goal
- Briana Colangelo tied the game back up at 2-2 when she netted a goal 55 seconds later on the power play
- The Huskies regained the lead with 2:46 left in regulation on a power play goal by Savannah Bouzide. Natalie Snodgrass tallied an empty-net goal to put the game away.

NOTES
- Valkama registered her 50th career point with the second period goal. It also marks her 30th career goal, moving her in to a tie for sixth on the program's all-time scoring list.
- Holmes' first career goal was the first shorthanded goal by the Catamounts since Ève-Audrey Picard netted one against Northeastern last January.

WHAT'S NEXT
The Catamounts return to action Friday (Oct. 12) when they host Quinnipiac for a two-game series at Gutterson Fieldhouse. Puck drop is slated for 6 p.m.