Saturday, September 29, 2018
UConn Downs St. Cloud State, 3-2, To Sweep Weekend Series
Sophomore forward Morgan Wabick posts goal and two assists for Huskies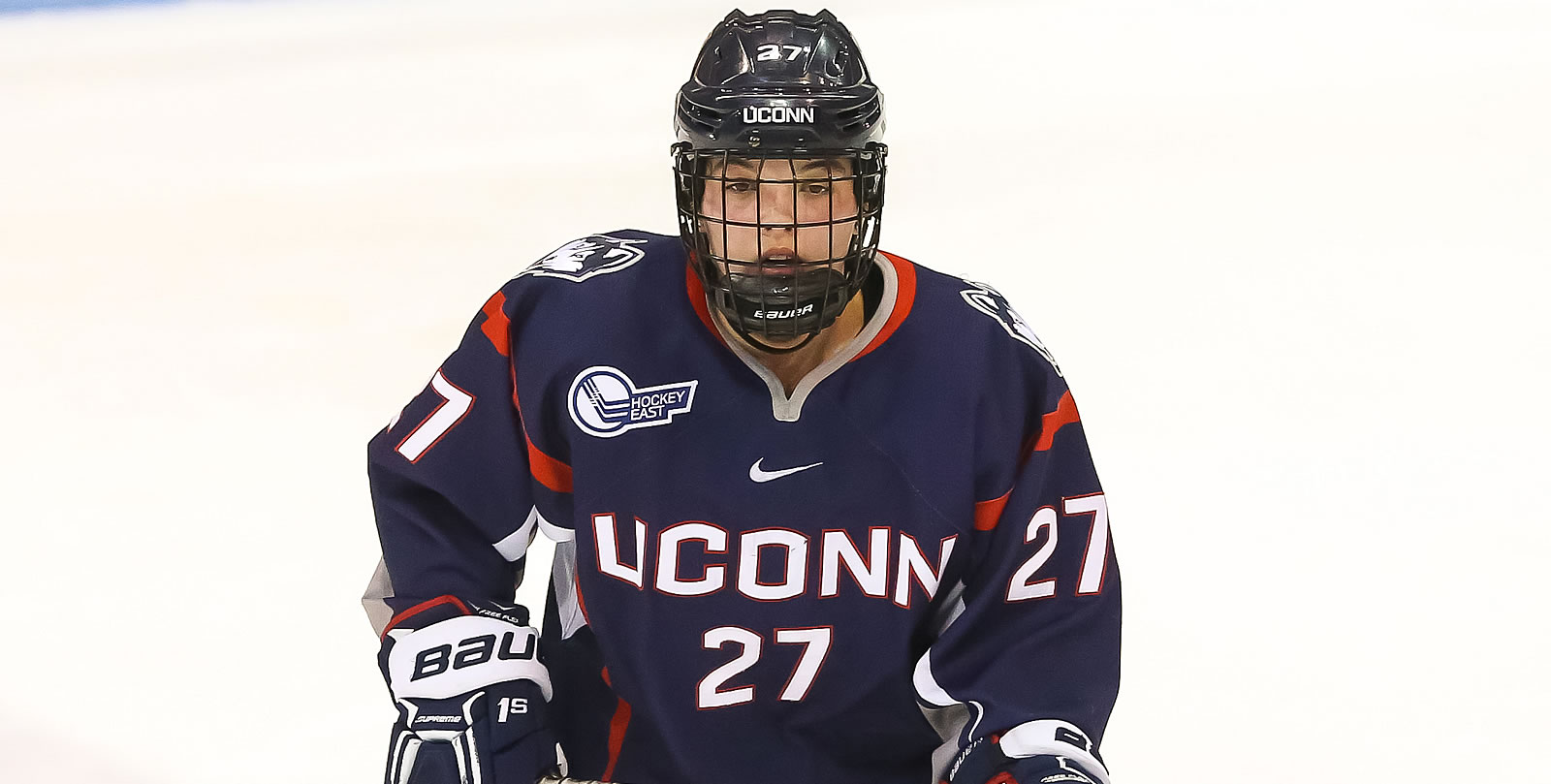 Sophomore forward Morgan Wabick had a goal and two assists for the Huskies
STORRS, Conn. - Day two of the Battle of the Huskies mini-series proved to be just as intense as day one. As both squads continued to match blow-for-blow - a carryover from Friday night's thriller - another exciting finish was in store for the fans at the Freitas Ice Forum. Thanks to a balanced attack, it was UConn yet again, who was able to come away with the 3-2 victory on Saturday afternoon.
Thanks to two slashing penalties called on St. Cloud State, UConn was awarded two power play opportunities just eight minutes into the first period. After botching the first attempt, Morgan Wabick made sure that UConn took full advantage of the second power play opportunity, netting a goal off a Catherine Crawley and Briana Colangelo assist and giving the Huskies a 1-0 lead midway through the first period.
In the second period, the teams traded shot-for-shot. Exploiting a UConn turnover, SCSU used a two-on-one break to even the contest. Less than a minute later, Natalie Snodgrass lit the lamp again for the Huskies, capitalizing on another power play to put the home team back out in front, 2-1. Another St. Cloud score would tie the game at two heading into the third period.
Down the stretch, however, it was UConn who made the big plays when they were needed the most. First, the Husky defense dug in, killing a St. Cloud power play in the last five minutes of regulation. Following the huge defensive stop, Morgan Wabick and Camryn Wong engaged in some tic-tac-toe, giving UConn the lead for good and Wong her second game-clinching goal in back-to-back games. Another defensive stance by the UConn defense in the final three minutes sealed the 3-2 victory.
"I thought we got off to a great start. First ten minutes was exactly what we wanted to have happen," said sixth-year head coach Chris MacKenzie. "...I love the way we responded. We responded well...got a huge penalty kill near the end of the period for us, really happy about that ...I love grit and work ethic of our team - it's a good sign, and we're happy to be 2-0."
UConn Highlights
- Morgan Wabick had a hand in every Husky goal on the afternoon, scoring one and tallying an assist
- Freshman Camryn Wong scored game-deciding goals in back-to-back days.
- UConn moves to 4-2 all-time vs. St. Cloud State
Up Next
The Huskies hit the road to open Hockey East play with a Saturday night contest against the Vermont Catamounts. Puck drop is slated for 6 p.m.