Friday, December 29, 2017
MacNeil's Career Day Guides Vermont Past Ryerson, 8-2
Senior forward MacKenzie MacNeil registers hat trick and two assists for Catamounts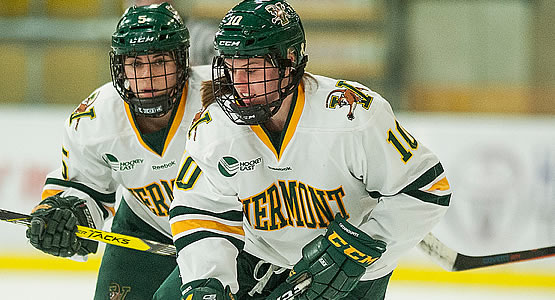 Senior forward MacKenzie MacNeil had a hat trick and added two assists for the Catamounts
MONTREAL, Qué. - Senior forward MacKenzie MacNeil had a hat trick and added two assists as the Vermont Catamounts rolled past Ryerson, 8-2, Friday afternoon in the first game of the Theresa Humes Invitational.
"It was great to shake the rust off and get on the scoresheet today," Head Coach Jim Plumer said. "The break was good for us and we played with a lot of energy and played a fast game."
After Kryshanda Green scored 19 seconds into the game to give the Rams the early lead, sophomore Ali O'Leary tied the game with just under five minutes remaining in the opening period off MacNeil's pass.
Kristina Shanahan returned to her native Québec in style, assisting on the first Vermont goal and adding her own goal early in the second to give UVM its first lead of the game.
The Catamounts tallied three goals in a span of 28 seconds late in the middle period. Kourtney Menches and Alyssa Gorecki assisted on Amanda Drobot's goal, and MacNeil followed with a pair of goals to give Vermont a 5-1 lead.
MacNeil assisted on the next goal, Drobot's second of the game, and completed the hat trick early in the third period to bring Vermont's lead to six. O'Leary capped off the offensive explosion with her second goal of the game nearly halfway into the third period.
Ryerson added its second goal of the game on the power play with just under seven minutes remaining.
Vermont held a 33-12 advantage in shots over Ryerson. Sydney Scobee played the first two periods between the pipes and was relieved by Sierra Natzke in the third period.
Vermont faces Guelph tomorrow afternoon at 3 p.m. in the middle game of the Theresa Humes Invitational.
"We are looking forward to continuing our good play tomorrow," added Plumer.