Saturday, October 7, 2017
Providence College Shut Out By Quinnipiac, 1-0
Junior goaltender Madison Myers makes 28 saves for Friars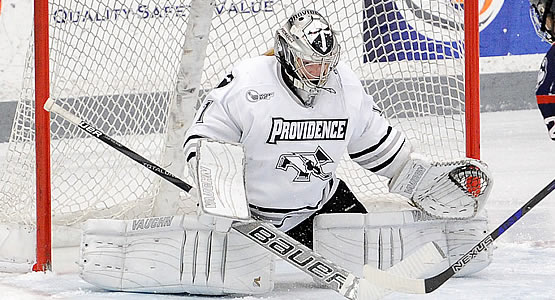 Junior goaltender Madison Myers made 28 saves for the Friars
| | | | | | | |
| --- | --- | --- | --- | --- | --- | --- |
| Prd | Time | Team | Score | Type | Scored By | Assists |
| 2nd | 14:54 | QUI | 1-0 | EV GW | Abby Cleary (2) | Raquel Pennoyer/2 |
| | | | | |
| --- | --- | --- | --- | --- |
| Scoring | 1st | 2nd | 3rd | Final |
| Providence | 0 | 0 | 0 | 0 |
| Quinnipiac | 0 | 1 | 0 | 1 |
| | | | | |
| --- | --- | --- | --- | --- |
| Shots on Goal | 1st | 2nd | 3rd | SOG |
| Providence | 15 | 9 | 13 | 37 |
| Quinnipiac | 5 | 13 | 11 | 29 |
| | | | |
| --- | --- | --- | --- |
| Team Stats and Records | PP | PIM | SHGF |
| Providence (3-1-0) | 0/3 | 3/6 | 0 |
| Quinnipiac (2-2-0) | 0/3 | 3/6 | 0 |
| | | | | | | |
| --- | --- | --- | --- | --- | --- | --- |
| Providence Goaltending | MIN | GA | 1 | 2 | 3 | Saves |
| Madison Myers (L, 3-1-0) | 58:41 | 1 | 5 | 12 | 11 | 28 |
| Empty Net | 1:19 | 0 | | | | |
| | | | | | | |
| --- | --- | --- | --- | --- | --- | --- |
| Quinnipiac Goaltending | MIN | GA | 1 | 2 | 3 | Saves |
| Abbie Ives (W, 2-2-0) | 60:00 | 0 | 15 | 9 | 13 | 37 |
HAMDEN, Conn. - The Providence College women's ice hockey team fell to the Quinnipiac Bobcats by a score of 1-0 on Saturday afternoon in Hamden, Conn.
SCORE
Quinnipiac - 1 | Providence - 0
RECORDS
Providence: 3-1-0 (1-0-0 HE) | Quinnipiac: 2-2-0 (0-0-0 ECAC)
VENUE
High Point Solutions Arena - Hamden, Conn.
GAME FLOW & NOTES
- The first period of the game was scoreless. The Friars outshot the Bobcats 15-5 and had two power play opportunities.
- The Bobcats scored the one and only goal of the game toward the end of the second period. Abby Cleary picked up a rebound in the slot and fired it over the shoulder of Madison Myers (Colchester, Vt.) for the goal at the 14:54 mark.
- The Friars outshot the Bobcats 37-29 on the afternoon.
- This is the first game that the Friars have lost this season and the first time they have been shutout since Dec. 3, 2016 against Boston College.
- Myers tallied a season-high 28 saves in the game. She recorded a .966 save percentage.
- Junior Christina Putigna (Grimsby, Ontario) and senior Blair Parent (Blaine, Minn.) led the team in shots on goal with four apiece.
HOW THEY SCORED
1-0 (Quinnipiac) - 14:54/2nd - EV - Abby Cleary, assisted by Raquel Pennoyer - Rebound goal from the slot
GOALTENDERS
Providence: Madison Myers, 3-1-0: 28 saves, 1 goal against
Quinnipiac: Abbie Ives, 2-2-0: 37 saves, 0 goals against
STAT COMPARISON
Providence-
Shots: 37
Face-off percentage: 52.9% (27/51)
Power plays: 0-3 (0%)
Penalty kill: 3-3 (100%)
Quinnipiac-
Shots: 29
Face-off percentage: 47.1% (24/51)
Power plays: 0-3 (0%)
Penalty kill: 3-3 (100%)
PC GAME HIGHS
Shots: Christina Putigna and Blair Parent (4)
LOOKING AHEAD
The Friars travel to Syracuse for a two-game series with the Orange next weekend. Puck drop is at 3:00 p.m. on both Friday, Oct. 13 and Saturday, Oct. 14.