Sunday, February 11, 2018
Murphy Sends Providence Past Maine In Overtime, 2-1
Freshman forward Maureen Murphy scores game-winning goal at 2:57 of overtime for Friars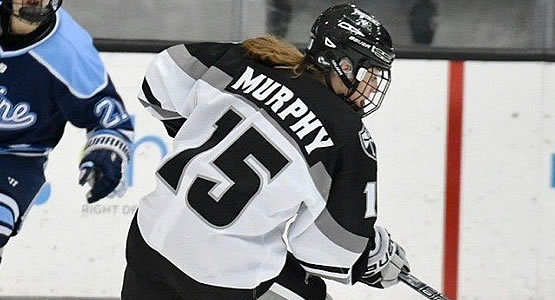 Freshman forward Maureen Murphy scored both goals for the Friars
| | | | | | | |
| --- | --- | --- | --- | --- | --- | --- |
| Prd | Time | Team | Score | Type | Scored By | Assists |
| 3rd | 7:03 | MNE | 1-0 | EV | Catherine Tufts (10) | Cailey Hutchison/3, Mikayla Rogers/3 |
| 3rd | 13:05 | PRV | 1-1 | SH | Maureen Murphy (18) | - |
| OT | 2:57 | PRV | 2-1 | EV GW | Maureen Murphy (19) | - |
| | | | | | |
| --- | --- | --- | --- | --- | --- |
| Scoring | 1st | 2nd | 3rd | OT | Final |
| Maine | 0 | 0 | 1 | 0 | 1 |
| Providence | 0 | 0 | 1 | 1 | 2 |
| | | | | | |
| --- | --- | --- | --- | --- | --- |
| Shots on Goal | 1st | 2nd | 3rd | OT | SOG |
| Maine | 5 | 18 | 7 | 0 | 30 |
| Providence | 7 | 10 | 9 | 2 | 28 |
| | | | |
| --- | --- | --- | --- |
| Team Stats and Records | PP | PIM | SHGF |
| Maine (17-10-5) | 0/2 | 3/6 | 0 |
| Providence (15-11-7) | 0/3 | 2/4 | 1 |
| | | | | | | | |
| --- | --- | --- | --- | --- | --- | --- | --- |
| Maine Goaltending | MIN | GA | 1 | 2 | 3 | OT | Saves |
| Carly Jackson (L, 15-9-5) | 62:57 | 2 | 7 | 10 | 8 | 1 | 26 |
| | | | | | | | |
| --- | --- | --- | --- | --- | --- | --- | --- |
| Providence Goaltending | MIN | GA | 1 | 2 | 3 | OT | Saves |
| Madison Myers (W, 14-10-7) | 62:57 | 1 | 5 | 18 | 6 | 0 | 29 |
PROVIDENCE, R.I. - The Providence College women's hockey team defeated #9 University of Maine, 2-1, in overtime on Feb. 11 at Schneider Arena. Maureen Murphy (Buffalo, N.Y.) scored both goals for the Friars.
SCORE
Providence - 2 | No. 9 Maine - 1
RECORDS
Providence: 15-11-7 (11-7-5 HE) | Maine: 17-10-5 (11-7-4 HE)
VENUE
Schneider Arena - Providence, R.I.
GAME FLOW & NOTES
- The first period featured back-and-forth action with few clear-cut chances for either team. The Friars led 7-5 in shots after the opening frame.
- Madison Myers (Colchester, Vt.) opened the second period with a series of six saves to keep the Black Bears off the board. She ended up making 18 total saves in the middle stanza.
- Catherine Tufts put the Black Bears up 1-0 at the 7:03 mark of the third with a goal very similar to her tally yesterday. Mikayla Rogers played a saucer pass up-ice to Cailey Hutchinson. Hutchinson then skated down the left boards and tossed the puck in front for a redirection by Tufts at the top of the crease.
- Maureen Murphy tied the game up at 1-1 with a beautiful short-handed goal. With just under seven minutes remaining in regulation, she skated down on a one-on-one, edged her defender and placed a backhander perfectly over the shoulder of Carly Jackson.
- Murphy's goal was her team-leading 18th of the year and her fourth short-handed goal this season.
- Murphy lifted the Friars to victory with a breakaway goal 2:57 into the overtime frame. She skated in alone on Jackson and pushed the puck right under her pads for the win.
- The Friars concluded the regular season series against Maine with a 1-0-2 record.
- Today's win clinched home ice for the Hockey East quarterfinal series. Games will be played at Schneider Arena on Friday, Feb. 23, Saturday, Feb. 24 and Sunday, Feb. 25, if needed.
HOW THEY SCORED
1-0 (Maine) - 7:03/3rd - EV - Catherine Tufts, assisted Cailey Hutchinson and Mikayla Rogers - Pass from the left boards for a redirection at the top of the crease
1-1 (Providence) - 13:05/3rd - SH - Maureen Murphy (unassisted) - Backhand to the top shelf on the one-on-one rush
2-1 (Providence) - 2:57/OT - EV - Maureen Murphy (unassisted) - Breakaway goal
GOALTENDERS
Providence: Madison Myers, 14-10-7: 29 saves, 1 goal against
Maine: Carly Jackson, 15-9-5: 26 saves, 2 goals against
STAT COMPARISON
Providence-
Shots: 28
Face-off percentage: 30/65
Power plays: 0-3 (0%)
Penalty kill: 2-2 (100%)
Maine-
Shots: 30
Face-offs: 35/65
Power plays: 0-2 (0%)
Penalty kill: 3-3 (100%)
PC GAME HIGHS
Shots: Maureen Murphy (7)
Goals: Maureen Murphy (2)
Assists: -
Points: Maureen Murphy (2)
LOOKING AHEAD
The Friars close out the regular season on Sunday, Feb. 18 when they welcome the Northeastern Huskies for Senior Night.