Saturday, February 10, 2018
Maine And Providence Skate To 1-1 Tie
Maine's Carly Jackson and PC's Madison Myers each stop more than 30 shots to earn draw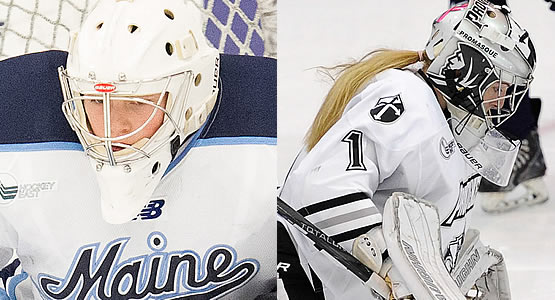 Maine's Carly Jackson and PC's Madison Myers each made more than 30 saves in the game
| | | | | | | |
| --- | --- | --- | --- | --- | --- | --- |
| Prd | Time | Team | Score | Type | Scored By | Assists |
| 1st | 14:50 | MNE | 1-0 | EV DP | Catherine Tufts (9) | Ebba Strandberg/9, Anna Zíková/11 |
| 1st | 17:06 | PRV | 1-1 | EV DP GT | Ariane Julien (1) | - |
| | | | | | |
| --- | --- | --- | --- | --- | --- |
| Scoring | 1st | 2nd | 3rd | OT | Final |
| Maine | 1 | 0 | 0 | 0 | 1 |
| Providence | 1 | 0 | 0 | 0 | 1 |
| | | | | | |
| --- | --- | --- | --- | --- | --- |
| Shots on Goal | 1st | 2nd | 3rd | OT | SOG |
| Maine | 7 | 12 | 11 | 1 | 31 |
| Providence | 15 | 11 | 6 | 0 | 32 |
| | | | |
| --- | --- | --- | --- |
| Team Stats and Records | PP | PIM | SHGF |
| Maine (17-9-5) | 0/5 | 5/10 | 0 |
| Providence (14-11-7) | 0/5 | 5/10 | 0 |
| | | | | | | | |
| --- | --- | --- | --- | --- | --- | --- | --- |
| Maine Goaltending | MIN | GA | 1 | 2 | 3 | OT | Saves |
| Carly Jackson (T, 15-8-5) | 65:00 | 1 | 14 | 11 | 6 | 0 | 31 |
| | | | | | | | |
| --- | --- | --- | --- | --- | --- | --- | --- |
| Providence Goaltending | MIN | GA | 1 | 2 | 3 | OT | Saves |
| Madison Myers (T, 13-10-7) | 65:00 | 1 | 6 | 12 | 11 | 1 | 30 |
PROVIDENCE, R.I. - The Providence College women's hockey team battled to a 1-1 draw with #9 University of Maine on Feb. 10 at Schneider Arena.
SCORE
Providence - 1 | No. 9 Maine - 1
RECORDS
Providence: 14-11-7 (10-7-5 HE) | Maine: 17-9-5 (11-6-4 HE)
VENUE
Schneider Arena - Providence, R.I.
GAME FLOW & NOTES
- Catherine Tufts got the Black Bears on the board first with a goal at the 14:50 mark of the first period. Anna Zikova played the puck up to Ebba Strandberg who skated along the boards and played a pass to the top of the crease for Tufts to knock past Madison Myers (Colchester, Vt.).
- Ariane Julien (Saint-Hyacinthe, Quebec) responded for the Friars with an unassisted goal. She blocked a shot in the defensive end, skated through center ice and beat Carly Jackson with a wrist shot on the partial breakaway.
- Just two minutes into the second period, Madison Myers recorded her 2,000th career save. She became the fourth goalie in Providence history to eclipse that mark.
- Myers made a highlight reel save in the closing minutes of the middle frame. She slid across the crease in a full split to deny Cailey Hutchinson on the two-on-one bid.
- With 6:45 to play in regulation, Blair Parent (Blaine, Minn.) walked in alone on Jackson. She made a move to the backhand, but Jackson's glove was there to preserve the tie.
- Providence had the lone power play of the overtime frame, after Brooke Boquist (Thunder Bay, Ontario) was hauled down on the breakaway. The Friars were unable to convert.
- Both teams had multiple power play opportunities throughout the game. Providence and Maine both finished 0/5. The teams entered the game as the top two penalty kill units in Hockey East (Providence: 86.0%, Maine: 85.7%).
- This was the Friars' ninth overtime game of the season. It is the seventh game to end in a draw.
HOW THEY SCORED
1-0 (Maine) - 14:50/1st - EV - Catherine Tufts, assisted by Anna Zikova and Ebba Strandberg - Pass from the half wall to the top of the crease for the knock in
1-1 (Providence) - 17:06/1st - EV - Ariane Julien (unassisted) - Blocked a shot in the defensive end, skated in on partial breakaway and beat Jackson to the far post
GOALTENDERS
Providence: Madison Myers, 13-10-7: 30 saves, 1 goal against
Maine: Carly Jackson, 15-8-5: 31 saves, 1 goal against
STAT COMPARISON
Providence-
Shots: 32
Face-off percentage: 36/60
Power plays: 0-5 (0%)
Penalty kill: 5-5 (100%)
Maine-
Shots: 26
Face-offs: 24/60
Power plays: 0-5 (0%)
Penalty kill: 5-5 (100%)
PC GAME HIGHS
Shots: Murphy (8)
Goals: Julien (1)
Assists: -
Points: Julien (1)
LOOKING AHEAD
The Friars and Black Bears meet again tomorrow (Feb. 11) at the same time (2:00 p.m.) and place (Schneider Arena).