Merrimack College Downed By St. Lawrence, 2-1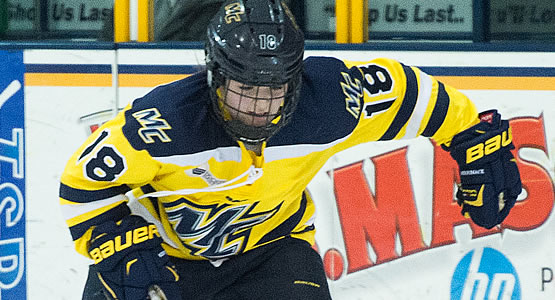 Junior forward Katelyn Rae scored a goal for the Warriors
| | | | | | | |
| --- | --- | --- | --- | --- | --- | --- |
| Prd | Time | Team | Score | Type | Scored By | Assists |
| 1st | 8:28 | STL | 1-0 | EV | Justine Reyes (2) | Kennedy Marchment/3 |
| 2nd | 9:42 | STL | 2-0 | EV GW | Justine Reyes (3) | Kennedy Marchment/4, Hannah Miller/3 |
| 3rd | 1:11 | MER | 1-2 | EV | Katelyn Rae (4) | - |
| | | | | |
| --- | --- | --- | --- | --- |
| Scoring | 1st | 2nd | 3rd | Final |
| St. Lawrence | 1 | 1 | 0 | 2 |
| Merrimack | 0 | 0 | 1 | 1 |
| | | | | |
| --- | --- | --- | --- | --- |
| Shots on Goal | 1st | 2nd | 3rd | SOG |
| St. Lawrence | 13 | 5 | 7 | 25 |
| Merrimack | 12 | 6 | 3 | 21 |
| | | | |
| --- | --- | --- | --- |
| Team Stats and Records | PP | PIM | SHGF |
| St. Lawrence (2-0-1) | 0/2 | 0/0 | 0 |
| Merrimack (2-3-1) | 0/0 | 2/4 | 0 |
| | | | | | | |
| --- | --- | --- | --- | --- | --- | --- |
| St. Lawrence Goaltending | MIN | GA | 1 | 2 | 3 | Saves |
| Sonjia Shelly (W, 1-0-0) | 60:00 | 1 | 12 | 6 | 2 | 20 |
| | | | | | | |
| --- | --- | --- | --- | --- | --- | --- |
| Merrimack Goaltending | MIN | GA | 1 | 2 | 3 | Saves |
| Léa-Kristine Demers (L, 1-1-1) | 58:54 | 2 | 12 | 4 | 7 | 23 |
| Empty Net | 1:06 | 0 | | | | |
NORTH ANDOVER, Mass. - The Merrimack College women's ice hockey team lost to No. 4/4 St. Lawrence, 2-1, in a non-conference tilt on Friday afternoon from Lawler Rink.
The Basics
Score: Merrimack 1, No. 4/4 St. Lawrence 2
Records: Merrimack (2-3-1, 1-1-1 WHEA) // St. Lawrence (2-0-1, 0-0-0 ECAC)
Location: Lawler Rink | North Andover, Mass.
How it Happened
1st Period: The Saints took a 1-0 at 8:28 in the period on a goal by Justine Reyes, after Kennedy Marchment forced a turnover at the blue line. The Warriors had ample chances to tie the game at one midway through the period as they fired off four quick shots. Sophomore goalie Léa-Kristine Demers (Repentigny, Quebec) made a save on a breakaway with her left pad to keep it a 1-0 game.
2nd Period: Junior captain Paige Voight (St. Michael, Minn.) had a shot just over two minutes into the period. The rebound bounced in front of the net, no one was nearby to put away the rebound. It looked like as though Merrimack tied the game soon with just over three minutes gone in the period, but after video replay, the puck had not fully crossed the line. The Saints extended their lead at 9:42, as Reyes scored her second goal of the contest on a feed to the slot by Marchment.
3rd Period: Junior Katelyn Rae (Courtice , Ontario ) cut the lead in half at 1:11 of the third. She forced a turnover at the blue line and skated by everyone, lifting a backhanded shot over the glove of Sonjia Shelly. The Warriors had plenty of chances to tie the game, but feeds to the slot went empty space. Merrimack pulled Demers with 1:06 left in regulation, but were not able to find the equalizer.
Inside The Numbers
- Rae leads the team with four goals.
- It was the second nationally ranked team the Warriors faced this season, splitting two at Minnesota earlier in the month.
- Junior Annie Boeckers (Ostego, Minn.) won eight face-offs for the Warriors.
- Juniors Dominque Kremer (West Fargo, N.D.), Madison Morey (Fairbanks, Alaska), and Rae each had two blocked shots, as the team had 12 total in the game.
- Goaltenders: L-Léa-Kristine Demers (23 Saves, 1-1-1) // W - Sonjia Shelly (20 Saves, 1-0)
- Power Plays: Merrimack (0-0) | St. Lawrence (0-2)
- SOG (MC-SLU): 12-13 | 6-5 | 7-3 | 25-21
Up Next
Both teams return to the ice tomorrow afternoon for a 2 p.m. puck drop from Lawler Rink.