Weis Scores Two Goals As Maine Topples Merrimack, 4-1
Freshman forward Michelle Weis scores two goals for Black Bears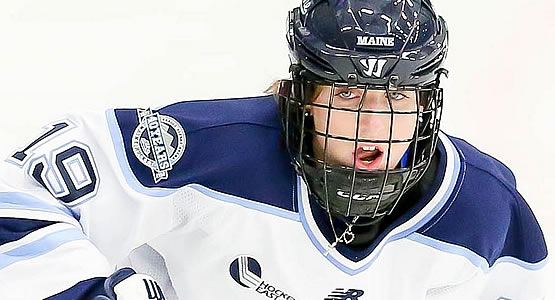 Freshman forward Michelle Weis scored two goals for the Black Bears
| | | | | | | |
| --- | --- | --- | --- | --- | --- | --- |
| Prd | Time | Team | Score | Type | Scored By | Assists |
| 1st | 17:50 | MNE | 1-0 | PP | Lydia Murray (6) | Anna Zíková/9, Vendula Přibylová/10 |
| 2nd | 4:44 | MER | 1-1 | EV | Katelyn Rae (14) | Mikyla Grant-Mentis/5, Madison Morey/5 |
| 3rd | 1:07 | MNE | 2-1 | PP GW | Brooke Stacey (10) | Tereza Vanišová/25, Anna Zíková/10 |
| 3rd | 2:05 | MNE | 3-1 | EV | Michelle Weis (7) | Alyson Matteau/8, Tereza Vanišová/26 |
| 3rd | 19:48 | MNE | 4-1 | EV EN | Michelle Weis (8) | - |
| | | | | |
| --- | --- | --- | --- | --- |
| Scoring | 1st | 2nd | 3rd | Final |
| Merrimack | 0 | 1 | 0 | 1 |
| Maine | 1 | 0 | 3 | 4 |
| | | | | |
| --- | --- | --- | --- | --- |
| Shots on Goal | 1st | 2nd | 3rd | SOG |
| Merrimack | 9 | 13 | 8 | 30 |
| Maine | 9 | 18 | 12 | 39 |
| | | | |
| --- | --- | --- | --- |
| Team Stats and Records | PP | PIM | SHGF |
| Merrimack (8-15-3) | 0/3 | 4/19 | 0 |
| Maine (16-6-3) | 2/3 | 3/6 | 0 |
| | | | | | | |
| --- | --- | --- | --- | --- | --- | --- |
| Merrimack Goaltending | MIN | GA | 1 | 2 | 3 | Saves |
| Léa-Kristine Demers (L, 3-6-2) | 56:02 | 3 | 8 | 18 | 9 | 35 |
| Empty Net | 3:58 | 1 | | | | |
| | | | | | | |
| --- | --- | --- | --- | --- | --- | --- |
| Maine Goaltending | MIN | GA | 1 | 2 | 3 | Saves |
| Carly Jackson (W, 14-5-3) | 60:00 | 1 | 9 | 12 | 8 | 29 |
ORONO, Maine - Extending their win streak to five games, the No. 9 Maine Black Bears played on their home ice for the first time in over a month and picked right back up where they left off. Scoring three goals in the third period, the Black Bears (16-6-3, 10-3-2 WHEA) jumped ahead to pull out a 4-1 conference win over the Merrimack College Warriors (8-15-3, 3-11-2 WHEA) at the Alfond Arena on Friday afternoon.
Closing out a quiet first period, Lydia Murray appeared out of nowhere to catch the tip of her stick on Anna Zikova's slap shot, redirecting it behind goaltender Lea-Kristine Demers in net. Starting off the play, Vendula Pribylova picked up her 10th assist of the season as Maine capitalized on the first power play of the game.
Without waiting too long, the Warriors pounced 4:44 into the middle frame to tie up the game, 1-1. Keeping the puck in the starting line, Madison Morey passed off the puck to Mikayla Grant-Mentis behind the net to switch sides. Mentis found an opening to sneak the puck through to Katelyn Rae patiently waiting on the crease ready to fire.
Maine closed out the second period with a rapid-fire attack sending twice as many shots at Demers in net with 18. Advancing into the final frame, Maine opened up on a power play after a Merrimack player was sent to the box in the final 18 seconds of the second period. Taking full advantage of the extra man, Brooke Stacey received the puck from Tereza Vanisova directly in front of net, one-timing it to the back left corner. Tallying her second assist of the day, Zikova kicked off the scoring opportunity from their defensive end.
Finishing out the night Weis added on a pair of goals for comfort to help capture the 4-1 victory. Her first goal was tucked away with less than 60 seconds after Stacey's, as she skated the puck up from the blue line racing the Merrimack defenders to net as she took on Demers one-on-one. Earning assists on the goal were Alyson Matteau and Vanisova for her second of the night.
With just 12 seconds left on the clock, Weis rocketed the puck out of her defensive corner and despite a tried attempt by the Warriors to beat out the puck to net; they couldn't quite catch up as the puck slid across the empty goal line with Demers off the ice.
Turning down 18 scoring opportunities for Maine in the second period, Demers saved a total of 35 shots throughout the afternoon. Carly Jackson held Merrimack to one goal as she picked up 29 saves throughout the 60 minutes on the ice.
The Black Bears will face-off against the Warriors for their annual Skating Strides Game tomorrow, January 20th, with puck drop scheduled for 2 p.m.