Merrimack College Defeated By Minnesota, 4-1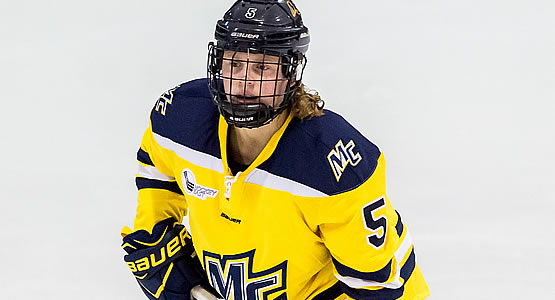 Junior defenseman Paige Sorensen scored a goal for the Warriors
| | | | | | | |
| --- | --- | --- | --- | --- | --- | --- |
| Prd | Time | Team | Score | Type | Scored By | Assists |
| 2nd | 9:41 | MIN | 1-0 | EV | Nicole Schammel (1) | Kippin Keller/1, Olivia Knowles/2 |
| 2nd | 15:41 | MIN | 2-0 | PP GW | Grace Zumwinkle (2) | Sydney Baldwin/2, Patti Marshall/2 |
| 3rd | 3:33 | MER | 1-2 | EV | Paige Sorensen (1) | Paige Voight/2, Emily Volpe/2 |
| 3rd | 5:12 | MIN | 3-1 | EV | Nicole Schammel (2) | Patti Marshall/3, Emily Brown/1 |
| 3rd | 10:16 | MIN | 4-1 | EV | Taylor Wente (1) | Kippin Keller/2, Nicole Schammel/2 |
| | | | | |
| --- | --- | --- | --- | --- |
| Scoring | 1st | 2nd | 3rd | Final |
| Merrimack | 0 | 0 | 1 | 1 |
| Minnesota | 0 | 2 | 2 | 4 |
| | | | | |
| --- | --- | --- | --- | --- |
| Shots on Goal | 1st | 2nd | 3rd | SOG |
| Merrimack | 8 | 4 | 3 | 15 |
| Minnesota | 7 | 20 | 12 | 39 |
| | | | |
| --- | --- | --- | --- |
| Team Stats and Records | PP | PIM | SHGF |
| Merrimack (2-1-0) | 0/3 | 4/8 | 0 |
| Minnesota (1-1-0) | 1/4 | 3/6 | 0 |
| | | | | | | |
| --- | --- | --- | --- | --- | --- | --- |
| Merrimack Goaltending | MIN | GA | 1 | 2 | 3 | Saves |
| Samantha Ridgewell (L, 1-1-0) | 60:00 | 4 | 7 | 18 | 10 | 35 |
| | | | | | | |
| --- | --- | --- | --- | --- | --- | --- |
| Minnesota Goaltending | MIN | GA | 1 | 2 | 3 | Saves |
| Alex Gulstene (W, 1-0-0) | 59:49 | 1 | 8 | 4 | 2 | 14 |
| Empty Net | 0:11 | 0 | | | | |
MINNEAPOLIS, Minn. - The Merrimack College women's ice hockey team lost to No. 3 Minnesota, 4-1, on Saturday afternoon in the second game of the weekend series from Ridder Arena. The Gophers were able to salvage a weekend split, after losing the Merrimack on Friday night.
The Basics
Score: Merrimack 1, No. 3 Minnesota 4
Records: Merrimack (2-1-0, 1-0-0 WHEA) // Minnesota. (1-1-0, 0-0-0 WCHA)
Location: Ridder Arena | Minneapolis, Minn.
How it Happened
1st Period: The Warriors killed off a pair of penalties midway through the period, before getting a power play of their own at the 13:32 mark. However, Merrimack only had one shot during the extra man chance. Junior captain Paige Voight (St. Michael, Minn.) had a great chance late in the period, but her first shot was blocked, before the puck was covered by Gopher goalie Alex Gulstene.
2nd period: Junior goalie Samantha Ridgewell (Outook, Saskatchewan) faced early pressure in the opening four minutes of action, but stopped the first three shots she faced. The Warriors had a power play opportunity at 6:54 of the period. Junior Katelyn Rae (Courtice, Ontario) had the best chance to give the away team the lead as a puck was deflected in front of the net. However, the Gophers jumped out to a 1-0 lead as Nicole Schammel scooped up a loose rebound and put it in the back of the net. Minnesota added another goal, taking advantage of a 5-on-3 power play as Grace Zumwinkle picked up her second goal of the season.
3rd period: The Warriors would not go quietly. Junior Paige Sorensen (Plymouth, Minn.) fired a shot to the stick side of the net, just underneath the cross bar to put Merrimack on the scoreboard at 3:33 of the period. Voight and junior Emily Volpe (Whitby, Ontario) assisted on the play. The Gophers quickly responded to go up by two goals again at 5:12. They went on to add one more with 9:44 left in the period.
Inside The Numbers
- Ridgewell had her second 30+ save performance in as many games, stopping 35 shots.
- Sophomore Mikyla Grant-Mentis (Brampton, Ontario) led the team with four shots on goal.
- The Warriors split the series with the Gophers, after taking the first game on Friday night, 4-3.
- Goaltenders: L - Samantha Ridgewell (35 Saves) // W - Alex Gulstene (14 Saves)
- Power Plays: Merrimack (0-4) |Minnesota (1-4)
- SOG (MC-UM): 8-7 | 4-20 | 3-12 | 15-39
Up Next
The Warriors have a home-and-home series with Hockey East opponent, New Hampshire on Friday, Oct. 6 and Saturday, Oct. 7. Friday's game is in Durham, New Hampshire with a 7 p.m. puck drop. Saturday's home opener is a 4 p.m. puck drop from Lawler Rink.