Tuesday, February 13, 2018
Northeastern Falls To Harvard In Women's Beanpot, 4-3
Junior forward Tori Sullivan scores two goals for Huskies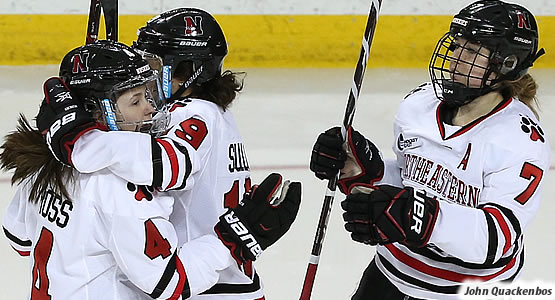 Junior forward Tori Sullivan scored two goals for the Huskies
| | | | | | | |
| --- | --- | --- | --- | --- | --- | --- |
| Prd | Time | Team | Score | Type | Scored By | Assists |
| 1st | 3:18 | HAR | 1-0 | EV | Keely Moy (9) | Becca Gilmore/18, Emma Buckles/8 |
| 1st | 5:29 | NOE | 1-1 | EV | Tori Sullivan (7) | Codie Cross/10, Denisa Křížová/14 |
| 1st | 17:03 | NOE | 2-1 | EV | Denisa Křížová (10) | McKenna Brand/16, Brooke Hobson/14 |
| 2nd | 7:53 | NOE | 3-1 | SH | Tori Sullivan (8) | Codie Cross/11 |
| 2nd | 9:50 | HAR | 2-3 | EV | Ali Peper (1) | Kaitlin Tse/12, Bradley Fusco/8 |
| 3rd | 5:36 | HAR | 3-3 | EV | Becca Gilmore (11) | Kat Hughes/12, Kaitlin Tse/13 |
| 3rd | 7:37 | HAR | 4-3 | EV GW | Becca Gilmore (12) | Ali Peper/11, Brooke Jovanovich/16 |
| | | | | |
| --- | --- | --- | --- | --- |
| Scoring | 1st | 2nd | 3rd | Final |
| Harvard | 1 | 1 | 2 | 4 |
| Northeastern | 2 | 1 | 0 | 3 |
| | | | | |
| --- | --- | --- | --- | --- |
| Shots on Goal | 1st | 2nd | 3rd | SOG |
| Harvard | 7 | 10 | 10 | 27 |
| Northeastern | 10 | 6 | 7 | 23 |
| | | | |
| --- | --- | --- | --- |
| Team Stats and Records | PP | PIM | SHGF |
| Harvard (12-13-2) | 0/3 | 3/6 | 0 |
| Northeastern (14-15-3) | 0/3 | 4/8 | 1 |
| | | | | | | |
| --- | --- | --- | --- | --- | --- | --- |
| Harvard Goaltending | MIN | GA | 1 | 2 | 3 | Saves |
| Becky Dutton (W, 2-1-1) | 60:00 | 3 | 8 | 5 | 7 | 20 |
| | | | | | | |
| --- | --- | --- | --- | --- | --- | --- |
| Northeastern Goaltending | MIN | GA | 1 | 2 | 3 | Saves |
| Aerin Frankel (L, 5-6-2) | 59:08 | 4 | 6 | 9 | 8 | 23 |
| Empty Net | 0:52 | 0 | | | | |
CHESTNUT HILL, Mass. - Redshirt junior Tori Sullivan notched her first two-goal game as a Husky, but the Northeastern women's hockey team (14-15-3) could not hold on to a third-period lead as Harvard (12-13-2) rallied for a 4-3 victory in the Beanpot Consolation Game on Tuesday at Kelley Rink.
The Huskies led 3-1 midway through the second period after Sullivan notched her second goal of the afternoon, shorthanded, off a long feed from sophomore Codie Cross.
The Crimson trimmed the deficit to 3-2 heading to the third, and then flipped the script when Becca Gilmore netted two goals just 2:01 apart early in the frame.
Harvard netminder Becky Dutton held the fort from there, making seven of her 20 saves in the final frame to send NU to a fourth-place Beanpot finish for the first time since 2015.
Senior Denisa Krizova added a goal and an assist in the defeat, while Cross also posted a multi-point effort with a pair of helpers.
Northeastern is back in action Friday against Vermont for Senior Day at Matthews Arena. Puck drop is set for 7 p.m.