Saturday, December 30, 2017
Gorecki's Goal Lifts Vermont Over Guelph, 2-1, in Overtime
Junior forward Alyssa Gorecki scores 50 seconds into overtime for Catamounts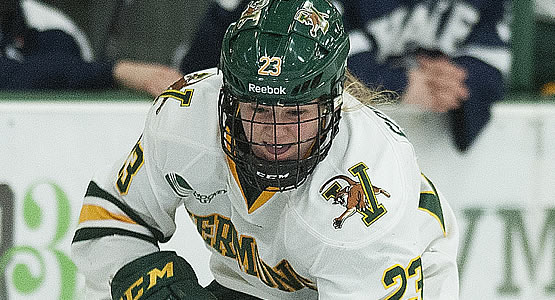 Junior forward Alyssa Gorecki scored the game-winning goal for the Catamounts
MONTREAL, Qué. - Junior forward Alyssa Gorecki scored the game-winning goal 50 seconds into overtime to give Vermont a 2-1 win over Guelph Saturday afternoon. Vermont notches its second straight win in the Theresa Humes Invitational.
"Today was a much tougher game as we faced a speedier and more skilled team," Head Coach Jim Plumer said. "It was a good step forward in preparing for the second half and it was great to get a hard-fought win on a beautiful overtime goal from Alyssa Gorecki."
The Gryphons broke the deadlock early in the second period following a goal from Cyan Roepcke off of a Mackenzie Wong assist.
Taylor Willard tied the game at 1-1 on the power play with a blue line shot through traffic 2:21 into the final period. Sammy Kolowrat and Gorecki picked up assists on the equalizer.
After regulation ended at 1-1, the teams entered a five minute 3-on-3 overtime period. Less than a minute in, Gorecki took a pass from Amanda Drobot and split the defense coming into the offensive zone. She then ripped a shot over the goalie's blocker and off the cross bar into the net for the winner.
Sierra Natzke made the start in goal and played the first half of the game with seven saves. Sydney Scobee played the final half of the game, stopping all 13 shots faced. Guelph goaltender Valerie Lamenta made 29 saves in the loss.
The Cats were called for a lone penalty late in the second period. The Gryphons were called for two penalties with Vermont capitalizing on its second chance.
UVM takes on host Concordia tomorrow afternoon at 4 p.m. to close out the Theresa Humes Invitational. Concordia defeated Guelph 7-0 in its first game of the tournament Friday night.
"Tomorrow will be our toughest test so we are looking forward to the challenge," Plumer added.