Saturday, September 23, 2017
Lum Scores Twice As UConn Tops Whitby In Exhibition, 6-0
Senior forward Leah Lum scores two goals for Huskies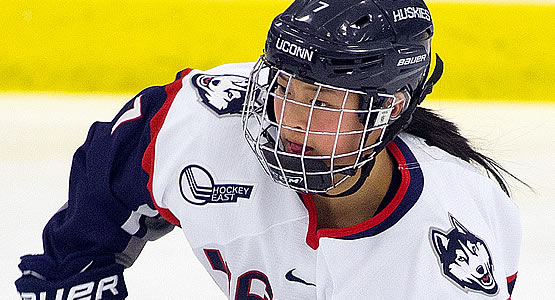 Senior forward Leah Lum scored two goals for the Huskies
| | | | | | | |
| --- | --- | --- | --- | --- | --- | --- |
| Prd | Time | Team | Score | Type | Scored By | Assists |
| 1st | 14:21 | CON | 1-0 | EV GW | Leah Lum | Natalie Snodgrass |
| 2nd | 6:27 | CON | 2-0 | EV | Theresa Knutson | - |
| 2nd | 8:20 | CON | 3-0 | EV | Natalie Snodgrass | Lindsay Roethke |
| 3rd | 2:12 | CON | 4-0 | PP | Leah Lum | Taylor Wabick |
| 3rd | 2:55 | CON | 5-0 | EV | Kayla Mee | Marisa Maccario |
| 3rd | 15:41 | CON | 6-0 | EV | Leona Sim | Nora Maclaine |
| | | | | |
| --- | --- | --- | --- | --- |
| Scoring | 1st | 2nd | 3rd | Final |
| Whitby Wolves | 0 | 0 | 0 | 0 |
| UConn | 1 | 2 | 3 | 6 |
| | | | | |
| --- | --- | --- | --- | --- |
| Shots on Goal | 1st | 2nd | 3rd | SOG |
| Whitby Wolves | 4 | 7 | 5 | 16 |
| UConn | 19 | 7 | 13 | 39 |
| | | | |
| --- | --- | --- | --- |
| Team Stats and Records | PP | PIM | SHGF |
| Whitby Wolves | 0/1 | 2/4 | 0 |
| UConn | 1/2 | 1/2 | 0 |
| | | | | | | |
| --- | --- | --- | --- | --- | --- | --- |
| Whitby Wolves Goaltending | MIN | GA | 1 | 2 | 3 | Saves |
| Alexa GIBSON (L) | 31:47 | 3 | 18 | 1 | 0 | 19 |
| Ally DAVIDSON | 28:13 | 3 | 0 | 4 | 10 | 14 |
| | | | | | | |
| --- | --- | --- | --- | --- | --- | --- |
| UConn Goaltending | MIN | GA | 1 | 2 | 3 | Saves |
| Annie Belanger (W) | 31:47 | 0 | 4 | 5 | 0 | 9 |
| Morgan Fisher | 28:13 | 0 | 0 | 2 | 5 | 7 |
STORRS, Conn. - The UConn women's ice hockey team got off to a fast start on Saturday against the Whitby Jr. Wolves and never looked back, as senior forward Leah Lum scored twice in a 6-0 exhibition win at the Mark Edward Freitas Ice Forum.
Five different players scored for the Huskies in the victory, including freshman Natalie Snodgrass in her first taste of collegiate action. UConn held a dominant 39-16 advantage in shots on goal throughout the contest.
Out of UConn's 26-player roster, 23 saw playing time against Whitby, as head coach Chris MacKenzie got the first look at his team in competitive play. Goalies Annie Belanger and Morgan Fisher combined for 16 saves in the win.
Lum got the scoring started 14:21 into the first period, approaching the net from the left wing and beating Whitby goalie Alexa Gibson. Snodgrass assisted on the tally, giving the Huskies an early lead.
The Huskies tacked on two more goals in the second period within a two-minute span, as senior Theresa Knutson (6:27) and Snodgrass (8:20) both capitalized on scoring chances to extend the lead to 3-0.
Only three penalties were called on Saturday, but the Huskies made one count, as Lum scored her second goal on a power play following a tripping call on Whitby's Daniella Calabrese. Freshman Taylor Wabick assisted, as her shot bounced off goalie Ally Davidson and found Lum's stick.
Junior Kayla Mee ripped a shot 2:55 into the third period, finding the back of the net from a few feet inside the blue line. Sophomore Leona Sim added the final goal at 15:41, scoring off a pass from junior Nora Maclaine.
Both Belanger and Gibson played the first 31:47 between the posts for their respective teams, before Fisher and Davidson finished the game. Gibson had a game-high 19 saves for the Wolves.
Knutson mustered a game-high five shots, while Lum scored her two goals on just three shots. Nine Huskies recorded a plus-minus of +2, as UConn pitched its shutout win over Whitby.
The 2017-18 regular season begins this Friday, as UConn travels to play St. Cloud State twice over the weekend. The Huskies will play their first home game on Oct. 7 against Hockey East rival Vermont.