Saturday, October 14, 2017
UConn Sweeps Weekend Series With 5-0 Win Over Union
Sophomore netminder Morgan Fisher makes 24 saves for Huskies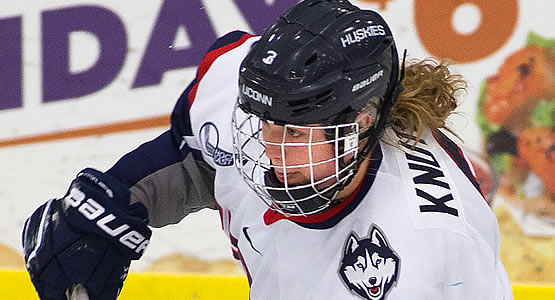 Senior forward Theresa Knutson scored a goal for the Huskies
| | | | | | | |
| --- | --- | --- | --- | --- | --- | --- |
| Prd | Time | Team | Score | Type | Scored By | Assists |
| 1st | 5:59 | CON | 1-0 | EV GW | Briana Colangelo (4) | Morgan Wabick/2, Emily Reid/2 |
| 1st | 12:55 | CON | 2-0 | EV | Morgan Wabick (2) | Leah Lum/3, Briana Colangelo/3 |
| 1st | 17:14 | CON | 3-0 | EV | Theresa Knutson (1) | Justine Fredette/1, Carley Olivier/1 |
| 2nd | 0:14 | CON | 4-0 | EV | Natalie Snodgrass (2) | - |
| 2nd | 8:31 | CON | 5-0 | EV | Natalie Snodgrass (3) | - |
| | | | | |
| --- | --- | --- | --- | --- |
| Scoring | 1st | 2nd | 3rd | Final |
| Union | 0 | 0 | 0 | 0 |
| UConn | 3 | 2 | 0 | 5 |
| | | | | |
| --- | --- | --- | --- | --- |
| Shots on Goal | 1st | 2nd | 3rd | SOG |
| Union | 8 | 8 | 8 | 24 |
| UConn | 14 | 6 | 6 | 26 |
| | | | |
| --- | --- | --- | --- |
| Team Stats and Records | PP | PIM | SHGF |
| Union (0-5-1) | 0/2 | 1/2 | 0 |
| UConn (3-2-0) | 0/1 | 2/4 | 0 |
| | | | | | | |
| --- | --- | --- | --- | --- | --- | --- |
| Union Goaltending | MIN | GA | 1 | 2 | 3 | Saves |
| Kate Spooner (L, 0-3-0) | 28:31 | 5 | 11 | 4 | 0 | 15 |
| Coco Francis | 31:29 | 0 | 0 | 0 | 6 | 6 |
| | | | | | | |
| --- | --- | --- | --- | --- | --- | --- |
| UConn Goaltending | MIN | GA | 1 | 2 | 3 | Saves |
| Morgan Fisher (W, 1-1-0) | 60:00 | 0 | 8 | 8 | 8 | 24 |
STORRS, Conn. - The UConn women's ice hockey team completed a weekend sweep of Union on Saturday, picking up a 5-0 shutout win over the Dutchwomen behind a pair of goals from freshman Natalie Snodgrass at the Mark Edward Freitas Ice Forum.
The Huskies (3-2-0, 0-1-0 WHEA) received goals from four different players, as they finished the weekend with an 11-1 goals advantage over Union. Sophomore Morgan Fisher made 24 saves between the pipes in her first win of the season.
For the second straight day, sophomore Briana Colangelo and freshman Morgan Wabick each found the back of the net - with both tallies coming in the first period to give UConn an early lead.
Colangelo recorded five points in the series with Union, matching Snodgrass for a team-high in the two victories. Eight players had multiple points for the Huskies on Friday and Saturday, including five others with one each.
"I was happy for Morgan (Fisher) to get the shutout tonight. I thought we played a solid game, especially with a great first period," said head coach Chris MacKenzie. "In the second period, Natalie (Snodgrass) made two great individual plays to solidify the win."
Saturday's contest provided just three penalties, while the Huskies outshot the Dutchwomen - 26-24. UConn scored three times in the first period, accumulating a 3-0 lead and 14-8 edge in shots in the early stages of the game.
Colangelo struck first in the initial period, capitalizing off passes from freshman Morgan Wabick and senior Leah Lum to beat Union goalie Kate Spooner for a 1-0 lead at the far post.
"Briana is really consistent, she's a consistent player who shows up and does her thing. We're happy to have her and considering the amount she has played, it's amazing she is only a sophomore," said MacKenzie.
Extra emphasis was put on the young Huskies, who have found ways to contribute in the first five games of the season. Colangelo, sophomore Emily Reid, Snodgrass, freshman Carley Olivier, as well as Morgan and Taylor Wabick, accounted for 18 of 29 points this weekend.
"The freshmen are getting more confident, being five games in now. Their learning curve is there but there is a comfort level," said MacKenzie. "They are cashing in on opportunities."
Wabick scored with 7:05 remaining in the first, finding the back of the net with a scrum in the crease off passes from Colangelo and Lum. Senior Theresa Knutson then added one more at 17:14, her first of the season, to make it 3-0.
Both of Snodgrass' tallies came unassisted, as the freshman earned a pair of breakaway opportunities that she capitalized on - beating Spooner on both goals, including one just 14 seconds into the second period.
Snodgrass now has three goals on the season, with her first coming by way of an overtime game-winner against St. Cloud State in the season-opener.
"I'm looking forward to this team growing. I feel like it can be a special group this year, if we continue to hold ourselves to a high standard," said MacKenzie.
The Huskies turn their focus to a big challenge on Friday night, as No. 3 Boston College visits the Freitas Ice Forum in Hockey East action. Puck drop is scheduled for 6 p.m. (ET). Fans are also encouraged to RSVP for Hockey Night on Tuesday at Freitas, beginning at 7 p.m. (ET).