Saturday, September 30, 2017
UConn Edged By St. Cloud State, 3-2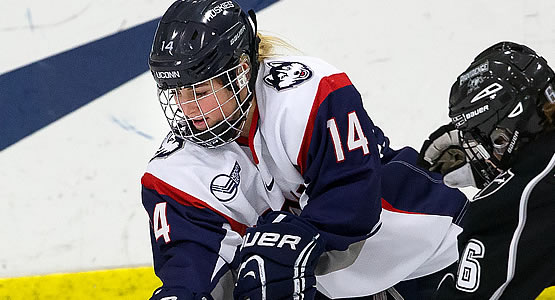 Senior forward Justine Fredette scored a goal for the Huskies
| | | | | | | |
| --- | --- | --- | --- | --- | --- | --- |
| Prd | Time | Team | Score | Type | Scored By | Assists |
| 1st | 0:55 | CON | 1-0 | EV | Justine Fredette (1) | Leah Lum/1, Taylor Wabick/1 |
| 1st | 3:33 | CON | 2-0 | PP | Briana Colangelo (1) | Leah Lum/2, Natalie Snodgrass/1 |
| 3rd | 0:36 | STC | 1-2 | EV | Julia Tylke (1) | Tatum Coats/1, Emma Polusny/1 |
| 3rd | 4:42 | STC | 2-2 | EV | Julia Tylke (2) | Laura Kluge/1, Kayla Friesen/1 |
| 3rd | 14:36 | STC | 3-2 | EV GW | Laura Kluge (1) | Kayla Friesen/2 |
| | | | | |
| --- | --- | --- | --- | --- |
| Scoring | 1st | 2nd | 3rd | Final |
| UConn | 2 | 0 | 0 | 2 |
| St. Cloud State | 0 | 0 | 3 | 3 |
| | | | | |
| --- | --- | --- | --- | --- |
| Shots on Goal | 1st | 2nd | 3rd | SOG |
| UConn | 18 | 5 | 10 | 33 |
| St. Cloud State | 3 | 10 | 12 | 25 |
| | | | |
| --- | --- | --- | --- |
| Team Stats and Records | PP | PIM | SHGF |
| UConn (1-1-0) | 1/2 | 0/0 | 0 |
| St. Cloud State (1-1-0) | 0/0 | 2/4 | 0 |
| | | | | | | |
| --- | --- | --- | --- | --- | --- | --- |
| UConn Goaltending | MIN | GA | 1 | 2 | 3 | Saves |
| Morgan Fisher (L, 0-1-0) | 57:53 | 3 | 3 | 10 | 9 | 22 |
| Empty Net | 2:07 | 0 | | | | |
| | | | | | | |
| --- | --- | --- | --- | --- | --- | --- |
| St. Cloud State Goaltending | MIN | GA | 1 | 2 | 3 | Saves |
| Emma Polusny (W, 1-0-0) | 60:00 | 2 | 16 | 5 | 10 | 31 |
ST. CLOUD, Minn. - Senior Justine Fredette and sophomore Briana Colangelo both tallied goals on Saturday afternoon, but a late rally by St. Cloud State in the third period sunk the UConn women's ice hockey team, 3-2, at the Herb Brooks National Hockey Center.
Following a tight 1-0 overtime win on Friday night, the Huskies (1-1-0, 0-0-0 WHEA) got off to a fast start in the rematch with SCSU - taking a 2-0 lead after the first two periods. A three-goal effort by the hosting Huskies in the final period, however, dropped UConn late.
Sophomore Morgan Fisher made 22 saves for UConn, including 10 in the second period, in her first action of the season between the pipes. Fredette and Colangelo each recorded their first goals of the season in the loss.
Senior Leah Lum and freshman Taylor Wabick posted assists on Fredette's goal, which came just 55 seconds into the game. Lum and freshman Natalie Snodgrass, who scored the game-winner in overtime on Friday, were credited with assists on Colangelo's score.
UConn played a clean game throughout, going without a penalty for all 60 minutes. The Huskies took advantage of an early checking penalty on SCSU, as Colangelo capitalized 3:33 into the contest - giving UConn a 2-0 lead in the first four minutes.
For the second straight day, Snodgrass led all players with six shots, while Lum and senior Theresa Knutson each had five. SCSU goalie Emma Polusny made 31 saves in the game, matching senior Annie Belanger's total from Friday.
In a heavily dominated first period, the Huskies fired 18 shots on goal to SCSU's three - testing Polusny from the start. Fredette scored her 17th career goal in the first minute, shortly followed by Colangelo's 10th tally.
A scoreless second period led to a wild third period, which saw SCSU score twice within the first five minutes to tie the game. Julia Tylke, SCSU's leading scorer from a year ago, recorded both goals.
With less than six minutes to go in regulation, Snodgrass broke towards the net and ripped a backhand shot, but it was saved by Polusny. Just seconds later, SCSU scored off a face-off to take a 3-2 lead.
For the final 2:07, UConn emptied the net and tried to attack with six players, but Lum's late attempt toward the net was stifled and the puck was covered.
The Huskies held a 33-25 shots advantage, led by the starting line of Lum, Colangelo and Snodgrass. Junior Kayla Mee and freshman Taylor Wabick started on the backline for UConn.
Head coach Chris MacKenzie's squad now focuses its attention on next weekend when Hockey East action begins. Vermont visits the Freitas Ice Forum on Saturday, with puck drop scheduled for 2 p.m. (ET).