Saturday, February 24, 2018
UConn Ties WHEA Quarterfinal Series With 3-0 Win At Providence
Senior goaltender Annie Belanger makes 23 saves for Huskies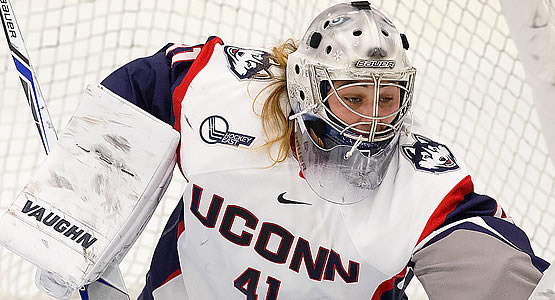 Senior goaltender Annie Belanger made 23 saves for the Huskies
| | | | | | | |
| --- | --- | --- | --- | --- | --- | --- |
| Prd | Time | Team | Score | Type | Scored By | Assists |
| 1st | 11:14 | CON | 1-0 | EV GW | Theresa Knutson (12) | Briana Colangelo/15, Kayla Mee/12 |
| 2nd | 10:56 | CON | 2-0 | EV | Justine Fredette (7) | Emily Reid/5 |
| 3rd | 19:55 | CON | 3-0 | EV EN | Kayla Mee (4) | - |
| | | | | |
| --- | --- | --- | --- | --- |
| Scoring | 1st | 2nd | 3rd | Final |
| UConn | 1 | 1 | 1 | 3 |
| Providence | 0 | 0 | 0 | 0 |
| | | | | |
| --- | --- | --- | --- | --- |
| Shots on Goal | 1st | 2nd | 3rd | SOG |
| UConn | 10 | 7 | 4 | 21 |
| Providence | 4 | 7 | 12 | 23 |
| | | | |
| --- | --- | --- | --- |
| Team Stats and Records | PP | PIM | SHGF |
| UConn (14-13-9) | 0/1 | 1/2 | 0 |
| Providence (17-12-7) | 0/1 | 1/2 | 0 |
| | | | | | | |
| --- | --- | --- | --- | --- | --- | --- |
| UConn Goaltending | MIN | GA | 1 | 2 | 3 | Saves |
| Annie Belanger (W, 11-10-6) | 60:00 | 0 | 4 | 7 | 12 | 23 |
| | | | | | | |
| --- | --- | --- | --- | --- | --- | --- |
| Providence Goaltending | MIN | GA | 1 | 2 | 3 | Saves |
| Madison Myers (L, 16-11-7) | 57:14 | 2 | 9 | 6 | 3 | 18 |
| Empty Net | 2:46 | 1 | | | | |
PROVIDENCE, R.I. - The Providence College women's hockey team fell to the University of Connecticut by a score of 3-0 in the second game of the Hockey East Quarterfinals on Feb. 24 at Schneider Arena.
SCORE
Providence - 0 | UConn - 3
RECORDS
Providence: 17-12-7 (12-7-5 HE) | UConn: 13-14-9 (7-11-6 HE)
VENUE
Schneider Arena - Providence, R.I.
GAME FLOW & NOTES
- UConn got on the board first with a goal at the 11:14 mark of the opening frame. Kayla Mee took a shot from the point which was redirected by both Briana Colangelo and Theresa Knutson. Madison Myers (Colchester, Vt.) made the initial save, but Knutson finished the rebound.
- The Huskies' goal was the first that the Friars have allowed in 144:11 minutes of play.
- Midway through the second period, UConn increased the lead to 2-0. Emily Reid took a shot from the point that was knocked out of the air by Justine Fredette. She then corralled the puck and ripped a shot over Myers' glove.
- The Friars applied tremendous pressure in the third, outshooting the Huskies 12-4 in the final frame. Annie Belanger stopped all 12 third-period shots and finished the day with 23 total saves.
- With just five seconds left to play, Kayla Mee scored an empty-netter to make it 3-0.
HOW THEY SCORED
1-0 (UConn) - 11:14/1st - EV - Theresa Knutson, assisted by Briana Colangelo and Kayla Mee - Rebound goal
2-0 (UConn) - 10:56/2nd - EV - Justine Fredette, assisted by Emily Reid - Shot from Reid at the point, knocked down in the slot, finished over Myers' glove
3-0 (UConn) - 19:55/3rd - EN - Kayla Mee (unassisted) - Empty-netter from center ice
GOALTENDERS
Providence: Madison Myers, 16-11-7: 18 saves, 2 goals against
UConn: Annie Belanger, 11-10-6: 23 saves, 0 goals against
STAT COMPARISON
Providence-
Shots: 23
Face-off percentage: 32/61
Power plays: 0-1 (0%)
Penalty kill: 1-1 (100%)
UConn-
Shots: 21
Face-offs: 29/61
Power plays: 0-1 (0%)
Penalty kill: 1-1 (100%)
PC GAME HIGHS
Shots: Maureen Murphy (6)
Goals: -
Assists: -
Points: -
LOOKING AHEAD
The Friars and Huskies will meet tomorrow (Feb. 25) in a decisive game three. Puck drop is set for 4:00 p.m. at Schneider Arena.