Friday, February 23, 2018
Providence Shuts Out UConn, 4-0, In WHEA Quarterfinal Action
Junior goaltender Madison Myers makes 25 saves for Friars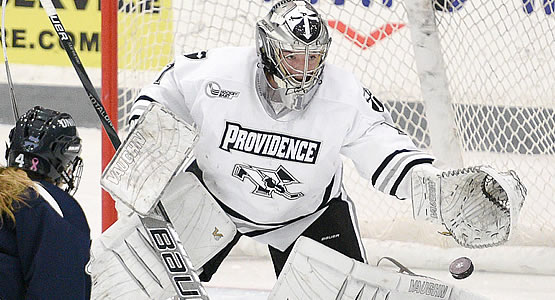 Junior goaltender Madison Myers made 25 saves for the Friars
| | | | | | | |
| --- | --- | --- | --- | --- | --- | --- |
| Prd | Time | Team | Score | Type | Scored By | Assists |
| 1st | 6:51 | PRV | 1-0 | EV GW | Avery Fransoo (3) | Maureen Murphy/8, Brooke Boquist/13 |
| 2nd | 7:00 | PRV | 2-0 | EV | Hayley Lunny (2) | Cassidy MacPherson/17 |
| 2nd | 13:32 | PRV | 3-0 | EV | Christina Putigna (11) | Maureen Murphy/9 |
| 3rd | 18:42 | PRV | 4-0 | EV EN | Blair Parent (11) | - |
| | | | | |
| --- | --- | --- | --- | --- |
| Scoring | 1st | 2nd | 3rd | Final |
| UConn | 0 | 0 | 0 | 0 |
| Providence | 1 | 2 | 1 | 4 |
| | | | | |
| --- | --- | --- | --- | --- |
| Shots on Goal | 1st | 2nd | 3rd | SOG |
| UConn | 7 | 9 | 9 | 25 |
| Providence | 14 | 14 | 6 | 34 |
| | | | |
| --- | --- | --- | --- |
| Team Stats and Records | PP | PIM | SHGF |
| UConn (13-13-9) | 0/1 | 2/4 | 0 |
| Providence (17-11-7) | 0/2 | 1/2 | 0 |
| | | | | | | |
| --- | --- | --- | --- | --- | --- | --- |
| UConn Goaltending | MIN | GA | 1 | 2 | 3 | Saves |
| Annie Belanger (L, 10-10-6) | 58:46 | 3 | 13 | 12 | 5 | 30 |
| Empty Net | 1:14 | 1 | | | | |
| | | | | | | |
| --- | --- | --- | --- | --- | --- | --- |
| Providence Goaltending | MIN | GA | 1 | 2 | 3 | Saves |
| Madison Myers (W, 16-10-7) | 60:00 | 0 | 7 | 9 | 9 | 25 |
PROVIDENCE, R.I. - The Providence College women's hockey team defeated the University of Connecticut in Hockey East Quarterfinal action on Friday night (Feb. 23). The Friars skated to a 4-0 victory at Schneider Arena in the first game of a best-of-three series.
SCORE
Providence - 4 | UConn - 0
RECORDS
Providence: 17-11-7 (12-7-5 HE) | UConn: 13-13-9 (7-11-6 HE)
VENUE
Schneider Arena - Providence, R.I.
GAME FLOW & NOTES
- Avery Fransoo (North Battleford, Saskatchewan) put the Friars up 1-0 in the first period with an off-angle shot from the top of the left circle. Brooke Boquist (Thunder Bay, Ontario) drew the puck back to Maureen Murphy (Buffalo, N.Y.) who dumped it off to Fransoo. She walked down the boards and took a wrist shot that found its way through traffic at the 6:51 mark of the first.
- Boquist's assist marks her third against UConn this season. She now has five points (two goals, three assists) in four games against the Huskies during 2017-18.
- A few minutes later, Jaime Fox skated in on Madison Myers (Colchester, Vt.) who made an acrobatic save to keep the Huskies off the board.
- Freshman Hayley Lunny (Bedford, N.Y.) increased the Friars' lead at the 7:00 mark of the second with another goal off the faceoff. Cassidy MacPherson (Oakville, Ontario) tied up the faceoff, Lunny skated in to get the puck and roofed a shot over the glove of Belanger.
- The goal was just Lunny's second of her career. MacPherson picked up her team-leading 17th assist on the play.
- Just over five minutes later, Christina Putigna (Grimsby, Ontario) scored a beautiful goal for the Friars. Murphy caused a turnover in the Huskies' zone and played the puck to Putigna in front. She beat Belanger top-shelf for her 11th goal of the season.
- Murphy's assists helped her to her 7th multi-point game of the season. It is the first time she has recorded two assists in a game.
- Blair Parent (Blaine, Minn.) capped the evening with an empty-net goal with 1:18 left to play.
- Myers finished the day with 25 saves. It was her second consecutive shutout and fourth overall on the season.
- The Friars scored more than two goals for the first time since Jan. 13 at Boston University (W, 6-3). It had been a nine-game streak with two or fewer goals scored for the Providence offense.
HOW THEY SCORED
1-0 (Providence) - 6:51/1st - EV - Avery Fransoo, assisted by Maureen Murphy and Brooke Boquist - Shot from the top of the left circle off the faceoff
2-0 (Providence) - 7:00/2nd - EV - Hayley Lunny, assisted by Cassidy MacPherson - MacPherson tied up the faceoff, Lunny skated in and roofed a wrist shot
3-0 (Providence) - 13:32/2nd - EV - Christina Putigna, assisted by Maureen Murphy - Murphy caused the turnover, passed to Putigna in front for the top-shelf finish
4-0 (Providence) - 18:42/3rd - EN - Blair Parent (unassisted) - Empty-netter
GOALTENDERS
Providence: Madison Myers, 16-10-7: 25 saves, 0 goals against
UConn: Annie Belanger, 10-10-6: 30 saves, 3 goals against
STAT COMPARISON
Providence-
Shots: 34
Face-off percentage: 30/56
Power plays: 0-2 (0%)
Penalty kill: 1-1 (100%)
UConn-
Shots: 25
Face-offs: 26/56
Power plays: 0-1 (0%)
Penalty kill: 2-2 (100%)
PC GAME HIGHS
Shots: Boquist (5)
Goals: Fransoo, Lunny, Puitgna, Parent (1)
Assists: Murphy (2)
Points: Murphy (2)
LOOKING AHEAD The Friars continue the best-of-three series with UConn tomorrow, Feb. 24 at 7:00 p.m. If needed, the teams will settle the series on Sunday, Feb. 25 at 4:00 p.m.