Sunday, November 12, 2017
Weis Sends Maine Past UConn In Overtime, 4-3
Freshman forward Michelle Weis scores 35 seconds into overtime for Black Bears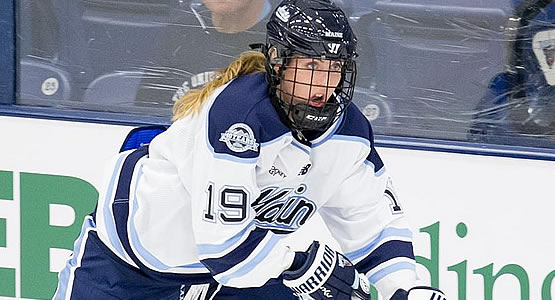 Freshman forward Michelle Weis scored 35 seconds into overtime for the Black Bears
| | | | | | | |
| --- | --- | --- | --- | --- | --- | --- |
| Prd | Time | Team | Score | Type | Scored By | Assists |
| 1st | 7:51 | MNE | 1-0 | EV | Catherine Tufts (5) | Lydia Murray/2 |
| 2nd | 5:03 | MNE | 2-0 | EV | Vendula Přibylová (4) | Catherine Tufts/3, Alyson Matteau/5 |
| 2nd | 6:06 | CON | 1-2 | EV | Natalie Snodgrass (6) | Briana Colangelo/6 |
| 2nd | 10:29 | CON | 2-2 | EV | Savannah Bouzide (1) | - |
| 3rd | 5:20 | MNE | 3-2 | EV | Tereza Vanišová (5) | Brooke Stacey/6, Brittany Kucera/6 |
| 3rd | 11:41 | CON | 3-3 | PP | Natalie Snodgrass (7) | Briana Colangelo/7, Leah Lum/5 |
| OT | 0:35 | MNE | 4-3 | EV GW | Michelle Weis (5) | Brooke Stacey/7, Tereza Vanišová/16 |
| | | | | | |
| --- | --- | --- | --- | --- | --- |
| Scoring | 1st | 2nd | 3rd | OT | Final |
| UConn | 0 | 2 | 1 | 0 | 3 |
| Maine | 1 | 1 | 1 | 1 | 4 |
| | | | | | |
| --- | --- | --- | --- | --- | --- |
| Shots on Goal | 1st | 2nd | 3rd | OT | SOG |
| UConn | 12 | 6 | 7 | 0 | 25 |
| Maine | 7 | 8 | 14 | 1 | 30 |
| | | | |
| --- | --- | --- | --- |
| Team Stats and Records | PP | PIM | SHGF |
| UConn (4-4-3) | 1/3 | 4/8 | 0 |
| Maine (8-5-1) | 0/4 | 3/6 | 0 |
| | | | | | | | |
| --- | --- | --- | --- | --- | --- | --- | --- |
| UConn Goaltending | MIN | GA | 1 | 2 | 3 | OT | Saves |
| Annie Belanger (L, 3-3-2) | 60:35 | 4 | 6 | 7 | 13 | 0 | 26 |
| | | | | | | | |
| --- | --- | --- | --- | --- | --- | --- | --- |
| Maine Goaltending | MIN | GA | 1 | 2 | 3 | OT | Saves |
| Carly Jackson (W, 6-4-1) | 60:35 | 3 | 12 | 4 | 6 | 0 | 22 |
ORONO, Maine - Freshman Michelle Weis saved the Black Bears from recording back-to-back tie games, potting the game winner 35 seconds into overtime for the 4-3 victory over the University of Connecticut (UConn) on Sunday afternoon.
Assists on Weis' goal were given to Brooke Stacey and Tereza Vanisova. All three players are currently leading the team in points and coincidentally made up the first line of attack for the Black Bears this game.
In net for the Huskies was Annie Belanger seeing time in her 8th game this season while notching 26 saves, half of which were fired her way in the third period. Opposing goaltender Carly Jackson held off 22 shots, seeing over half of those in the opening frame.
Catherine Tufts found the net for the only goal in the first period, after Lydia Murray stole the puck from a UConn player at the point and broke away towards net, passing it off to wide open Tufts across the net for the first goal of the game.
The Black Bears put away their second unanswered goal as Vendula Pribylova danced through the circle, between four Huskies, and tipped the puck up into the top corner. Grabbing points on the goal were Tufts and Alyson Matteau to put Maine up 2-0, 5:03 into the second stanza.
Cutting the deficit in half just one minute later, Natalie Snodgrass received the puck off of a face-off win by Briana Colangelo and sent a one-timer flying in between the pipes hitting netting. UConn carried that momentum into their next goal halfway through the second frame. Savannah Bouzide found the puck floating around the side of the net, snatched it up, and snuck it right through Jackson's legs to tie up the game 2-2 for her first NCAA goal.
Responding 5:20 into the third, Stacey rocketed a shot towards Belanger who managed to deflect it away, landing right in front of Vanisova who blasted her own shot right through Husky defense over the goal line. Brittany Kucera found an assist on this goal to help the Black Bears once again break into the lead, 3-2.
UConn didn't back down, taking full advantage of a power play, Snodgrass found the back of the net for her second time that day to even the score, 3-3, off a top shelf slap shot just over Jackson's right shoulder. Colangelo earned her second assist of the game and Leah Lum her first to close out scoring in regulation time.
The Maine women's ice hockey team will meet up with Northeastern for the second time this month, but the Black Bears will be traveling to their home ice for a two-game weekend series on Saturday (Nov. 18) and Sunday (Nov 19) with 2 p.m. puck drops.