Saturday, February 17, 2018
UConn Sweeps Weekend with 3-1 Win Against Merrimack
Senior forward Leah Lum registers 100th career point for Huskies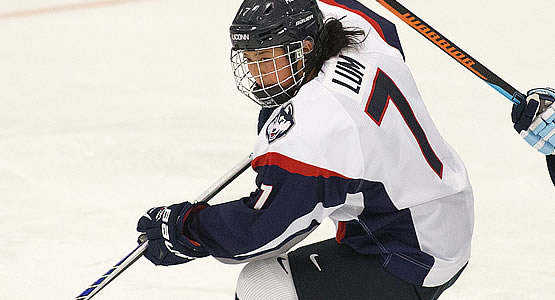 Senior forward Leah Lum scored her 100th career point for the Huskies
| | | | | | | |
| --- | --- | --- | --- | --- | --- | --- |
| Prd | Time | Team | Score | Type | Scored By | Assists |
| 2nd | 8:08 | CON | 1-0 | EV | Catherine Crawley (6) | Morgan Wabick/11, Natalie Snodgrass/16 |
| 3rd | 12:27 | CON | 2-0 | PP GW | Theresa Knutson (11) | Catherine Crawley/8, Justine Fredette/5 |
| 3rd | 14:12 | CON | 3-0 | EV | Leah Lum (10) | Theresa Knutson/5, Jaime Fox/12 |
| 3rd | 19:45 | MER | 1-3 | PP | Dominique Kremer (2) | Chloe Cook/2 |
| | | | | |
| --- | --- | --- | --- | --- |
| Scoring | 1st | 2nd | 3rd | Final |
| Merrimack | 0 | 0 | 1 | 1 |
| UConn | 0 | 1 | 2 | 3 |
| | | | | |
| --- | --- | --- | --- | --- |
| Shots on Goal | 1st | 2nd | 3rd | SOG |
| Merrimack | 11 | 8 | 14 | 33 |
| UConn | 2 | 16 | 14 | 32 |
| | | | |
| --- | --- | --- | --- |
| Team Stats and Records | PP | PIM | SHGF |
| Merrimack (11-20-3) | 1/5 | 4/8 | 0 |
| UConn (13-12-9) | 1/3 | 5/10 | 0 |
| | | | | | | |
| --- | --- | --- | --- | --- | --- | --- |
| Merrimack Goaltending | MIN | GA | 1 | 2 | 3 | Saves |
| Léa-Kristine Demers (L, 3-8-2) | 59:57 | 3 | 2 | 15 | 12 | 29 |
| Empty Net | 0:03 | 0 | | | | |
| | | | | | | |
| --- | --- | --- | --- | --- | --- | --- |
| UConn Goaltending | MIN | GA | 1 | 2 | 3 | Saves |
| Annie Belanger (W, 10-9-6) | 59:59 | 1 | 11 | 8 | 13 | 32 |
| Empty Net | 0:01 | 0 | | | | |
STORRS, Conn. - Senior forward Leah Lum recorded her 100th career point on a third-period goal, putting an exclamation point on Senior Day as the UConn women's ice hockey team defeated Merrimack, 3-1, on Saturday afternoon at the Mark Edward Freitas Ice Forum.
The Huskies (13-12-9, 7-11-6 WHEA) honored their eight seniors in a pregame ceremony, before earning their second-straight win and sixth-consecutive at home - finishing the regular season as winners of six of their last eight contests.
Senior forward Theresa Knutson and sophomore forward Catherine Crawley each recorded multi-point games with a goal and assist, while senior goalie Annie Belanger stood out between the pipes - making 32 saves in her final game at Freitas.
"We're finding ways to win games, and we weren't doing that earlier this season," said head coach Chris MacKenzie. "Our willingness to compete was always there, it was just a bounce here and there. With some experience and confidence, we're finding ways to get it done."
The highlight play of the game was a 10-second stretch of time late in the third period, when Belanger dove to her right and made a miraculous save to maintain UConn's 2-0 lead. Off the save, Knutson found a streaking Lum for a goal at the right post to seal the win for the Huskies.
For Lum, she becomes the third player in program history to reach the 100-point plateau and remains third on the all-time list behind Jaclyn Hawkins and Dominique Thibault. She also ranks third in career assists (58).
"We started off the season slow, but getting a bunch of wins at the end and are peaking at the right time," said Knutson. "Our confidence was never lacking, but the results now are increasing our confidence to a higher level."
Crawley put the Huskies on the board in the second period at 8:08, finishing a rebound off the stick of freshman Morgan Wabick for an early 1-0 edge. Belanger made 19 saves in the first two periods, including 11 in the first.
In a two-minute stretch, UConn tacked on two more scores in the third - first when Knutson whipped around and fired a shot from the circle in the waning seconds of a power play at 12:27. At 14:12, Lum scored on her breakaway off the amazing save from Belanger.
UConn went 1-for-3 on power play opportunities, while earning penalty kills on 4-of-5 shorthanded situations. Merrimack's lone goal came at 19:45 after a tripping call on junior Nora Maclaine.
The Huskies finish with a home record of 10-2-7, their first 10-win season at Freitas since the 2008-09 campaign. They now await their playoff seed in the Hockey East Tournament to see where they will travel next weekend.
"We should feel confident coming into the playoffs and focus on making this run as long as possible," said MacKenzie.