Northeastern Defeated By Colgate, 5-2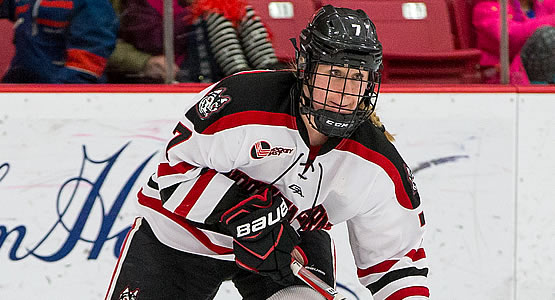 Senior forward McKenna Brand scored a goal for the Huskies
| | | | | | | |
| --- | --- | --- | --- | --- | --- | --- |
| Prd | Time | Team | Score | Type | Scored By | Assists |
| 1st | 8:29 | CLG | 1-0 | EV | Bailey Larson (2) | Breanne Wilson-Bennett/1, Kaila Pinkney/1 |
| 1st | 12:41 | CLG | 2-0 | EV | Megan Sullivan (1) | Shelby Perry/4, Shae Labbe/3 |
| 2nd | 5:54 | CLG | 3-0 | PP GW | Shae Labbe (3) | Shelby Perry/5, Jessie Eldridge/1 |
| 2nd | 8:31 | CLG | 4-0 | EV | Malia Schneider (2) | Jessie Eldridge/2, Olivia Zafuto/2 |
| 2nd | 19:25 | NOE | 1-4 | EV | Veronika Pettey (2) | Ainsley MacMillan/1, Tori Sullivan/2 |
| 3rd | 5:06 | CLG | 5-1 | PP | Shae Labbe (4) | Annika Zalewski/4, Jessie Eldridge/3 |
| 3rd | 18:26 | NOE | 2-5 | EV | McKenna Brand (3) | Paige Capistran/1 |
| | | | | |
| --- | --- | --- | --- | --- |
| Scoring | 1st | 2nd | 3rd | Final |
| Northeastern | 0 | 1 | 1 | 2 |
| Colgate | 2 | 2 | 1 | 5 |
| | | | | |
| --- | --- | --- | --- | --- |
| Shots on Goal | 1st | 2nd | 3rd | SOG |
| Northeastern | 7 | 7 | 3 | 17 |
| Colgate | 14 | 13 | 11 | 38 |
| | | | |
| --- | --- | --- | --- |
| Team Stats and Records | PP | PIM | SHGF |
| Northeastern (2-3-1) | 0/6 | 5/10 | 0 |
| Colgate (4-0-0) | 2/5 | 6/12 | 0 |
| | | | | | | |
| --- | --- | --- | --- | --- | --- | --- |
| Northeastern Goaltending | MIN | GA | 1 | 2 | 3 | Saves |
| Brittany Bugalski (L, 2-3-1) | 60:00 | 5 | 12 | 11 | 10 | 33 |
| | | | | | | |
| --- | --- | --- | --- | --- | --- | --- |
| Colgate Goaltending | MIN | GA | 1 | 2 | 3 | Saves |
| Liz Auby (W, 4-0-0) | 59:57 | 2 | 7 | 6 | 2 | 15 |
| Empty Net | 0:03 | 0 | | | | |
HAMILTON, N.Y. - Shae Labbe and Jessie Eldridge each notched three points to help the No. 8/8 Colgate Raiders (4-0-0) post a weekend sweep of the No. 6/5 Northeastern women's hockey team (2-3-1) with a 5-2 victory on Sunday at the Class of 1965 Arena.
Freshman Veronika Pettey and senior McKenna Brand lit the lamp for the Huskies, while junior goaltender Brittany Bugalski made 33 saves.
Goal Recaps
• The hosts opened the scoring at the 8:29 mark of the first period. After a Kaila Pinkney point-shot was redirected in the crease by Breanne Wilson-Bennett, Colgate's Bailey Larson was the first to find the loose puck at the right of the cage for a backhand that sailed over the outstretched pad of Bugalski.
• The Raiders added to the lead just over four minutes later on a similar play. Labbe wheeled into the slot and fired a shot that deflected in front, allowing Megan Sullivan to scoop up the loose puck and deposit the disc into the back of the net at 12:41.
• Colgate tacked on a third goal six minutes into the second period when Labbe's point-shot sailed through traffic and found the back of the net on the power play.
• The Raiders made it 4-0 at 8:31 of the middle frame when Malia Schneider backhanded a rebound inside the right post from point-blank range.
• The Huskies got on the board with 35 seconds to play in the second period following a tic-tac-toe passing play. Tori Sullivan shifted the puck to the right point to Ainsley MacMillan, who quickly zipped a feed to Pettey at the left of the cage for a redirection past Colgate netminder Liz Auby to cut the score to 4-1.
• Colgate pushed back ahead by four goals with another power-play tally from Labbe at 5:06 of the third period.
• Northeastern cut into the deficit with 1:34 remaining in the third period to round out the scoring. Paige Capistran held the puck in the Colgate zone at the right point and fired a shot towards the net that caromed onto the stick of Brand, who ripped a wrister into the back of the cage from the low slot.
Stats of the Game
• Colgate held a 38-17 shot advantage and scored two power-play goals.
• The Huskies blocked 26 shots, including six apiece by Denisa Krizova, Codie Cross and Paige Capistran.
• Pettey notched her fourth point in her last four games.
• Pettey is tied with McKenna Brand and Kasidy Anderson for the team lead in points with four.
• Brand notched her team-leading third goal of the season.
Up Next
Northeastern will head to Syracuse for a pair of games next weekend, starting Friday, Oct. 20 at 7 p.m.