Saturday, October 14, 2017
Northeastern Shut Out By Colgate, 3-0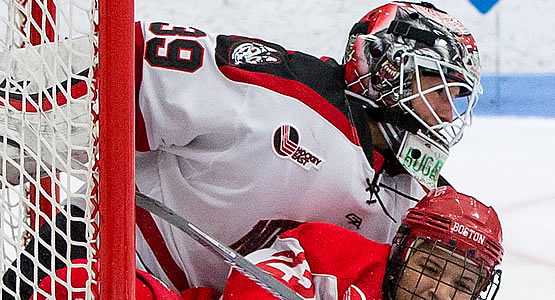 Junior goaltender Brittany Bugalski made 26 saves for the Huskies
| | | | | | | |
| --- | --- | --- | --- | --- | --- | --- |
| Prd | Time | Team | Score | Type | Scored By | Assists |
| 1st | 6:44 | CLG | 1-0 | PP GW | Jessie Eldridge (3) | Shelby Perry/2, Malia Schneider/2 |
| 2nd | 6:19 | CLG | 2-0 | EV | Shae Labbe (2) | - |
| 3rd | 13:44 | CLG | 3-0 | PP | Jessie Eldridge (4) | Shae Labbe/2, Shelby Perry/3 |
| | | | | |
| --- | --- | --- | --- | --- |
| Scoring | 1st | 2nd | 3rd | Final |
| Northeastern | 0 | 0 | 0 | 0 |
| Colgate | 1 | 1 | 1 | 3 |
| | | | | |
| --- | --- | --- | --- | --- |
| Shots on Goal | 1st | 2nd | 3rd | SOG |
| Northeastern | 8 | 13 | 7 | 28 |
| Colgate | 8 | 11 | 10 | 29 |
| | | | |
| --- | --- | --- | --- |
| Team Stats and Records | PP | PIM | SHGF |
| Northeastern (2-2-1) | 0/2 | 3/6 | 0 |
| Colgate (3-0-0) | 2/2 | 2/4 | 0 |
| | | | | | | |
| --- | --- | --- | --- | --- | --- | --- |
| Northeastern Goaltending | MIN | GA | 1 | 2 | 3 | Saves |
| Brittany Bugalski (L, 2-2-1) | 59:44 | 3 | 7 | 10 | 9 | 26 |
| Empty Net | 0:16 | 0 | | | | |
| | | | | | | |
| --- | --- | --- | --- | --- | --- | --- |
| Colgate Goaltending | MIN | GA | 1 | 2 | 3 | Saves |
| Liz Auby (W, 3-0-0) | 60:00 | 0 | 8 | 13 | 7 | 28 |
HAMILTON, N.Y. - Colgate's Jessie Eldridge scored two power-play goals and netminder Liz Auby stopped all 28 Northeastern shots as the No. 8/8 Raiders (3-0-0) blanked the No. 6/5 Huskies (2-2-1), 3-0, on Saturday night at the Class of 1965 Arena.
The Raiders scored once in each period and capitalized on both power-play opportunities, while Northeastern went 0-for-2 on the numerical advantage. The hosts also won 28 of 40 face-offs en route to their third consecutive shutout to open the season.
Northeastern netminder Brittany Bugalski turned aside 26 shots, including a spectacular kick save on a Colgate penalty shot in the second period.
Goal Recaps
• Colgate struck first on the power play when Eldridge skated in alone and tucked a shot through the pads of Bugalski at the 6:44 mark of the opening period.
• The Raiders doubled the advantage at 6:19 of the second period when Shae Labbe picked up a loose puck in the neutral zone, skated into the NU end with speed, and rifled a shot off the underside of the crossbar and into the net from the right circle.
• Eldridge tacked on a second power-play goal at 13:44 of the final frame. After some nice puck movement in the NU zone, Labbe tossed a pass to the left of the net, where Aldridge skillfully redirected the puck over the shoulder of Bugalski to make it 3-0.
Stats of the Game
• Northeastern's opponent scored first for the fourth straight game.
• The Huskies were held off the scoresheet for the first time since Sept. 30, 2016 against St. Lawrence.
• Junior Kasidy Anderson led all players with six shots on goal.
Up Next
The Huskies will look to earn the weekend split when the teams square off again on Sunday at 2 p.m.