Saturday, November 25, 2017
Boston University Falls To Wisconsin, 4-2
Senior forward Victoria Bach scores two goals for Terriers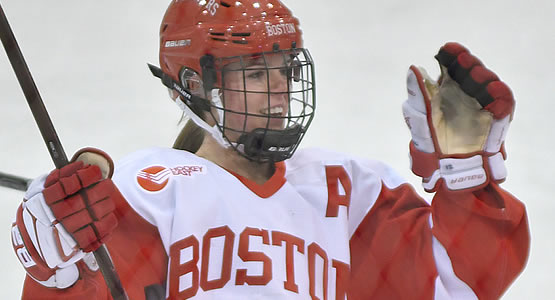 Senior forward Victoria Bach scored two goals for the Terriers
| | | | | | | |
| --- | --- | --- | --- | --- | --- | --- |
| Prd | Time | Team | Score | Type | Scored By | Assists |
| 1st | 0:32 | BU | 1-0 | EV | Victoria Bach (14) | Rebecca Leslie/12, Mary Grace Kelley/6 |
| 1st | 4:57 | WIS | 1-1 | EV | Baylee Wellhausen (4) | Abby Roque/15, Mekenzie Steffen/7 |
| 1st | 12:05 | WIS | 2-1 | EV | Mikaela Gardner (5) | Maddie Rolfes/8, Sophia Shaver/4 |
| 3rd | 13:26 | WIS | 3-1 | EV GW | Alexis Mauermann (8) | Maddie Rowe/3 |
| 3rd | 14:47 | BU | 2-3 | EV | Victoria Bach (15) | Rebecca Leslie/13, Breanna Scarpaci/1 |
| 3rd | 16:50 | WIS | 4-2 | EV | Claudia Kepler (10) | Abby Roque/16 |
| | | | | |
| --- | --- | --- | --- | --- |
| Scoring | 1st | 2nd | 3rd | Final |
| Wisconsin | 2 | 0 | 2 | 4 |
| Boston University | 1 | 0 | 1 | 2 |
| | | | | |
| --- | --- | --- | --- | --- |
| Shots on Goal | 1st | 2nd | 3rd | SOG |
| Wisconsin | 14 | 6 | 15 | 35 |
| Boston University | 9 | 9 | 7 | 25 |
| | | | |
| --- | --- | --- | --- |
| Team Stats and Records | PP | PIM | SHGF |
| Wisconsin (17-1-0) | 0/3 | 4/8 | 0 |
| Boston University (5-7-2) | 0/3 | 4/8 | 0 |
| | | | | | | |
| --- | --- | --- | --- | --- | --- | --- |
| Wisconsin Goaltending | MIN | GA | 1 | 2 | 3 | Saves |
| Kristen Campbell (W, 17-1-0) | 60:00 | 2 | 8 | 9 | 6 | 23 |
| | | | | | | |
| --- | --- | --- | --- | --- | --- | --- |
| Boston University Goaltending | MIN | GA | 1 | 2 | 3 | Saves |
| Corinne Schroeder (L, 5-2-2) | 58:17 | 4 | 12 | 6 | 13 | 31 |
| Empty Net | 1:43 | 0 | | | | |
ARLINGTON, Va. - Senior Victoria Bach lit the lamp twice but the Boston University women's ice hockey team suffered a 4-2 setback to No. 1 Wisconsin on Saturday afternoon at the Kettler Capitals Iceplex.
HOW IT HAPPENED
- Bach got the Terriers off to a dream start just 32 seconds into the proceedings. Junior Mary Grace Kelley broke up a pass at her own blue line and got the puck to senior captain Rebecca Leslie, who rushed up the ice with Bach. Leslie fed Bach, who fired a shot past Kristen Campbell (23 saves) for her 14th goal of the season.
- Wisconsin answered with a pair of goals at 4:57 and 12:05 of the first frame to take a 2-1 lead into the intermission.
- The Badgers made it 3-1 with 6:34 remaining in regulation when Alexis Maurermann lifted a shot past freshman Corinne Schroeder (31 saves)
- Bach added her second of the contest just over a minute later. Sophomore Breanna Scarpaci started the sequence by passing the puck to Bach in the BU zone. Bach gave it to Leslie, who quickly gave the puck bach to Bach. Bach skated in alone on Campbell and used a sensational deke to slip the puck into the back of the net.
- Wisconsin answered with just 3:10 to play with a goal from Claudia Kepler to seal the result.
BACH CONTINUES TO DAZZLE
- Bach is making her case as one of the best skaters in the country.
- She finished the weekend with five goals and has now scored 10 goals over the last four games.
- Bach is tied for first in the NCAA with 15 goals.
LESLIE ON A ROLL AS WELL
- Leslie provided the primary assist on both of Bach's goals on Saturday.
- She has tallied 12 points (4g, 8a) during her current five-game point streak.
KELLEY COMPLETES THE WEEKEND ON A HIGH NOTE
- Kelley had an assist in each game in Arlington.
- She has tallied five helpers over the last four games.
GOOD WORK ON THE PENALTY KILL
- BU held the Badgers to just one shot on goal on their three power-play chances on Saturday.
- The Terriers have killed 21 of the last 23 power-play opportunities they have faced.
NEXT UP: BROWN
- The Terriers will return to Walter Brown Arena on Tuesday, Nov. 28, to host Brown at 7 p.m.
- Tuesday is Faculty and Staff Appreciation Night. To register, visit GoTerriers.com/thankyou.