New Hampshire Rallies To Tie Boston University, 2-2
Sophomore forward Meghara McManus and senior defenseman Amy Schlagel score third-period goals for Wildcats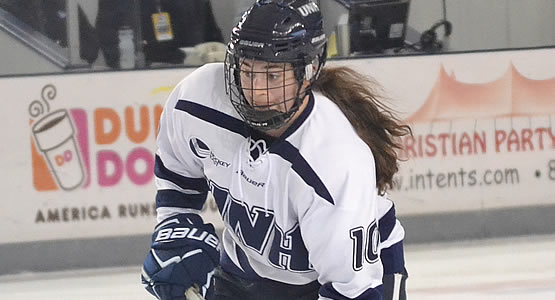 Senior defenseman Amy Schlagel scored the game-tying goal for the Wildcats
| | | | | | | |
| --- | --- | --- | --- | --- | --- | --- |
| Prd | Time | Team | Score | Type | Scored By | Assists |
| 1st | 0:18 | BU | 1-0 | EV | Victoria Bach (4) | Rebecca Leslie/3, Abby Cook/4 |
| 1st | 15:55 | BU | 2-0 | PP | Kristina Schuler (2) | Mary Grace Kelley/1, Abbey Stanley/3 |
| 3rd | 4:34 | UNH | 1-2 | PP | Meghara McManus (5) | Carlee Toews/6, Tori Howran/6 |
| 3rd | 13:14 | UNH | 2-2 | PP GT | Amy Schlagel (2) | Marie-Jo Pelletier/4, Taylor Wenczkowski/4 |
| | | | | | |
| --- | --- | --- | --- | --- | --- |
| Scoring | 1st | 2nd | 3rd | OT | Final |
| Boston University | 2 | 0 | 0 | 0 | 2 |
| New Hampshire | 0 | 0 | 2 | 0 | 2 |
| | | | | | |
| --- | --- | --- | --- | --- | --- |
| Shots on Goal | 1st | 2nd | 3rd | OT | SOG |
| Boston University | 13 | 11 | 7 | 5 | 36 |
| New Hampshire | 20 | 6 | 16 | 2 | 44 |
| | | | |
| --- | --- | --- | --- |
| Team Stats and Records | PP | PIM | SHGF |
| Boston University (1-5-1) | 1/6 | 7/14 | 0 |
| New Hampshire (5-1-2) | 2/6 | 7/14 | 0 |
| | | | | | | | |
| --- | --- | --- | --- | --- | --- | --- | --- |
| Boston University Goaltending | MIN | GA | 1 | 2 | 3 | OT | Saves |
| Corinne Schroeder (T, 1-0-1) | 65:00 | 2 | 20 | 6 | 14 | 2 | 42 |
| | | | | | | | |
| --- | --- | --- | --- | --- | --- | --- | --- |
| New Hampshire Goaltending | MIN | GA | 1 | 2 | 3 | OT | Saves |
| Ava Boutilier (T, 5-1-2) | 64:56 | 2 | 11 | 11 | 7 | 5 | 34 |
| Empty Net | 0:04 | 0 | | | | | |
DURHAM, N.H.- Trailing 2-0 in the third period, sophomore forward Meghara McManus and senior defender Amy Schlagel each netted a goal for the Wildcats as the University of New Hampshire women's hockey team tied Boston University, 2-2, on Sunday afternoon at the Whittemore Center.
UP NEXT
- The Wildcats host Vermont on Friday, November 3 at 7:00 p.m. on ESPN3. All fans can purchase tickets at the Whittemore Center Box Office, online at UNHWildcats.com or by calling 603-862-4000.
Score: New Hampshire 2 (5-1-2, 3-1-2 WHEA), Boston University 2 (1-5-1, 1-5-1 WHEA)
Location: Durham, N.H. (Whittemore Center)
Date: Sunday, October 29, 2017
Time: 2:00 p.m.
HOW IT HAPPENED
- The Terriers took a very early lead with a Victoria Bach wrist shot goal only 18 seconds into the matchup.
- After a power play goal from Kristina Schuler at 15:55, the Terriers held a 2-0 lead at the end of the first period.
- After a scoreless second period, McManus put the 'Cats on the board with a power play goal at 4:34 in the third period. Senior forward Carlee Toews and sophomore defender Tori Howran recorded assists on the goal.
- Within seconds of 4-on-3 power play action, Schlagel found the back of the net at 13:14 in the third to even the score at 2-2. Sophomore forward Taylor Wenczkowski and junior forward Marie-Jo Pelletier had assists on the equalizer.
- Neither team was able to find the back of the net in overtime for the 2-2 final score.
INSIDE THE NUMBERS
- BU's Corrine Schroeder recorded 42 saves, while freshman goaltender Ava Boutilier recorded 34.
- New Hampshire won 33 face offs to BU's 31.
- UNH went 2-6 on the power play, while BU went 1-6.
- McManus was credited for a game-high six blocks. Pelletier had five blocks.
- The Wildcats outshot the Terriers, 44-36.
- Sophomore forward Carlee Turner won a game-high 15 faceoffs.
BEYOND THE BOXSCORE
- The Wildcats are 3-0-2 at home this season.
- UNH is now 1-0-2 in overtime games.