Maine Earns Weekend Sweep With 3-2 Win At Boston University
Sophomore forward Tereza Vanišová scores two goals for Black Bears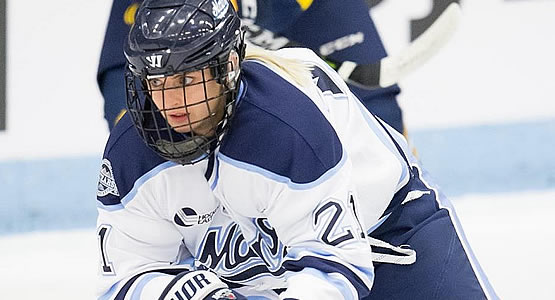 Sophomore forward Tereza Vanišová scored two goals for the Black Bears
| | | | | | | |
| --- | --- | --- | --- | --- | --- | --- |
| Prd | Time | Team | Score | Type | Scored By | Assists |
| 1st | 8:01 | MNE | 1-0 | EV | Tereza Vanišová (11) | Michelle Weis/10 |
| 1st | 14:20 | BU | 1-1 | EV | Nara Elia (5) | Jesse Compher/12, Deziray De Sousa/3 |
| 1st | 15:34 | MNE | 2-1 | EV | Tereza Vanišová (12) | Vendula Přibylová/9 |
| 2nd | 16:07 | MNE | 3-1 | EV GW | Jessica Jacques (4) | Daria Tereshkina/5, Ebba Strandberg/8 |
| 3rd | 14:39 | BU | 2-3 | EV | Jesse Compher (3) | Abbey Stanley/9, Deziray De Sousa/4 |
| | | | | |
| --- | --- | --- | --- | --- |
| Scoring | 1st | 2nd | 3rd | Final |
| Maine | 2 | 1 | 0 | 3 |
| Boston University | 1 | 0 | 1 | 2 |
| | | | | |
| --- | --- | --- | --- | --- |
| Shots on Goal | 1st | 2nd | 3rd | SOG |
| Maine | 9 | 14 | 4 | 27 |
| Boston University | 7 | 8 | 11 | 26 |
| | | | |
| --- | --- | --- | --- |
| Team Stats and Records | PP | PIM | SHGF |
| Maine (14-6-3) | 0/4 | 4/8 | 0 |
| Boston University (7-12-4) | 0/4 | 4/8 | 0 |
| | | | | | | |
| --- | --- | --- | --- | --- | --- | --- |
| Maine Goaltending | MIN | GA | 1 | 2 | 3 | Saves |
| Carly Jackson (W, 12-5-3) | 60:00 | 2 | 6 | 8 | 10 | 24 |
| | | | | | | |
| --- | --- | --- | --- | --- | --- | --- |
| Boston University Goaltending | MIN | GA | 1 | 2 | 3 | Saves |
| Erin O'Neil (L, 0-8-2) | 59:24 | 3 | 7 | 13 | 4 | 24 |
| Empty Net | 0:36 | 0 | | | | |
BOSTON - Freshmen Nara Elia and Jesse Compher each scored for the Boston University women's ice hockey team, but the Terriers dropped a 3-2 decision to Maine on Sunday afternoon at Walter Brown Arena.
HOW IT HAPPENED
- Maine (14-6-3, 8-3-2 WHEA) opened the scoring at 8:01 of the first frame when Tereza Vanisova snuck a shot past senior Erin O'Neil (24 saves).
- BU (7-12-4, 3-9-3 WHEA) answered at the 14:20 mark of the opening frame thanks to a nifty 2-on-1. Sophomore Deziray De Sousa began the sequence by winning a battle at her own blue line to free the puck for Compher. She skated up the left side and into the offensive zone before sliding a pass to Elia. The freshman stopped at the top of the crease and backhanded the puck past Carly Jackson (24 saves) for her fifth goal of the year.
- Vanisova deposited her second goal of the game just over a minute after Elia's marker to give Maine a 2-1 lead after 40 minutes.
- The Black Bears made it 3-1 at 16:07 of the middle frame.
- The Terriers made it 3-2 with 5:21 remaining in regulaton. Redshirt sophomore Abbey Stanley put on a skating exhibition in the offensive zone before driving to the net and sending the puck towards Jackson. Stanley's shot deflected off a Maine stick and then off of Compher at the top of the crease before finding the back of the net. Compher's goal was the third of the season.
- BU pulled O'Neil in favor of an extra attacker in the final minute, but despite good pressure in the Maine zone, the Terriers were unable to equalize.
TWO POINTS FOR COMPHER
- Thanks to her goal and assist, Compher put together her fifth multi-point game of the season.
- She has notched three goals and added 12 assists for 15 points as a freshman.
DE SOUSA DELIVERS AGAIN
- After lighting the lamp on Saturday, De Sousa added two assists on Sunday.
- It was the first multi-point game of her brief collegiate career.
- De Sousa now has five points (1g, 4a) this season.
- In 55 career games at BU, De Sousa has recorded 16 points (3g, 13a).
STRONG WEEKEND FOR STANLEY
- Stanley notched an assist in each game this weekend.
- On the season, Stanley has recorded nine assists along with three goals for 12 points.
NEXT UP: PROVIDENCE
- The Terriers will face Providence in a home-and-home series next weekend.
- Puck drop at Walter Brown Arena on Friday is scheduled for 7 p.m., before the teams skate at Schenider Arena the next day at 4 p.m.