Saturday, February 24, 2018
Boston University Forces Game Three With 4-1 Win At Maine
Senior forward Rebecca Leslie scores two goals for Terriers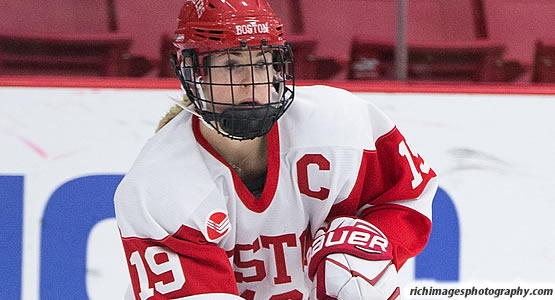 Senior forward Rebecca Leslie scored two goals for the Terriers
| | | | | | | |
| --- | --- | --- | --- | --- | --- | --- |
| Prd | Time | Team | Score | Type | Scored By | Assists |
| 1st | 6:15 | BU | 1-0 | EV | Victoria Bach (38) | - |
| 2nd | 2:28 | BU | 2-0 | EV GW | Rebecca Leslie (22) | Victoria Bach/27, Connor Galway/3 |
| 2nd | 10:55 | BU | 3-0 | SH | Jesse Compher (9) | Abbey Stanley/18 |
| 3rd | 6:51 | MNE | 1-3 | EV | Tereza Vanišová (15) | - |
| 3rd | 18:51 | BU | 4-1 | EV EN | Rebecca Leslie (23) | Abbey Stanley/19 |
| | | | | |
| --- | --- | --- | --- | --- |
| Scoring | 1st | 2nd | 3rd | Final |
| Boston University | 1 | 2 | 1 | 4 |
| Maine | 0 | 0 | 1 | 1 |
| | | | | |
| --- | --- | --- | --- | --- |
| Shots on Goal | 1st | 2nd | 3rd | SOG |
| Boston University | 6 | 11 | 4 | 21 |
| Maine | 4 | 10 | 11 | 25 |
| | | | |
| --- | --- | --- | --- |
| Team Stats and Records | PP | PIM | SHGF |
| Boston University (14-16-6) | 0/5 | 3/6 | 1 |
| Maine (18-13-5) | 0/3 | 5/10 | 0 |
| | | | | | | |
| --- | --- | --- | --- | --- | --- | --- |
| Boston University Goaltending | MIN | GA | 1 | 2 | 3 | Saves |
| Erin O'Neil (W, 2-8-2) | 60:00 | 1 | 4 | 10 | 10 | 24 |
| | | | | | | |
| --- | --- | --- | --- | --- | --- | --- |
| Maine Goaltending | MIN | GA | 1 | 2 | 3 | Saves |
| Carly Jackson (L, 16-11-5) | 59:05 | 3 | 5 | 9 | 3 | 17 |
| Empty Net | 0:55 | 1 | | | | |
ORONO, Maine - Fans will have the opportunity to watch one more day of women's hockey at the Alfond Arena this season as the Maine Black Bears and Boston University (BU) Terriers will go head-to-head in the deciding game three of the WHEA Quarterfinals series. The Terriers (14-16-6, 8-11-5 WHEA) tied up the series, 1-1, after defeating the Black Bears (18-13-5, 11-9-4 WHEA), 4-1, at the Alfond Arena on Saturday afternoon.
Three Terriers, Rebecca Leslie, Victoria Bach, and Abbey Stanley nearly accounted for all of BU's points throughout the match. Bach tallied the first goal of the day, unassisted, after stealing the puck in Maine's zone and nailing Carly Jackson in the face mask with a shot. Jackson lost sight of the puck after the hit, and it slowly trickled over the goal line with 13:45 left to play in the first period.
Bach nearly struck again opening up the middle frame, but instead passed it off to Leslie who slapped the puck over Jackson's shoulder into the back of the net, less than three minutes into the period. Connor Galway earned her third assist of the season off the goal.
Nearly halfway through the second period, the Black Bears were on the power play, but lost the puck in a face-off down in BU's end. Jesse Compher won the face-off, the puck bounced off teammate Stanley's stick and right back to her, she saw an opening and went for it skating all the way down the ice capturing a shorthanded goal to give the Terriers' a 3-0 advantage.
Maine opened up the third period strong, firing 11 shots at goaltender Erin O'Neil, to BU's four shots on frame throughout the final 20 minutes of the match. With fire under her skates, Tereza Vanisova ripped five shots of her own on net dancing around the defenders she followed up on her own rebound and finally saw one go in to give the Black Bears a point on the board. With 13:09 remaining, Maine was behind, 3-1.
Struggling to find the back of the net again, the Black Bears pulled Jackson to give them a man advantage in the final minutes, but unfortunately watched a long shot by Leslie find the empty net with less than 90 seconds left on the clock.
O'Neil earned her second win of the season in net, holding off 24 shots by Maine. Jackson turned down 17 shots while defensively, Alyson Matteau helped out immensely stepping in front of countless shots to rack up nine blocks on the day.
The winner of tomorrow's matchup between the Black Bears and Terriers will advance on to the WHEA semifinals, hosted at Northeastern. Puck will drop at 2 p.m. on Sunday, February 25 at the Alfond Arena for the tiebreaker.