Saturday, January 27, 2018
Bach Breaks Program Scoring Record as Boston University Defeats Merrimack, 6-1
Senior forward Victoria Bach posts two goals and assist for Terriers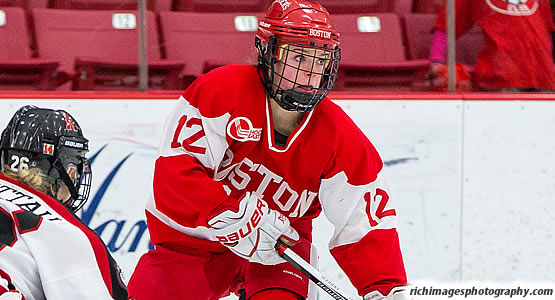 Senior forward Victoria Bach had two goals and an assist for the Terriers
| | | | | | | |
| --- | --- | --- | --- | --- | --- | --- |
| Prd | Time | Team | Score | Type | Scored By | Assists |
| 1st | 2:04 | BU | 1-0 | PP | Victoria Bach (31) | Jesse Compher/15, Rebecca Leslie/26 |
| 1st | 12:19 | BU | 2-0 | PP GW | Nara Elia (8) | Reagan Rust/11, Abbey Stanley/15 |
| 2nd | 4:24 | BU | 3-0 | EV | Abbey Stanley (4) | Kristina Schuler/6, Natasza Tarnowski/9 |
| 2nd | 8:11 | MER | 1-3 | PP | Paige Voight (4) | Jessica Bonfe/3, Felila Manu/8 |
| 3rd | 3:54 | BU | 4-1 | EV | Victoria Bach (32) | Rebecca Leslie/27 |
| 3rd | 8:01 | BU | 5-1 | EV | Rebecca Leslie (18) | Victoria Bach/22, Kristina Schuler/7 |
| 3rd | 13:03 | BU | 6-1 | EV | Abby Cook (2) | Kristina Schuler/8 |
| | | | | |
| --- | --- | --- | --- | --- |
| Scoring | 1st | 2nd | 3rd | Final |
| Merrimack | 0 | 1 | 0 | 1 |
| Boston University | 2 | 1 | 3 | 6 |
| | | | | |
| --- | --- | --- | --- | --- |
| Shots on Goal | 1st | 2nd | 3rd | SOG |
| Merrimack | 6 | 3 | 9 | 18 |
| Boston University | 17 | 13 | 11 | 41 |
| | | | |
| --- | --- | --- | --- |
| Team Stats and Records | PP | PIM | SHGF |
| Merrimack (9-17-3) | 1/5 | 4/8 | 0 |
| Boston University (10-13-6) | 2/3 | 6/12 | 0 |
| | | | | | | |
| --- | --- | --- | --- | --- | --- | --- |
| Merrimack Goaltending | MIN | GA | 1 | 2 | 3 | Saves |
| Léa-Kristine Demers (L, 3-7-2) | 60:00 | 6 | 15 | 12 | 8 | 35 |
| | | | | | | |
| --- | --- | --- | --- | --- | --- | --- |
| Boston University Goaltending | MIN | GA | 1 | 2 | 3 | Saves |
| Corinne Schroeder (W, 10-5-4) | 53:03 | 1 | 6 | 2 | 4 | 12 |
| Ashlyn Aiello | 6:57 | 0 | 0 | 0 | 5 | 5 |
BOSTON - Senior Victoria Bach broke the program record for career points as a Terrier as the Boston University women's ice hockey team earned a 6-1 win over Merrimack on Saturday afternoon at Walter Brown Arena.
BACH COMPOSES SOME HISTORY
- Bach tied Sarah Lefort's record total of 183 points with a first-period goal before she made history with a goal in the third period for her 184th career point.
- She later assisted on another Terrier marker to finish the afternoon with 185 career points.
- Bach is just three goals away from 100 for her career.
HOW IT HAPPENED
- Bach gave BU a 1-0 lead just 2:04 into the contest with a power-play goal. Senior captain Rebecca Leslie fired a shot on goal that Lea-Kristine Demers (35 saves) turned aside. Freshman Jesse Compher's rebound bid was also stopped, but Bach pounced on a loose puck and knocked home her 31st goal of the season.
- Freshman Nara Elia made it 2-0 with another power-play strike at the 12:19 mark of the opening frame. Junior Reagan Rust's shot was saved, but Elia batted the rebound out of the air to keep the play alive. Demers denied Elia's first bid, but the freshman scored on her second effort for her eighth goal of the season.
- Redshirt sophomore Abbey Stanley made it 3-0 at 4:24 of the second stanza when her shot from the top of the zone found its way through a sea of bodies and past Demers.
- The Warriors got a goal back at 8:11 of the middle frame to make it a two-goal game after 40 minutes.
- Bach's record-setting goal came during 4-on-4 play early in the third period. Leslie sprung Bach into the offensive end with a great pass, which Bach collected before speeding past a defender and lifting a shot over Demers.
- Leslie notched her 18th goal of the season at 8:01 of the third period before sophomore Abby Cook finished the scoring with a shot from the top of the right circle with just 6:57 remaining in regulation.
- Senior goaltender Ashlyn Aiello played the final 6:57 between the pipes for the Terriers and turned aside all five shots she faced.
- Freshman Corinne Schroeder started the game and made 12 saves.
MORE ON BACH'S OUTSTANDING AFTERNOON
- Bach finished the day with 32 goals and 22 assists for 54 points on the season.
- That mark of 32 goals ties her with Lefort (2013-14) and Jenn Wakefield (2010-11) for the single-season goals record at BU.
- Bach currently leads the nation with 1.28 goals per game and is second overall in total goals.
THE CAPTAIN LEADS BY EXAMPLE
- Leslie recorded her 16th multi-point game of the season on Saturday with a goal and two assists.
- She is now four assists away from 100 for her illustrious career.
- Leslie has tallied 18 goals and 27 assists for 45 points this season.
SCHULER HAS A CAREER DAY
- Freshman Kristina Schuler tallied a career-best three assists on Saturday.
- Her three points is also a single-game high for her brief collegiate career.
- Schuler now has two goals and eight assists for 10 points.
- She became the 10th Terrier this season to reach double digits in points.
PENALTY KILL COMES UP BIG
- Leading 4-1 early in the third period, BU faced a 5-on-3 Merrimack power play for 1:38.
- The Terriers killed both penalties to maintain their three-goal advantage.
- BU has allowed just one power-play goal in the last 16 chances.
GAME NOTES
- Stanley finished the game with two points (1g, 1a).
- Freshman Jesse Compher and sophomore Natasza Tarnowski each added an assist.
- BU extended its unbeaten streak to four games (2-0-2).
NEXT UP: VERMONT
- The Terriers will host Vermont on Friday, Feb. 2, at Walter Brown Arena.
- Puck drop is set for 7 p.m.