Boston University Rallies To Tie UConn, 2-2
Sophomore forward Deziray De Sousa has game-tying goal and assist for Terriers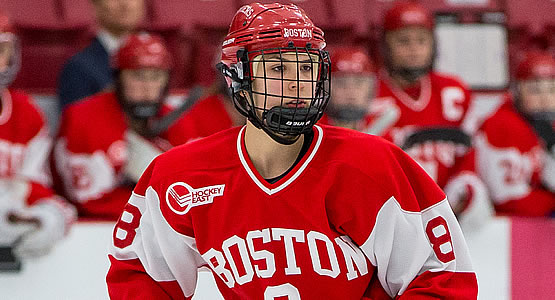 Sophomore forward Deziray De Sousa had the game-tying goal and an assist for the Terriers
| | | | | | | |
| --- | --- | --- | --- | --- | --- | --- |
| Prd | Time | Team | Score | Type | Scored By | Assists |
| 1st | 18:39 | CON | 1-0 | EV | Rebecca Lindblad (3) | Taylor Wabick/5 |
| 2nd | 6:05 | CON | 2-0 | EV | Leah Lum (6) | Jaime Fox/10 |
| 2nd | 18:17 | BU | 1-2 | EV | Jesse Compher (5) | Deziray De Sousa/6, Connor Galway/1 |
| 3rd | 4:58 | BU | 2-2 | EV GT | Deziray De Sousa (2) | Breanna Scarpaci/5, Abbey Stanley/14 |
| | | | | | |
| --- | --- | --- | --- | --- | --- |
| Scoring | 1st | 2nd | 3rd | OT | Final |
| Boston University | 0 | 1 | 1 | 0 | 2 |
| UConn | 1 | 1 | 0 | 0 | 2 |
| | | | | | |
| --- | --- | --- | --- | --- | --- |
| Shots on Goal | 1st | 2nd | 3rd | OT | SOG |
| Boston University | 8 | 10 | 12 | 1 | 31 |
| UConn | 6 | 3 | 6 | 2 | 17 |
| | | | |
| --- | --- | --- | --- |
| Team Stats and Records | PP | PIM | SHGF |
| Boston University (8-13-6) | 0/5 | 4/8 | 0 |
| UConn (7-11-8) | 0/4 | 5/10 | 0 |
| | | | | | | | |
| --- | --- | --- | --- | --- | --- | --- | --- |
| Boston University Goaltending | MIN | GA | 1 | 2 | 3 | OT | Saves |
| Corinne Schroeder (T, 8-5-4) | 65:00 | 2 | 5 | 2 | 6 | 2 | 15 |
| | | | | | | | |
| --- | --- | --- | --- | --- | --- | --- | --- |
| UConn Goaltending | MIN | GA | 1 | 2 | 3 | OT | Saves |
| Annie Belanger (T, 5-8-5) | 65:00 | 2 | 8 | 9 | 11 | 1 | 29 |
STORRS, Conn. - The UConn women's ice hockey team donated more than $6,000 to UConn Health through its annual Skating Strides game on Sunday afternoon, while picking up a point in Hockey East play in a 2-2 tie with Boston University at the Mark Edward Freitas Ice Forum.
The Huskies (7-11-8, 1-10-5 WHEA) held a 2-0 lead after goals from junior Rebecca Lindblad and senior Leah Lum, but the Terriers (8-13-6, 4-10-5 WHEA) netted the equalizer at 4:58 in the third period before a scoreless overtime.
Skating Strides is Hockey East's annual initiative to raise breast cancer awareness, with each league member participating at a home game throughout the season. UConn wore pink uniforms on Sunday as part of the event.
Penalty kills were strong on both sides, as the teams went a combined 0-for-9 on power play opportunities. In the final 10 minutes of the third period, the Huskies killed off a pair of penalties to send the game to the extra period.
Four different players recorded offensive points for the Huskies, including junior Jaime Fox and freshman Taylor Wabick. Fox recorded her 10th assist of the season, tying her for the most among UConn players this season.
Lindblad scored her third goal of the season at 18:39 in the first period, giving UConn an early 1-0 lead. Lum extended the advantage at 6:05 in the second period, after an assist from Fox, making it 2-0.
The Terriers, who held a 10-3 shots edge in the second period, cut into UConn's lead when Jesse Compher snuck a shot past senior goalie Annie Belanger. The fourth-year goaltender made 29 saves in the game.
BU had a 31-17 shots edge in the game, including a 12-6 advantage in the final period, which helped it score the game-tying goal at 4:58 when Deziray De Sousa tallied just her second score of the season.
A checking penalty on Lindblad and tripping call on sophomore Catherine Crawley in the final 10 minutes forced the Huskies to play four shorthanded minutes, but the defense held firm to extend the game. The Terriers mustered only six shots on five power plays.
The Huskies recorded a pair of overtime shots on target, but neither team was able to notch two points in the league. It is the eighth tie of the season for UConn - tied for the most in a single-season in program history (2004-05, 2014-15).
Next weekend, UConn returns to the Freitas Ice Forum for a weekend series against Maine. Friday's game is at 7 p.m. and Saturday's game is at 3 p.m.