Quick Start Paces Providence To 3-1 Win Over Brown In Mayor's Cup
Blair Parent, Whitney Dove and Avery Fransoo score first-period goals for Friars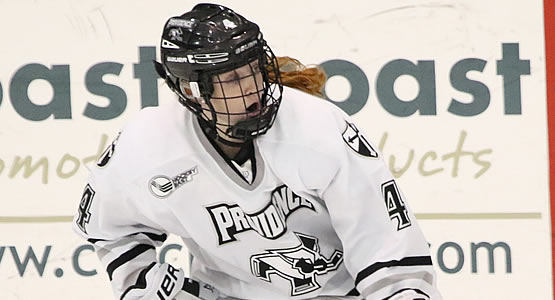 Senior forward Blair Parent scored a goal for the Friars
| | | | | | | |
| --- | --- | --- | --- | --- | --- | --- |
| Prd | Time | Team | Score | Type | Scored By | Assists |
| 1st | 7:29 | PRV | 1-0 | EV | Blair Parent (9) | Cassidy MacPherson/15 |
| 1st | 10:24 | PRV | 2-0 | PP GW | Whitney Dove (5) | Meaghan Rickard/10, Maureen Murphy/4 |
| 1st | 11:38 | PRV | 3-0 | EV | Avery Fransoo (2) | Neve Van Pelt/5, Hayley Lunny/1 |
| 3rd | 17:53 | BRN | 1-3 | EV | Kaitijane Blumberg (4) | Bridget Carey/3, Maddie Sisokin/1 |
| | | | | |
| --- | --- | --- | --- | --- |
| Scoring | 1st | 2nd | 3rd | Final |
| Brown | 0 | 0 | 1 | 1 |
| Providence | 3 | 0 | 0 | 3 |
| | | | | |
| --- | --- | --- | --- | --- |
| Shots on Goal | 1st | 2nd | 3rd | SOG |
| Brown | 7 | 7 | 5 | 19 |
| Providence | 16 | 14 | 9 | 39 |
| | | | |
| --- | --- | --- | --- |
| Team Stats and Records | PP | PIM | SHGF |
| Brown (2-14-0) | 0/3 | 4/8 | 0 |
| Providence (12-5-4) | 1/4 | 3/6 | 0 |
| | | | | | | |
| --- | --- | --- | --- | --- | --- | --- |
| Brown Goaltending | MIN | GA | 1 | 2 | 3 | Saves |
| Calla Isaac (L, 1-8-0) | 59:44 | 3 | 13 | 14 | 9 | 36 |
| Empty Net | 0:16 | 0 | | | | |
| | | | | | | |
| --- | --- | --- | --- | --- | --- | --- |
| Providence Goaltending | MIN | GA | 1 | 2 | 3 | Saves |
| Madison Myers (W, 11-4-4) | 60:00 | 1 | 7 | 7 | 4 | 18 |
PROVIDENCE, R.I. - The No. 8/9 Providence College women's hockey team opened up the second half of the 2017-18 season with a decisive 3-1 victory over Brown University on Jan. 2 at Schneider Arena.
SCORE
No. 8/9 Providence - 3 | Brown - 1
RECORDS
Providence: 12-5-4 (8-1-2 HE) | Brown: 2-14-0 (1-9-0 ECAC)
VENUE
Schneider Arena - Providence, R.I.
GAME FLOW & NOTES
- Blair Parent (Blaine, Minn.) opened the Friars' scoring efforts just 7:29 into the first period. Cassidy MacPherson (Oakville, Ontario) picked up her team-leading 15th assist with a nice pass across the goal mouth on the play.
- Whitney Dove (Port Moody, British Columbia) increased the Friars' lead to 2-0 with a power-play goal at the 10:24 mark. Maureen Murphy (Buffalo, N.Y.) dished the puck to Meaghan Rickard (Coventry, R.I.) who found Dove alone on the back doorstep for the score.
- Just 1:14 later, Avery Fransoo (North Battleford, Saskatchewan) netted her second goal of the season. Her shot from the point snuck through traffic and was assisted by Neve Van Pelt (Mitchell, Ontario) and Hayley Lunny (Bedford, N.Y.). The assist marks Lunny's first of her career.
- The Friars closed out the first-frame with nearly four minutes of 5-on-3 penalty kill action.
- The second period featured back-and-forth action, with Providence outshooting Brown 14-7.
- With just under three minutes left to play in regulation, Kaitijane Blumberg got Brown on the board. Bridget Carey took a shot, which Madison Myers (Colchester, Vt.) saved, but Blumberg was there to finish the rebound. Maddie Sisokin picked up the secondary assist.
- Myers finished the game with 18 saves, while Calla Isaac made 36 saves for the Bears.
HOW THEY SCORED
1-0 (Providence) - 7:29/1st - EV - Blair Parent, assisted by Cassidy MacPherson - Pass across the goal-mouth for a tap in
2-0 (Providence) - 10:24/1st - PP - Whitney Dove, assisted by Meaghan Rickard and Maureen Murphy - Cross-ice pass for a back-door goal
3-0 (Providence) - 11:38/1st - EV - Avery Fransoo, assisted by Neve Van Pelt and Hayley Lunny - Shot from the point through traffic
3-1 (Brown) - 17:53/3rd - EV - Kaitijane Blumberg, assisted by Bridget Carey and Maddie Sisokin - Rebound goal
GOALTENDERS
Providence: Madison Myers, 11-4-4: 18 saves, 1 goal against
Brown: Calla Isaac, 1-8-0: 36 saves, 3 goals against
STAT COMPARISON
Providence-
Shots: 39
Face-off percentage: 46.8% (22/47)
Power plays: 1-4 (25%)
Penalty kill: 3-3 (100%)
Brown-
Shots: 19
Face-off percentage: 57.4% (27/47)
Power plays: 0-3 (0%)
Penalty kill: 1-4 (75%)
PC GAME HIGHS
Shots: Maureen Murphy (7)
Goals: Blair Parent, Whitney Dove, Avery Fransoo (1)
Assists: Four different players (1)
Points: Seven different players (1)
LOOKING AHEAD
The Friars return to Hockey East play with a weekend series at the University of Vermont. Games are set for 4:00 p.m. on Jan. 6 and 2:00 p.m. on Jan. 7.