Saturday, January 6, 2018
Colangelo Scores Twice As UConn Defeats Brown, 5-1
Sophomore forward Briana Colangelo scores two goals for Huskies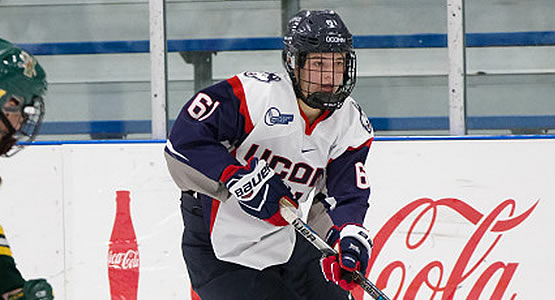 Sophomore forward Briana Colangelo scored two goals for the Huskies
| | | | | | | |
| --- | --- | --- | --- | --- | --- | --- |
| Prd | Time | Team | Score | Type | Scored By | Assists |
| 1st | 4:14 | BRN | 1-0 | PP | Sena Hanson (8) | Samantha Swanstrom/7, Sam Donovan/7 |
| 1st | 6:31 | CON | 1-1 | EV | Briana Colangelo (6) | Leah Lum/9, Catherine Crawley/4 |
| 1st | 10:03 | CON | 2-1 | PP GW | Taylor Wabick (1) | Tristyn Svetek/2, Morgan Wabick/7 |
| 3rd | 3:07 | CON | 3-1 | EV | Savannah Bouzide (2) | Marisa Maccario/1, Leona Sim/1 |
| 3rd | 5:53 | CON | 4-1 | PP | Briana Colangelo (7) | Taylor Wabick/4, Tristyn Svetek/3 |
| 3rd | 14:41 | CON | 5-1 | PP | Kayla Mee (2) | Jaime Fox/7 |
| | | | | |
| --- | --- | --- | --- | --- |
| Scoring | 1st | 2nd | 3rd | Final |
| Brown | 1 | 0 | 0 | 1 |
| UConn | 2 | 0 | 3 | 5 |
| | | | | |
| --- | --- | --- | --- | --- |
| Shots on Goal | 1st | 2nd | 3rd | SOG |
| Brown | 8 | 10 | 4 | 22 |
| UConn | 13 | 8 | 20 | 41 |
| | | | |
| --- | --- | --- | --- |
| Team Stats and Records | PP | PIM | SHGF |
| Brown (2-15-0) | 1/4 | 6/12 | 0 |
| UConn (6-8-7) | 3/4 | 6/12 | 0 |
| | | | | | | |
| --- | --- | --- | --- | --- | --- | --- |
| Brown Goaltending | MIN | GA | 1 | 2 | 3 | Saves |
| Calla Isaac (L, 1-9-0) | 60:00 | 5 | 11 | 8 | 17 | 36 |
| | | | | | | |
| --- | --- | --- | --- | --- | --- | --- |
| UConn Goaltending | MIN | GA | 1 | 2 | 3 | Saves |
| Morgan Fisher (W, 2-2-3) | 60:00 | 1 | 7 | 10 | 4 | 21 |
STORRS, Conn. - Three players recorded multi-point games, including sophomore forward Briana Colangelo with two goals, to help the UConn women's ice hockey team bounce back with a 5-1 win over Brown on Saturday at the Mark Edward Freitas Ice Forum.
Following a tight 2-1 loss to Hockey East opponent Merrimack on Friday night, the Huskies (6-8-7, 0-7-4 WHEA) had 11 different players tally points in their dominant victory over the Bears in non-conference play.
Colangelo scored her sixth and seventh goals of the season, giving her the second-most among UConn players. Junior Kayla Mee, as well as freshmen Savannah Bouzide and Taylor Wabick, each notched one goal apiece against Brown (2-15-0).
Sophomore goalie Morgan Fisher made 21 saves in her second win this season between the pipes, including 10 stops in the second period. The Huskies outshot the Bears, 41-22, with a major advantage in the third period to take control of the game (20-4).
Leading 2-1 heading into the final period, UConn scored three times to put the game away - with goals from Colangelo and Mee coming on power plays at 5:53 and 14:41, respectively. Bouzide scored her second goal of the season earlier in the period at 3:07.
The Huskies were very efficient on power plays against the Bears, notching three goals on four opportunities, while racking up 13 shots on target during those four penalties. Coming into the game, UConn ranked fifth in Hockey East in power play conversion (10-of-58).
Brown took an early lead at 4:14 of the first period, when Sena Hanson scored her eighth goal of the season on a power play after senior Justine Fredette was put in the penalty box for elbowing.
Less than three minutes later, Colangelo tied the game by getting a shot past Brown goalie Calla Isaac, following passes from senior Leah Lum and sophomore Catherine Crawley. At 10:03, Wabick scored her first-career goal from just inside the blue line to give UConn a 2-1 advantage.
A scoreless second period led to UConn's three-goal performance in the third, beginning with Bouzide's goal off passes from senior Marisa Maccario and sophomore Leona Sim - the first point of the season for both players.
Wabick recorded her second point of the night by registering an assist on Colangelo's second tally of the game, which stretched UConn's lead to 4-1 at the time. Mee scored a goal late in the period to secure the win.
The Huskies killed off three of four penalties on Saturday afternoon, while holding a big edge on face-offs (46-14).
UConn finishes the non-conference portion of the schedule with a 6-1-3 record and has 13 games against Hockey East opponents remaining, with a trip to Northeastern scheduled for Tuesday night at 7 p.m.