Watts Leads Boston College Past New Hampshire, 6-0
Freshman forward Daryl Watts posts four goals and assist for Eagles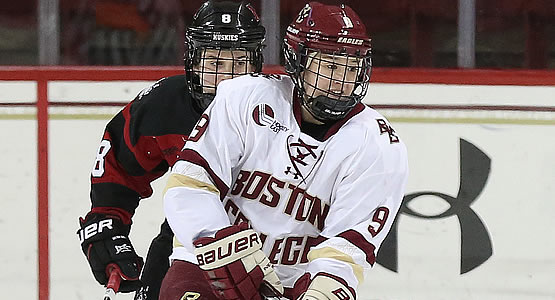 Freshman forward Daryl Watts had four goals and an assist for the Eagles
| | | | | | | |
| --- | --- | --- | --- | --- | --- | --- |
| Prd | Time | Team | Score | Type | Scored By | Assists |
| 1st | 8:22 | BC | 1-0 | PP GW | Makenna Newkirk (13) | Daryl Watts/29, Caitrin Lonergan/28 |
| 1st | 14:29 | BC | 2-0 | SH | Daryl Watts (25) | Makenna Newkirk/21, Serena Sommerfield/10 |
| 2nd | 11:21 | BC | 3-0 | EV | Daryl Watts (26) | Makenna Newkirk/22, Caroline Ross/6 |
| 2nd | 14:21 | BC | 4-0 | SH | Daryl Watts (27) | Makenna Newkirk/23, Caroline Ross/7 |
| 2nd | 16:10 | BC | 5-0 | EV | Daryl Watts (28) | Makenna Newkirk/24, Serena Sommerfield/11 |
| 3rd | 13:52 | BC | 6-0 | PP | Serena Sommerfield (2) | Willow Corson/13, Caroline Ross/8 |
| | | | | |
| --- | --- | --- | --- | --- |
| Scoring | 1st | 2nd | 3rd | Final |
| New Hampshire | 0 | 0 | 0 | 0 |
| Boston College | 2 | 3 | 1 | 6 |
| | | | | |
| --- | --- | --- | --- | --- |
| Shots on Goal | 1st | 2nd | 3rd | SOG |
| New Hampshire | 8 | 13 | 12 | 33 |
| Boston College | 13 | 14 | 7 | 34 |
| | | | |
| --- | --- | --- | --- |
| Team Stats and Records | PP | PIM | SHGF |
| New Hampshire (9-7-5) | 0/7 | 8/16 | 0 |
| Boston College (17-1-3) | 2/7 | 8/16 | 2 |
| | | | | | | |
| --- | --- | --- | --- | --- | --- | --- |
| New Hampshire Goaltending | MIN | GA | 1 | 2 | 3 | Saves |
| Kyra Smith (L, 2-1-0) | 36:06 | 5 | 11 | 11 | 0 | 22 |
| Hilary Cashin | 23:33 | 1 | 0 | 0 | 6 | 6 |
| Empty Net | 0:21 | 0 | | | | |
| | | | | | | |
| --- | --- | --- | --- | --- | --- | --- |
| Boston College Goaltending | MIN | GA | 1 | 2 | 3 | Saves |
| Katie Burt (W, 17-1-3) | 60:00 | 0 | 8 | 13 | 12 | 33 |
CHESTNUT HILL, Mass. - Freshman Daryl Watts (four goals, one assist) and junior Makenna Newkirk (one goal, four assists) each registered five-point nights as the No. 2 Boston College women's hockey team posted a 6-0 win over New Hampshire on Friday night at Kelley Rink.
Tonight marked Watts' second five-point night in four days, also doing so on Tuesday at Merrimack. Newkirk's five points marked the captain's new single-game high, four days after matching her previous high of four points at Merrimack on Tuesday.
BC goaltender Katie Burt made 33 saves in her second shutout of the season and the 33rd of her career to claim sole possession of fourth place on the NCAA career shutouts list. Boston College (17-1-3, 11-0-3 HEA) narrowly out-shot New Hampshire (9-7-5, 6-4-3 HEA), 34-33.
BC used special teams to take control of the game, scoring a pair of power-play goals and two shorthanded strikes.
The Eagles took a 2-0 lead after the first period on a tally from Newkirk and Watts' first goal before Watts scored a hat trick in the second period that included two shorthanded goals. Serena Sommerfield closed the scoring in the third period with a power-play goal.
Boston College will travel to Durham, N.H., for the return game of the weekend series on Sunday, Jan. 7. Sunday's faceoff is set for 2 p.m. at the Whittemore Center.
No. 2 Boston College 6, New Hampshire 0
Friday, January 5, 2018
Kelley Rink | Chestnut Hill, Mass.

HOW IT HAPPENED
- 1st, 8:22 | BC GOAL, 1-0 (PPG) - On the Eagles' second power-play of the game, Caitrin Lonergan broke the play into the zone and cycled the puck around to the far point before receiving a pass back as she curled inside off the far half boards. She fed Daryl Watts in the high slot, who the feathered a pass to Makenna Newkirk at the edge of the goal for a one-timer. Kyra Smith made the save on her initial shot, but the rebound popped right back out to her and Newkirk banged it in under Smith for the 1-0 BC lead with the man-advantage.
- 1st, 14:29 | BC GOAL, 2-0 (SHG) - With UNH on the power play, Serena Sommerfield gain possession behind the Eagles' net and flicked the puck up to clear the zone. Her pass was short of the blueline, allowing Newkirk to get a stick on it under a UNH player, feeding Watts for the shorthanded one-on-two attempt. Watts broke out and gained the UNH blue line along the boards, cut inside on a defenseman and pushed a shot under Smith while going away from the net.
- 2nd, 11:21 | BC GOAL, 3-0 - Caroline Ross connected with Newkirk through a diagonal pass to the red line. Newkirk gained the Wildcats' zone and then played a backwards pass to Watts coming in behind her. Watts took the feed just above the circle, cut across the high slot and ripped a rising shot from the hashmarks that beat Smith bar down to put the Eagles up by three.
- 2nd, 14:21 | BC GOAL, 4-0 (SHG) - With the Wildcats on another power play, Ross gained possession behind the BC goal and pushed a quick pass out to Newkirk along the boards. Newkirk quickly found Watts at the top of the near circle, and the freshman deked around a UNH defenseman at the red line. She entered the zone and created space to toe-drag between the legs of the defenseman on her at the faceoff dot before pushing a high, tight-angled forehand over Smith from five feet away. It was her second shorthanded goal of the game.
- 2nd, 16:19 | BC GOAL, 5-0 -Sommerfield beat a UNH player to the puck along the boards in the BC end and flicked it centrally to Newkirk surging onto the pass. Newkirk gained the neutral zone and passed up to Watts just outside the blue line, who entered the zone creating a 2-on-1. Watts pushed the puck back to Newkirk at the edge of the near circle, and Newkirk quickly returned the pass back to Watts after the defenseman committed to her, allowing Watts to knock home her fourth goal of the night into an open net.
- 3rd, 13:52 | BC GOAL, 6-0 (PPG) - Ross and Sommerfield traded passes in their defensive zone to set up the power play and Sommerfield pushed up a pass to Willow Corson who took on a pair of defensemen in the neutral zone. She cut through center ice and entered the UNH end, going deep before playing the puck back up to Sommerfield at the point. Sommerfield sent a floating shot into traffic, beating Hilary Cashin who had entered for Smith after Watts' fourth goal.
GAME NOTES
Daryl Watts
- Daryl Watts notched her second five-point game in four days, also doing so on Tuesday night at Merrimack
- With five points tonight, Watts pushed her season point total - through 21 games - to 57 points ... she leads the nation in points, goals (28) and assists (29)
- She leads the next closest player nationally - teammate Caitrin Lonergan - by eight points
- Her 57 points are the eighth-highest season point total by a freshman in the NCAA era ... today, she jumped from 11th place to eighth, passing Ohio State's Hokey Langan (53 in 2009-10) and Minnesota's Sarah Potomak (2015-16) and BC's Kelli Stack (2006-07) who each had 54 points as freshmen
- Watts' 57 points are a new Boston College freshman scoring record, passing Stack's mark (54 points) from 2006-07
- Watts also now hold the third-highest freshman goal (28) and freshman assist (29) marks ... she stands alone in third on the goals chart, and is tied with Haley Skarupa's 29 assists in 2012-13
- Watts now has a career-long 11-game point streak, besting her previous long of nine games (first nine games of the season) ... during this run, she has nine multiple-point games
- Watts' first career shorthanded goal came in the first period, and she doubled that total in the second period
Makenna Newkirk
- With five points today, Newkirk pushed her season total to 37 points ... her 24 assist are now third nationally, behind Watts and Lonergan (28)
- Her five points marked a new single-game high, besting her previous mark of four points, which she set on Dec. 3, 2016 with four assists at Providence
- This was Newkirk's sixth multiple-assist game of the campaign
- With her first-period power-play goal, Makenna Newkirk tied Meghan Fardelmann '09 for eighth place on the Eagles' career power-play goals chart (16) ... the goal was her fifth PPG of the season
Caitrin Lonergan
- Lonergan's one assist tonight tied her with Kenzie Kent for fourth-most assists by a sophomore in program history (28) ... Kent posted that total in 2015-16 ... Lonergan is one assist shy of third place, set by Emily Field (29) in 2012-13
- Lonergan also pushed her point streak to 11 games, which is a new career long ... during this run, Lonergan has eight multiple-point games
Katie Burt
- Katie Burt recorded her 108th career victory and is now just six wins back of tying the NCAA career wins record (114, Noora Raty)
- Today marked the second shutout of her season and the 33rd of her career ... she now stands alone in fourth place on the NCAA career shutouts list, jumping ahead of Clarkson senior goaltender Shea Tiley
- This was Burt's seventh game this season with 30 or more saves ... she stopped all 33 UNH attempts tonight
- Caroline Ross notched a career-best three assists tonight ... it was the first multiple-point game of her career ... she entered the game with a career-high five assists and pushed the total to eight after tonight
- Serena Sommerfield also recorded a three-point game, with one (power-play) goal and two assists ... it also marked a single-game point high for the junior ... her two assists also matched her single-game best, which she set against Vermont on Feb. 12, 2017
- Sommerfield's goal was her second of the season and third of her career ... her last goal came on Dec. 2 at Boston University ... all three of her career goals have come from shots along the blue line
- BC is 31-38-5 all-time as a varsity team against New Hampshire, including a 12-18-2 mark at Kelley Rink and a 20-23-4 mark in Hockey East regular-season play
- BC has won the last 13 games against New Hampshire, dating back to January 2014 ... since 2010, the Eagles are 19-3-2 against the Wildcats
- BC is now unbeaten in its last 11 games, the longest current run in women's D1 hockey ... the Eagles are 9-0-2 in that span
- The Eagles remained undefeated in Hockey East play, now 11-0-3 on the season
- Today marked the eighth time this season BC scored at least two power-play goals in a game, and the fourth time in the last five games
- The Eagles killed all seven UNH power plays on the night
- Today was the 10th time in program history BC scored two shorthanded goals in a game, and the first time this season ... they also tallied a pair of shorties against No. 6 St. Lawrence on March 11, 2017 in the NCAA Quarterfinals
THREE STARS
1. Daryl Watts, BC
2. Makenna Newkirk, BC
3. Katie Burt, BC
TEAM RECORDS
New Hampshire: 9-7-5, 6-4-3- HEA
Boston College: 17-1-3, 11-0-3 HEA
UP NEXT
Boston College will travel to Durham, N.H., for the return game of the weekend series on Sunday, Jan. 7. Sunday's faceoff is set for 2 p.m. at the Whittemore Center.