Thursday, October 5, 2017
Lonergan Scores Twice As Boston College Edges Minnesota Duluth, 4-3
Sophomore forward Caitrin Lonergan scores two goals for Eagles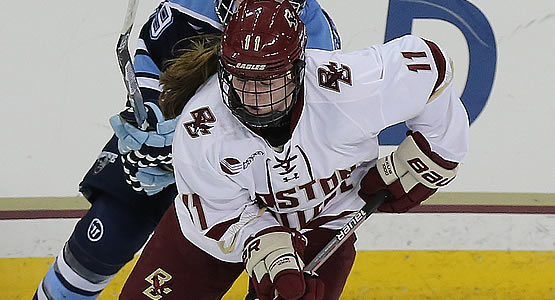 Sophomore forward Caitrin Lonergan scored two goals for the Eagles
| | | | | | | |
| --- | --- | --- | --- | --- | --- | --- |
| Prd | Time | Team | Score | Type | Scored By | Assists |
| 1st | 14:59 | MND | 1-0 | EV | Naomi Rogge (1) | Jessica Healey/1, Sydney Brodt/2 |
| 1st | 17:27 | BC | 1-1 | SH | Makenna Newkirk (1) | Daryl Watts/1, Toni Ann Miano/1 |
| 2nd | 3:34 | BC | 2-1 | EV | Maegan Beres (1) | Makenna Newkirk/1, Kenzie Kent/1 |
| 2nd | 8:39 | BC | 3-1 | EV | Caitrin Lonergan (1) | Toni Ann Miano/2, Willow Corson/1 |
| 3rd | 6:57 | BC | 4-1 | PP GW | Caitrin Lonergan (2) | Makenna Newkirk/2, Daryl Watts/2 |
| 3rd | 9:09 | MND | 2-4 | PP | Ashton Bell (1) | Ryleigh Houston/2, Jessica Healey/2 |
| 3rd | 10:22 | MND | 3-4 | PP | Catherine Daoust (1) | Sydney Brodt/3 |
| | | | | |
| --- | --- | --- | --- | --- |
| Scoring | 1st | 2nd | 3rd | Final |
| Minnesota Duluth | 1 | 0 | 2 | 3 |
| Boston College | 1 | 2 | 1 | 4 |
| | | | | |
| --- | --- | --- | --- | --- |
| Shots on Goal | 1st | 2nd | 3rd | SOG |
| Minnesota Duluth | 14 | 10 | 7 | 31 |
| Boston College | 8 | 8 | 10 | 26 |
| | | | |
| --- | --- | --- | --- |
| Team Stats and Records | PP | PIM | SHGF |
| Minnesota Duluth (2-1-0) | 2/6 | 4/8 | 0 |
| Boston College (1-0-0) | 1/4 | 6/12 | 1 |
| | | | | | | |
| --- | --- | --- | --- | --- | --- | --- |
| Minnesota Duluth Goaltending | MIN | GA | 1 | 2 | 3 | Saves |
| Jessica Convery (L, 2-1-0) | 58:54 | 4 | 7 | 6 | 9 | 22 |
| Empty Net | 1:06 | 0 | | | | |
| | | | | | | |
| --- | --- | --- | --- | --- | --- | --- |
| Boston College Goaltending | MIN | GA | 1 | 2 | 3 | Saves |
| Katie Burt (W, 1-0-0) | 59:52 | 3 | 13 | 10 | 5 | 28 |
| Empty Net | 0:08 | 0 | | | | |
CHESTNUT HILL, Mass. - Caitrin Lonergan's two goals - including a third-period power-play tally - helped lead the No. 3 Boston College women's hockey team past No. 4 Minnesota Duluth with a 4-3 victory on Thursday night at Kelley Rink.
Makenna Newkirk had one goal and two assists, while Toni Ann Miano and Daryl Watts each had two assists in the Boston College (1-0-0) win. Duluth's Sydney Brodt and Jessica Healey each had two assists. Four of the teams' seven combined goals were special teams strikes.
Minnesota Duluth (2-1-0) took a 1-0 lead at 14:59 of the first period as Naomi Rogge's deflected shot in front popped over BC goaltender Katie Burt, but the Eagles sent the teams into the intermission knotted at 1-1 after Makenna Newkirk scored a shorthanded goal at 17:27 of the first.
BC scored twice in the second - from Maegan Beres at 3:34 and Lonergan on an end-to-end rush at 8:39 - to take a 3-1 lead after two periods. Lonergan's power-play goal at 6:57 of the third staked BC to a 4-1 lead, but Duluth cut into the advantage with a pair of 5-on-3 goals minutes later at 9:09 from Ashton Bell and 10:22 from Catherine Daoust.
The final 4-3 score line stood however, as Burt made 28 saves to secure the win. Duluth goaltender Jessica Convery made 22 stops in the loss.
The teams return to the Kelley Rink ice at 2 p.m. on Friday, Oct. 6, for the second of the two-game series. The game will be streamed live on ESPN3, which is available at WatchESPN.com and on the ESPN app. Follow the #BCEagles all season at @bc_whockey on Twitter and Instagram.
No. 3 Boston College 4, No. 4 Minnesota Duluth 3
Thursday, October 5, 2017 | 7 p.m.
Kelley Rink at Conte Forum | Chestnut Hill, Mass.
1st, 14:59 | 0-1, UMD GOAL - Katie Burt made a save in close on Sydney Brodt, but then Brodt picked up the puck behind the goal and sent it up the near point for Jessica Healey. Healey's shot was redirected in front by Naomi Rogge, and the puck popped up over Burt and in behind her for the game's first goal.
1st, 17:27 | 1-1, BC GOAL (SHG) - As a Bulldogs penalty and a 4-on-4 situation expired, UMD started on a power play. As the UMD skater came out of the penalty box, Toni Ann Miano sprung Daryl Watts with a pass deep from the Eagles' zone. Watts skated in and took the UMD blue line with a pair of defenders, allowing Makenna Newkirk to get in behind another Duluth player and redirect in Wattss centering pass for the shorthanded goal to pull the game even.
2nd, 3:354 | 2-1, BC GOAL - Kenzie Kent gathered the puck along the near boards at the edge of the circle and played Newkirk down low on the goal line. Newkirk skated in and put a shot on goal, but the rebound kicked out in front where Maegan Beres was steaming in and backhanded it in past Convery through traffic to put BC ahead.
2nd, 8:39 | 3-1, BC GOAL - Willow Corson pulled the puck off the boards in a scrum near the penalty box and played it back to Lonergan circling in the Eagles' defensive end. She passed off to Miano and circled back toward the BC goal, collecting Miano's pass on the move. Lonergan moved along the far boards, cut through the neutral zone and into skated toward the near boards in the UMD end. When she got to the far edge of the faceoff circle, she whipped in a centering pass that the kicked off a defender coming through the slot and beat Convery on the near post to give the Eagles a 3-1 lead.
3rd, 6:57 | 4-1, BC GOAL (PPG) - With the Eagles on consecutive power plays and putting sustained pressure on the Bulldogs' defense, Watts played it back around the goal for Newkirk right behind the net. Newkirk then spotted Lonergan off the halfboards and sent a pass to her. Lonergan skated in and put a wrister past Convery along the post and pushed the Eagles' lead to three goals.
3rd, 9:09 | 4-2, UND GOAL (5v3 PPG) - UMD got the first of its extended 5-on-3 power plays and capitalized to draw within two. Healey collected the puck off the edge of the crease on the far side and then threaded a pass back through to Ryleigh Houston at the edge of the near faceoff circle. Houston then sent a quick pass back in as Ashton Bell collapsed at the top of the crease for the re-directed goal.
3rd, 10:22 | 4-3 UND GOAL (5v3 PPG) - The Bulldogs got another 5-on-3 and as Miano broke up the dump in and directed the puck toward the boards, Brodt it at the halfboards and played it to Catherine Daoust at the top of the far faceoff circle. Daoust's one-timer beat Burt and inched the Bulldogs back within one goal at 10:22 of the third.
GAME NOTES
- Boston College won its season opener and moved to 13-10-1 all-time in its first game of a new season ... the Eagles are 4-0-1 in their last five season openers
- Head coach Katie Crowley is now 7-3-1 in season openers ... this was also her 249th career victory, all at Boston College
- BC is now 5-6-1 all-time against Minnesota Duluth, including a 4-3-0 mark at Kelley Rink
- Caitrin Lonergan now has four career goals against UMD and scoring in each of the teams' two meetings in 2016-17
- This was Lonergan's second career multiple-goal game ... her first two-goal game came against Providence in a 3-1 win on Feb. 19, 2017
- Three of the Eagles' four freshmen recorded points in their first collegiate game ... Maegan Beres tallied her first career goal, while Daryl Watts (two assists) and Willow Corson each registered helpers
- This was Watts' first career multiple-point game
- Makenna Newkirk's first-period goal was her first career shorthanded goal ... Newkirk finished with three points, her 24th career multiple-point game and her 15th game with at least three points
- Toni Ann Miano made her first appearance since Dec. 7, 2016 after missing the team's second half of the 2016-17 season
- Miano's two-assist night was her 14th multiple-point game of her career ... in the last five games she's played - dating back to Nov. 12, 2016 - Miano has five straight multiple-point games in which she's registered 11 points
- Katie Burt recorded her 92nd career win, which moved her into sole possession of sixth place on the NCAA career victories list ... she is now six wins back of fifth place (98 - Amanda Leveille, Minnesota '16)
TEAM RECORDS
Minnesota Duluth: 2-1-0
Boston College: 1-0-0
UP NEXT
Boston College and Minnesota Duluth will meet for the second of the two-games series on Friday, Oct. 6, at 2 p.m. at Kelley Rink. The game will be streamed live on ESPN3, which is available on WatchESPN.com and the ESPN app.