Friday, September 22, 2017
Kent, Connolly Net Pair As Boston College Blanks Laurentian, 6-0
Senior Kenzie Kent and sophomore Erin Connolly each score two goals for Eagles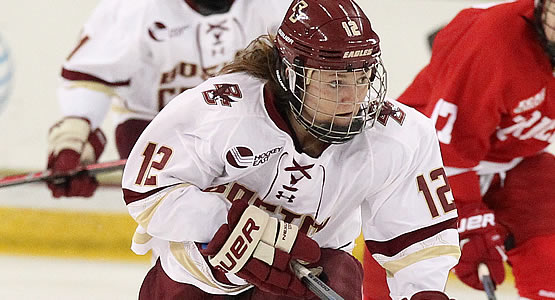 Senior forward Kenzie Kent scored two goals for the Eagles
| | | | | | | |
| --- | --- | --- | --- | --- | --- | --- |
| Prd | Time | Team | Score | Type | Scored By | Assists |
| 2nd | 0:53 | BC | 1-0 | EV GW | Kenzie Kent | Serena Sommerfield, Toni Ann Miano |
| 2nd | 18:44 | BC | 2-0 | EV | Daryl Watts | Caitrin Lonergan, Toni Ann Miano |
| 3rd | 11:21 | BC | 3-0 | PP | Erin Connolly | Makenna Newkirk, Cayla Barnes |
| 3rd | 15:01 | BC | 4-0 | EV | Caitrin Lonergan | Daryl Watts, Caroline Ross |
| 3rd | 15:09 | BC | 5-0 | EV | Erin Connolly | Makenna Newkirk |
| 3rd | 17:37 | BC | 6-0 | SH | Kenzie Kent | Cayla Barnes, Kathleen McNamara |
| | | | | |
| --- | --- | --- | --- | --- |
| Scoring | 1st | 2nd | 3rd | Final |
| Laurentian | 0 | 0 | 0 | 0 |
| Boston College | 0 | 2 | 4 | 6 |
| | | | | |
| --- | --- | --- | --- | --- |
| Shots on Goal | 1st | 2nd | 3rd | SOG |
| Laurentian | 2 | 1 | 5 | 8 |
| Boston College | 13 | 20 | 11 | 44 |
| | | | |
| --- | --- | --- | --- |
| Team Stats and Records | PP | PIM | SHGF |
| Laurentian | 0/5 | 7/14 | 0 |
| Boston College | 1/7 | 5/10 | 1 |
| | | | | | | |
| --- | --- | --- | --- | --- | --- | --- |
| Laurentian Goaltending | MIN | GA | 1 | 2 | 3 | Saves |
| Romana Kiape?ová (L) | 60:00 | 6 | 13 | 18 | 7 | 38 |
| | | | | | | |
| --- | --- | --- | --- | --- | --- | --- |
| Boston College Goaltending | MIN | GA | 1 | 2 | 3 | Saves |
| Katie Burt | 20:00 | 0 | 2 | 0 | 0 | 2 |
| Gabriella Switaj (W) | 20:00 | 0 | 0 | 1 | 0 | 1 |
| Molly Barrow | 20:00 | 0 | 0 | 0 | 5 | 5 |
CHESTNUT HILL, Mass. - Senior Kenzie Kent and sophomore Erin Connolly each scored two goals to help lead the No. 4 Boston College women's hockey team to a 6-0 exhibition win over Canadian U Sports member Laurentian University on Friday afternoon at Kelley Rink.
Sophomore Caitrin Lonergan and freshman Daryl Watts each chipped in one goal and one assist, while senior defenseman Toni Ann Miano, junior Makenna Newkirk and freshman defenseman Cayla Barnes each recorded two assists. All five defensemen who dressed for the game picked up at least one point as junior Serena Sommerfield, sophomore Caroline Ross and junior Kathleen McNamara also all registered helpers in the victory.
"I thought we did a good job," head coach Katie Crowley said. "Obviously we haven't played a game and we've only have had four real practices. I think after working with the team and seeing what they did today, we have a few more things to work on. But overall, I thought they did a good job."
After a scoreless first period in which BC out-shot the Voyageurs 13-2, BC got on the board just 53 seconds into the second period. Kent got the scoring going, potting a feed from Sommerfield and Miano. With less than two minutes remaining in the second, Watts tallied with assists from Lonergan and Miano at 18:44. The Eagles out-shot Laurentian 20-1 in that stanza.
BC kept pushing in the third period, scoring four goals in just over six minutes. Connolly's wrap-around, top-shelf shot on the power play pushed the lead to 3-0 at 11:21, before Lonergan finished Watts' chance on the Eagles' breakaway at 15:01. Just seven seconds later, Connolly scored again - from Newkirk - before Kent wrapped up the scoring at 17:37 after she finished Barnes' rebound on a shorthanded bid.
All three of BC's goaltenders saw one period of action: Katie Burt (two saves), Gabri Switaj (one save) and Molly Barrow (five saves).
Overall, the Eagles out-shot Laurentian 44-8 for the game.
"It was awesome to finally have a scrimmage to play and to face a different team," Kent said. "It was great to have everyone in lines and to get a win. To have the four freshmen come in and play such prominent roles was great. They all played a significant amount and got involved in the scoring, so it was a good start."
"It felt really good to get out there after we'd been practicing for the last few weeks," Miano said. "We have four freshman who have dominant roles, so it was good to see them on the ice, and in lines and letting us get into the flow of the game. Personally, it was a great feeling to put the jersey on again and to get out there."
Boston College officially begins the 2017-18 season on Thursday, Oct. 5, when the team hosts No. 5 Minnesota Duluth in a two-game series. Thursday's game is set for 7 p.m. at Kelley Rink, while the Friday, Oct. 6, game will face off at 2 p.m. in Chestnut Hill.