UConn Upends Boston College In Women's Hockey East Semifinals, 4-2
Freshman forward Natalie Snodgrass scores two goals for Huskies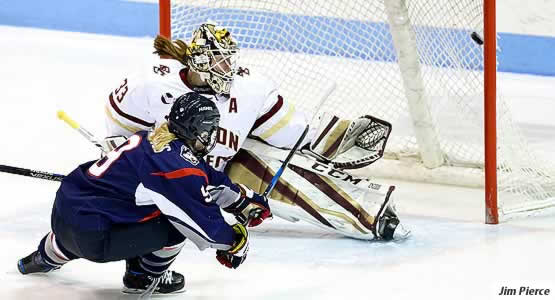 Freshman forward Natalie Snodgrass scored two goals for Huskies
| | | | | | | |
| --- | --- | --- | --- | --- | --- | --- |
| Prd | Time | Team | Score | Type | Scored By | Assists |
| 1st | 7:40 | BC | 1-0 | PP | Daryl Watts (42) | Caitrin Lonergan/45, Toni Ann Miano/25 |
| 1st | 13:07 | CON | 1-1 | PP | Natalie Snodgrass (20) | Briana Colangelo/17, Leah Lum/19 |
| 2nd | 4:34 | CON | 2-1 | EV | Natalie Snodgrass (21) | Catherine Crawley/10, Kayla Mee/13 |
| 3rd | 9:30 | CON | 3-1 | EV GW | Nora Maclaine (1) | Emily Reid/6, Jaime Fox/13 |
| 3rd | 12:40 | BC | 2-3 | EV | Makenna Newkirk (24) | Grace Bizal/11 |
| 3rd | 19:20.0 | CON | 4-2 | EV EN | Theresa Knutson (13) | Leah Lum/20 |
| | | | | |
| --- | --- | --- | --- | --- |
| Scoring | 1st | 2nd | 3rd | Final |
| UConn | 1 | 1 | 2 | 4 |
| Boston College | 1 | 0 | 1 | 2 |
| | | | | |
| --- | --- | --- | --- | --- |
| Shots on Goal | 1st | 2nd | 3rd | SOG |
| UConn | 11 | 10 | 6 | 27 |
| Boston College | 6 | 11 | 14 | 31 |
| | | | |
| --- | --- | --- | --- |
| Team Stats and Records | PP | PIM | SHGF |
| UConn (16-13-9) | 1/3 | 4/8 | 0 |
| Boston College (30-4-3) | 1/4 | 3/6 | 0 |
| | | | | | | |
| --- | --- | --- | --- | --- | --- | --- |
| UConn Goaltending | MIN | GA | 1 | 2 | 3 | Saves |
| Annie Belanger (W, 13-10-6) | 60:00 | 2 | 5 | 11 | 13 | 29 |
| | | | | | | |
| --- | --- | --- | --- | --- | --- | --- |
| Boston College Goaltending | MIN | GA | 1 | 2 | 3 | Saves |
| Katie Burt (L, 30-4-3) | 59:14 | 3 | 10 | 9 | 4 | 23 |
| Empty Net | 0:46 | 1 | | | | |
BOSTON, Mass. - Just when it seemed it was overmatched, the UConn women's ice hockey team pulled off arguably the its biggest upset in program history on Saturday - knocking-off top-seeded Boston College in the Hockey East semifinals at Matthews Arena.
The Huskies (16-13-9) battled with the Eagles, who entered the game ranked No. 3 in the USCHO Poll, and received a pair of goals from freshman Natalie Snodgrass in a 4-2 win - advancing to their first championship game since 2009-10.
"Obviously it's the result we wanted. We came in here and played with a purpose and we're super proud of the team," said head coach Chris MacKenzie, who goes to his first WHEA championship game at UConn. "We're excited to play tomorrow; it's a special group."
An offensive explosion combined with defensive grit led the Huskies past the Eagles, including a trademark effort between the pipes from senior goalie Annie Belanger - the Hockey East Goalie of the Year - who made 29 saves.
In addition to Snodgrass scoring twice, junior Nora Maclaine tallied a crucial score in the third period at 9:30 - her first goal of the season - to make it 3-1 UConn. Before the score, the Huskies were clinging to a 2-1 lead.
Maclaine's goal was all the insurance that UConn needed, as an empty-net goal from senior Theresa Knutson at 19:20 sealed the deal and provided the final score of 4-2. The Huskies scored in each period against BC.
"We've really gone through a lot this season and it's helped us get to this point here. Boston College is a top opponent and it gave us all we could handle," said MacKenzie. "We were fortunate to come out on top and are excited to play tomorrow."
Prior to Saturday's game against BC, the Huskies were 0-2 all-time against the Eagles in the Hockey East playoffs - with both games coming in the semifinals. Boston College eliminated UConn in the semis in both 2015 and 2016.
It was the Eagles who struck first at Matthews Arena, as leading scorer and WHEA Player of the Year Daryl Watts cashed in on a power play at 7:40 in the first period, after a tripping call on Maclaine.
Six minutes later, it was the turn of Snodgrass, UConn's leading scorer and member of the Pro Ambitions All-Rookie Team, to capitalize on a power play at 13:07 off passes from sophomore Briana Colangelo and senior Leah Lum to tie the game.
"It was a fun game. We knew we were facing the toughest opponent we have all season and in a game like this, we knew we had to come out fast at the start," said Snodgrass. "We were able to take advantage of our opportunities."
In the second period, Snodgrass scored an incredible goal to give UConn a 2-1 lead at 4:34. She skated to her right and had just enough time to unload the puck and pocket it past Burt before crumbling to the ice in a sliding motion. Sophomore Catherine Crawley and junior Kayla Mee were awarded assists.
The Huskies maintained their 2-1 lead in the third period, which was extended when Maclaine scored to make it 3-1. Earlier in the period, UConn was shorthanded and Maclaine had a breakaway, but her shot was saved.
"Honestly, it's a great time to have your first goal of the season. I was really excited about it and...just good timing, I guess," said Maclaine.
Even after BC tacked on a goal at 12:40 by Makenna Newkirk, the Huskies were resilient - led by Belanger making one diving stop after another. Eventually, the Eagles went empty net, and the Huskies made them pay with a goal by Knutson.
"It starts with Annie. She's there for us and has been her whole career," said MacKenzie. "She's peaking at the right time, and our team is too."
Boston College outshot UConn, 31-27, including 14-6 in the third period while trailing. Each team converted on one power play, with the Huskies killing three of four whistled on them.
For the third time in program history, UConn advances to the Hockey East championship game, looking for its first-ever league title. In Saturday's second semifinal, Northeastern beat Maine - setting the stage for a Battle of the Huskies on Sunday. Puck drop is at 1:30 p.m. and is live on NESNplus.